LOUISVILLE, Ky. (WDRB) – If you've been in a cellphone store lately or seen a commercial, you've probably heard about 5G, the latest wireless networking technology about a decade in the making.
And Louisville is one of about three dozen cities where cell phone companies are not only rolling out 5G, but also installing antennae that make it possible for consumers – if standing in just the right spot -- to experience the mind-blowing speeds enabled by the network at its peak performance.
"Uploading, downloading, streaming – speed matters now more than it did in that 4G evolution," said Celeste Spear, vice president and general manager of Heartland States for AT&T, referring to the current prevailing standard for wireless networks, 4G.
But taking advantage of the new technology typically requires buying a new device and, in some cases, a more expensive monthly plan. There are about two dozen 5G-capable smartphones on the market.
Last month, the CEO of Verizon Communications said the release of the iPhone 12, Apple's first 5G-enabled device, would make the technology more salient for consumers.
"Until now, most people have taken a wait-and-see approach to 5G. They've been waiting for 5G to get real," Verizon's Hans Vestberg said at the virtual Apple event in October. "Well today, with iPhone, the wait is over."
But while 5G may one day connect self-driving cars, power robotic surgeries or provide "augmented reality" experiences, some say the technology isn't far enough along to make a difference to average people.
Adrian Lauf, an associate professor of computer science and engineering at the University of Louisville, said 5G technology as deployed today is "absolutely a marketing gimmick" to entice consumers to trade up to newer, more expensive devices. Most of the time, they won't notice much of a change, he said.
"I think for most of us, the added the network cost (and) the added device cost is not worth it today," Lauf told WDRB. "Will it be worth it in 2 to 3 years? Probably, very likely."  
As wireless companies including AT&T, Verizon, T-Mobile and Spectrum Mobile continue adding 5G coverage in the Louisville area, here is what you need to know.
What is 5G?
It's the fifth "generation" of wireless technology.
Cellular networks make a leap forward about every decade since the advent of the technology in the 1980s. 5G is the successor to 4G, which came online in the 2010s and still dominates the wireless landscape.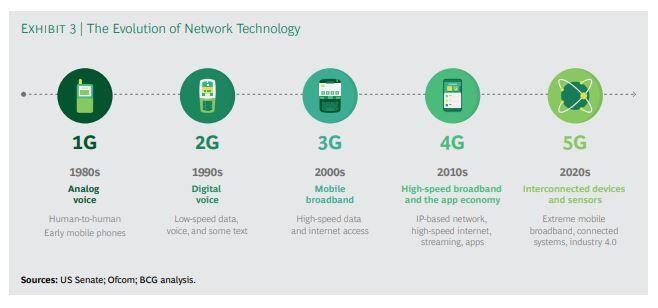 What makes 5G different?
The new technology promises improvements in three areas:
- Throughput: Much more data will be able to flow back-and-forth between the network and your device in a given time period. Think of pipe getting wider. "Download speeds will be 40 times faster than they are," according to a report from CTIA, the wireless industry's trade group.
This is important because the amount of data shared over wireless devices is growing exponentially year after year, said AT&T's Spear.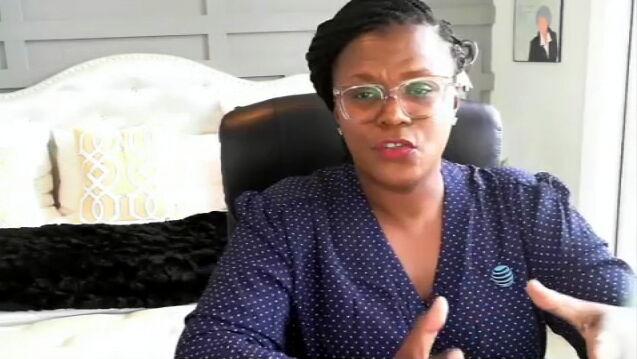 "With all of this data that we're streaming over the network, you need to make sure you have enough capacity to be able to handle it simultaneously without slowing the consumer down," she said.
- More devices: 5G will be able to accommodate more phones and other connected devices, so crowds won't slow down performance.
 "It still works when you have thousands of people in one space trying to work off of one network," Spear said.
- Lower "latency": 5G will improve a device's network response time, "that almost imperceptible pause before data transfer begins," by "roughly 10 times," according to the CTIA report.
The industry says the technology will usher in a wave of advances, in the same way 4G networks made the car-sharing service Uber work seamlessly. Some possibilities include virtual reality, driverless cars communicating with each other on the road and surgeons operating equipment remotely.
T-Mobile's futuristic videos show people standing in a park gazing at virtual woolly mammoths and bicycle rider looking forward to a rear-view projection of what's behind him.
The company says 5G "will be transformative, fueling innovation across every industry and every aspect of our lives. Over time, 5G technology will change the way we live, work, and play—for good."
But the kind of 5G that enables those dreamy applications isn't widely deployed yet, and even if it were, the latest-model smartphones are only capable of doing so much, said Lauf, the U of L professor.
The predominant 4G technology provides "plenty of speed for what we typically do" with smartphones today, like streaming Netflix or YouTube videos or conducting a video chat, he said.
"If you go buy a (5G) phone today, you take it out of the box, and you had a 4G phone before. Obviously the (5G) phone is probably going to be faster; it'll have a newer processor; it's got more memory; it's got a better operating system," Lauf said. "But is the network performance going to be lightyears different? Probably not."
Where is 5G in Louisville?
AT&T, Verizon and T-Mobile all say they've blanketed most of the Louisville metro area with 5G coverage.
But there's a caveat: 5G comes in different flavors depending on the portion of the radio spectrum used to transmit the signals between your device and the network.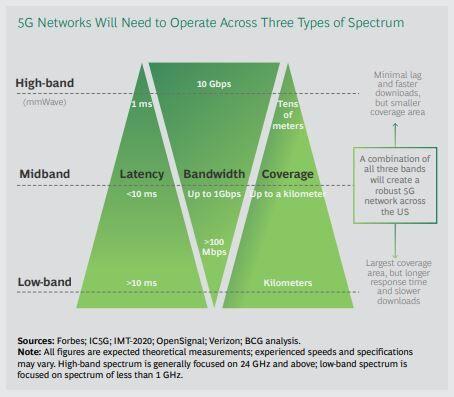 The sort of 5G that is widely deployed runs on what's called "low-band" and "mid-band" spectrum. These frequencies are better able to cover an area – reaching farther from their source and penetrating walls, windows and other obstructions.
The tradeoff, however, is a more incremental improvement in network performance compared to the prevailing 4G.
From her own experience with a 5G device, AT&T's Spear said she "certainly know(s) that you will notice the difference" over 4G even operating on the low- and mid-band spectrum.
But Lauf, the U of L professor, said the change was hardly perceptible after he got a 5G device.
"I did notice a modest speed improvement. But if you had hidden the icon for me, and told me, 'Guess what (network) you're on,' I would not have been able to tell you," he said.
Then there's the type of 5G that offers data speeds on par – or even faster – than the Google Fiber wired residential broadband that arrived in Louisville with much fanfare in 2017 (but didn't last very long).
What Spear calls "lightning fast" 5G operates on high-band spectrum.
But these connections, generally referred to as "millimeter wave" or "mmWave," are only available in a few places in Louisville.
And the high-band frequencies provide fleeting connections. They don't travel very far, and they're blocked by walls and other obstructions.
Zoom-in on Verizon's coverage map and you can see places where millimeter wave connections, what the company calls "Ultra Wideband" are available, with the caveat that it's only "outdoors."
Right now, it's spotty. A good chunk of Waterfront Park is covered, for example, but step off Witherspoon Street and it's not available.
AT&T's coverage map doesn't show its millimeter wave coverage, what the company calls "5G Plus," but Spear listed a handful of downtown locations that have it: Slugger Field, the Kentucky International Convention Center, the Louisville Glassworks building and the Courier Journal's building.
For U of L's Lauf, the spottiness of millimeter wave coverage wasn't worth upgrading to Verizon's most expensive plan, as he would rarely be in the few locations where it is available.
"For me, right now, it doesn't justify the extra expense," he said.
T-Mobile, which recently absorbed the other big nationwide carrier Spring in a merger, says AT&T and Verizon have placed too much emphasis on spotty millimeter wave coverage, while its abundant low- and mid-band spectrum makes 5G more accessible to consumers.
"(W)e have more low and mid-band spectrum than anyone in wireless, so (we are) building a much wider and faster freeway," CEO Mike Sievert wrote on the company's website last month.
Neighborhood concerns
Meanwhile, as carriers install or replace infrastructure around town to support their 5G networks, some residents have raised concerns about aesthetics and safety.
RELATED: Louisville leaders seek better regulation of new 5G towers
"I am for 5G installations and certainly for the service, but how it impacts our right of way is something I think we should be very concerned about," said Metro Council member Bill Hollander, who said his Crescent Hill-Clifton district has seen a lot of work in the last few months mainly by Verizon.
Often, Hollander said, the company is replacing existing utility poles with taller ones.
"So as you look out from your second story window, you've gotten used to that utility pole in your front yard," Hollander said. "You're not used to it being ten feet taller and having an antenna on top of it. That's the kind of concern that we're getting."
Hollander said Metro government's control over telecommunications infrastructure is "severely limited" by federal law, but the city-county government is updating its right-of-way and utility policies in part to respond to the issues raised by 5G.
He said the revised policies aim to make wireless companies speak to residents about the changes they're making.
"IF you get a letter in the mail that says, 'We are going to put a 5G antenna on a pole in the right of way right in front of your house ... that raises concerns and people want to have discussions about it and they want to know, 'Why can't it be some place else?'" Hollander said. "…Having that kind of conversation is important."
Hollander said the revised policies also aim to have wireless companies first place 5G antennas in non-residential locations, if practical.
"The last place you should look is that right of way in front of somebody's home," he said.