FRANKFORT, Ky. (WDRB) – The Senate Education Committee passed legislation Thursday that would require school resource officers to carry firearms in schools.
Senate Bill 8 – sponsored by Sen. Max Wise, a Campbellsville Republican and the committee's chairman – passed on a unanimous vote. If it becomes law, SB 8 would render moot the divisive debate among Jefferson County Board of Education members about whether officers in Kentucky's largest school district will carry handguns while on duty.
The committee's approval came on the second anniversary of the shooting at Marshall County High School that killed two students and prompted last year's School Safety and Resiliency Act, which is now law.
"I think government has the responsibility of public safety, and I think it is only common sense that we take this approach," Wise said while presenting SB 8.
The Jefferson County school board has been debating whether its new school security officers should carry firearms, among other items governing their job responsibilities, for months.
Jefferson County Public Schools has had no school resource officers on district campuses since the beginning of the 2019-20 school year thanks to the city's decision to pull Louisville Metro Police officers from schools due to budget constraints and the board's decision in a split vote against approving the remaining SRO contracts.
Some board members have expressed reservations about arming officers with deadly weapons. Proposed policies and procedures for the officers, which were discussed at the board's policy committee meeting Tuesday, call for them to carry district-issued loaded handguns and three magazines while on patrol at JCPS.
Superintendent Marty Pollio has said he expects the board to vote on a final version of the district's school security officer policies and procedures in March.
Some on the board have also criticized SB 8 as an unnecessary overreach into a decision they content should be made locally. Wise, however, noted that a staff survey conducted by JCPS found that 90% of respondents wanted a school resource officer in their building and 82% wanted those officers armed. 
Wise said most of the feedback he's received on SB 8 has been positive, specifically mentioning support from Iroquois High School teacher Michael Beard, who also urged the school board's policy committee on Tuesday to arm school security officers.
Wise said he has heard no opposition to SB 8 "other than maybe two Jefferson County school board members who had on their social media tweeted at me about the bill when I made a comment about indecisiveness they've had since" August.
"I feel like with this bill we must put school safety and public safety first, and if a school board continues to not reach that decision, this will be notwithstanding that this will be implemented and every SRO who is a sworn law enforcement officer will be armed with a firearm," he said.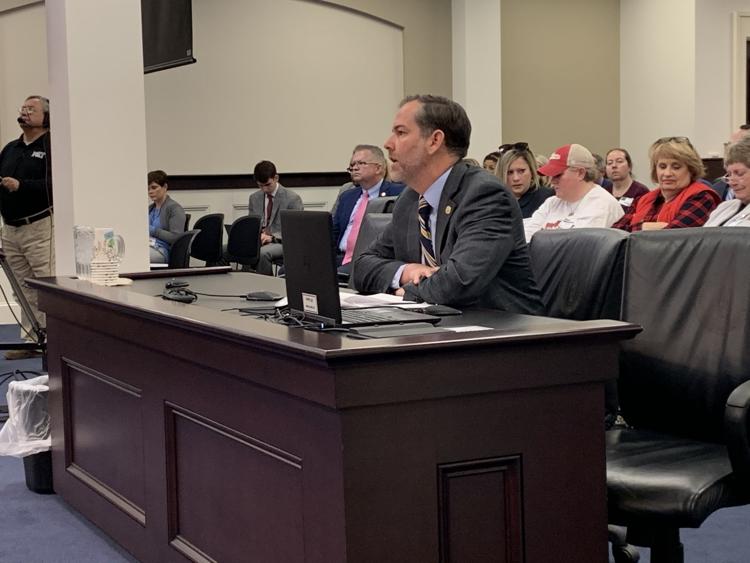 Wise declined to name the JCPS school board members who mentioned him on social media when asked after the meeting, though members Chris Brady and James Craig have taken to social media to voice their opposition to SB 8 as a concept.
Both told WDRB News on Thursday that they see SB 8 as an infringement on the JCPS board's authority to determine the district's best path forward on weighty matters like whether armed officers should be patrolling the halls of local schools.
"I firmly believe that the decision to arm these officers should be within the discretion of individual boards of education, and as one board member, I would take it a step forward and delegate the decision to each individual high school and middle school principal," said Craig, who represents District 3. "This debate is nuanced, and we're hearing from folks across the spectrum who have a wide swath of opinions."
Brady, who represents District 7, says SB 8 is too ambiguous on the details of exactly what types of firearms school resource officers will be allowed to carry, what types of ammunition they'll be allowed to use.
"Are we talking about handguns, automatic rifles, semiautomatic weaponry? I don't know," Brady said. "Plus it doesn't really specify what type of ammunition we're talking about. Are we talking about hollow-point bullets? Are we talking about bullets that are designed to slow down a suspect but not necessarily kill or maim?"
Both Brady and Craig also say funding for local school districts, which will be required to hire or contract with enough law enforcement officers to have one school security officer in every school as staff and money become available, will be critical going forward. 
SB 8 would amend that directive to school campuses rather than buildings because some districts have multiple schools that share a single campus, Wise said.
"My message to the Senate Education Committee and to everyone weighing budget this session is that we need funds for this program if the program is to be effective whether they're armed or not," said Craig, who described most of the other provisions in SB 8 as "wonderful."
Brady called SB 8 "another unfunded mandate on an already overloaded school system."
Asked about funding, Wise said a total figure on implementing the School Safety and Resiliency Act remains unknown. Lawmakers are tasked with crafting a two-year budget this session, and the Kentucky School Boards Association has estimated that it will cost $18 million for school districts to improve building security and $121 million annually to fully staff schools as required.
SB 8 calls for not just armed officers on every school campus, but also directs districts to hire enough counselors or mental health professionals to have one for every 250 students.
Linda Tyree, head of the Kentucky School Counselor Association, spoke in support of SB 8 but said funding represents the largest hurdle to getting more counselors and mental health professionals in schools.
Wise said it will ultimately be up to the chairmen of the House and Senate appropriations and revenue committees on how school safety will be funded in the upcoming biennial budget.
"You all know how the budget works around here," Wise told reporters. "It's going to be a long process, but you can guarantee that both of these chambers will step up to the plate when it comes to school safety. Now what that number is, I can't say at this time. I don't think anyone has an idea right now of what a magic number is for school safety."
Gov. Andy Beshear, who will present his draft budget to legislators next week, said he believes Kentucky policymakers should work toward providing enough money for a resource officer in every school and for adequate training.
"I am committed to reviewing every proposal and working in a bipartisan way to ensure our children are protected and that none of our schools are considered soft targets," Beshear said in a statement.
SB 8 has two readings, meaning it's ready for a floor vote at leadership's direction. The bill was not called for a vote Thursday.
Sen. Gerald Neal, D-Louisville, voted for SB 8 in committee but filed a floor amendment to the bill later Thursday that allowed local boards of education to decide whether SROs should carry firearms in schools.
Wise says he expects SB 8 will pass with bipartisan support in the Senate.
Copyright 2020 by WDRB Media. All rights reserved.