CLARKSVILLE, Ind. (WDRB) -- At a bend on the Indiana banks of the Ohio River, hardscrabble river camps give way to flood-prone woods. Stacks of crushed cars line a dead-end road. A landfill borders Silver Creek.
But to the nonprofit River Heritage Conservancy, the roughly 400-acre area near the Falls of the Ohio in Clarksville is the ideal spot for a park that would dwarf Louisville's Waterfront Park and take in more land than Grant Park in Chicago.
After several years of quietly buying land and gaining access to public property, the conservancy's leaders unveiled details of their vision Wednesday, kicking off a year in which they also plan to determine the project's cost and construction schedule and start fundraising in earnest.
"With the great work of Waterfront Park, we have a community that is suddenly saying, 'This river is very, very special. This is beachfront property,'" said Scott Martin, the conservancy's executive director. "This is our chance to bracket the river, as it would be, with world-class parks on either side."
The effort comes as work wraps up on a "greenway" pedestrian and cycling path between New Albany and Jeffersonville, and as Louisville's riverfront park officials begin planning new sections to the west. At the same time, Louisville Mayor Greg Fischer has revived talk of a pedestrian crossing on the K & I Bridge joining Kentucky and Indiana.
In Clarksville, Martin said, planners hope to design a park in southern Indiana that rivals Waterfront Park and the Parklands, the 4,000-acre linear park along Floyds Fork Creek in eastern Jefferson County. And like the Parklands, where Martin served as the parks' director, the new Indiana park would be privately operated.
"This isn't Waterfront Park on the other side," he said. "It has to have its own voice, it has to have its own soul, it has to have its own spirit."
The conservancy has hired Philadelphia-based OLIN, a design firm whose past work include New York's Bryant Park, as well as several riverfront parks. The Clarksville site's design is in the early stages, but preliminary ideas call for a diverse mix of uses that includes reforestation.
A master plan could be done as early as September, and planners already are seeking public input online. 
The southern Indiana project could "change the region," Lucinda Sanders, OLIN's president and CEO said during a breakfast gathering in Jeffersonville. 
"By thinking boldly, we're going to seek to uncover the most salient aspects of that rich, rich history and ecology while imaging a future full of possibilities," she said. "So it's really this combination of what's there and what could be there."
Since late 2017, the conservancy says, it has spent about $1.35 million in funds from private donations to buy more than 60 acres in the park area, including vast industrial tracts once owned by Marshall's Auto Parts.
The conservancy estimates it now controls 239 of the 328 acres envisioned as the park's first phase. In the future, plans show, the park would branch out to the east and west along the river, giving the project an octopus shape.
Martin said the group only will work with landowners willing to sell and emphasized that as a private organization it can't condemn property. Several existing businesses are in the proposed park area, including a landfill near the river where contaminated soil from the excavation of the KFC Yum! Center in Louisville was dumped.
Martin said his group wants to help companies in the park's footprint eventually move, but he noted that Waterfront Park in Louisville was built in stages – in some cases, waiting until businesses relocated and freed up land.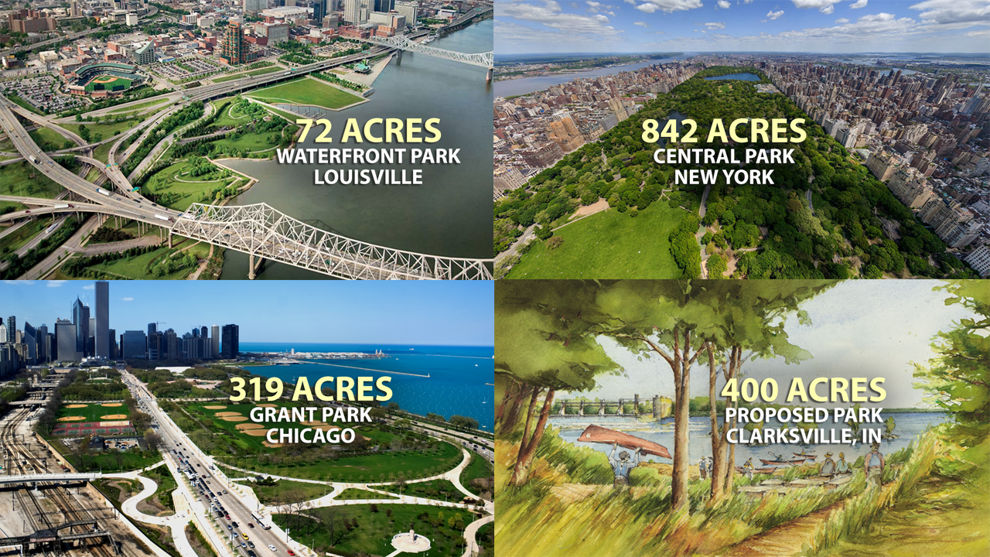 "You're not going to get them overnight, and things change," he said. "So you have to do phasing."
Besides private land, the site includes property owned by local, state and federal agencies. Conservancy officials say the government owners have agreed to work with them on a master plan that takes in their land.
The largest chunk – about 84 acres -- is owned by the Indiana Department of Natural Resources, while the U.S. Army Corps of Engineers, Jeffersonville Flood Control District and Town of Clarksville also own potential park land.
To Clarksville, a riverfront park is "once-in-a-lifetime" project that would spur tourism and economic development, including people shopping at malls and big-box stores on Lewis and Clark Parkway, said Dylan Fisher, the town's redevelopment director.
"We see the River Heritage plan as an opportunity to bring millions of people to Clarksville each year for active and passive use," he said.
The town also will use a $440,000 federal grant to help do environmental work throughout the entire park area, Fisher said.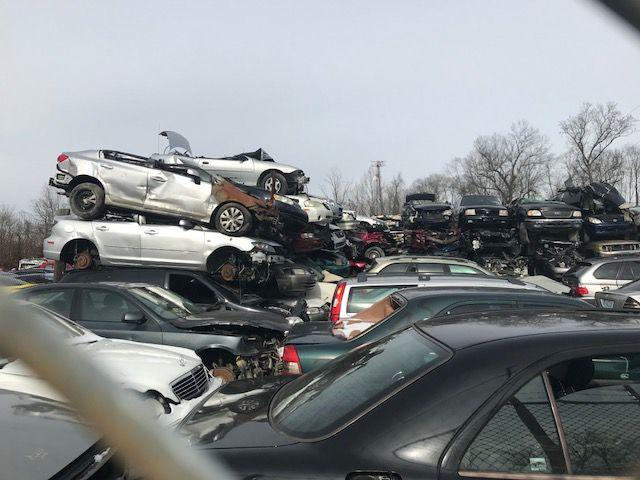 Among Clarksville's 23 acres in the project site, it owns eight acres it bought from Graveyard Auto Sales Inc., where a fire burned 70,000 tires in 1998, according to Indiana environmental records.
Town council president Paul Fetter said Clarksville plans to donate that land to the conservancy and is working with Indiana state government for a federal grant to clean up the site.
The project can be "transformational" for Clarksville, Fetter said.
"It's going to take a lot of capital to make it work, but they're moving forward in a great way and I think the community will reciprocate."
That site has been "trashed" in the last half-century, but "it doesn't have to be this way," said Kent Lanum, the conservancy's chair.
Lanum, who is president and CEO of the Ogle Foundation, said the park has the potential to revitalize the Clarksville riverfront and even draw more people than the Big Four Bridge or the Parklands.
"I may be overstating this because we're so close to it," he said. "But I think long-term we're building something that's going to last 100 years-plus."
Reach reporter Marcus Green at 502-585-0825, mgreen@wdrb.com, on Twitter or on Facebook. Copyright 2019 WDRB Media. All rights reserved.