LA GRANGE, Ky. (WDRB) – Supervisors at a Kentucky prison covered up claims that male employees sexually abused and harassed their female co-workers and had sex with an inmate, a state investigation found.
In fact, hundreds of internal documents suggest a pattern of alleged sexual assault and inappropriate conduct at the Kentucky State Reformatory in La Grange that were ignored for years by the internal affairs director and the prison's Equal Employment Opportunity Coordinator, according to the investigation.
The state Justice and Public Safety Cabinet recently investigated numerous allegations of sexual harassment and inappropriate conduct at the reformatory dating back years, according to documents obtained by WDRB News.
The previously unreported probe sheds new light on the sudden firing of Department of Corrections Commissioner James Erwin, who was dismissed in February without explanation. Erwin has acknowledged that he refused to fire two supervisors at the La Grange prison who, according to the investigation, were accused of sexual assault and harassment and ignored allegations of other employees accused of similar behavior.  
John Tilley, secretary of the Kentucky Justice and Public Safety Cabinet, had ordered Erwin to fire the men, Capt. Michael Williams and Lt. John Grevious. For their part, the former officers claim many of the allegations are false and they were fired last month, in part, because they are black.
It is unclear whether either man is being criminally investigated.
Williams, who was head of internal affairs at the prison, was fired in March for, among other violations, failing to report or investigate several allegations of sexual harassment or assault by employees, including a claim by a nurse that Grevious had sexually assaulted her in July 2018. Williams told the female employee she could report the allegation to outside law enforcement.
Williams did not tell prison management about the allegation or take any investigative steps, according to a Jan. 2, 2019 "memo of concern" from Jeff Hulker, a state investigator who conducted the internal probe for the cabinet.
In addition, Hulker found that Williams failed to investigate or report an allegation that a prison employee had a sexual relationship with an inmate in 2016. Williams claimed he "forgot" to conduct an investigation, according to documents in the probe.
Williams' termination letter also claims he did not tell law enforcement or conduct an investigation into a claim that a lieutenant sexually assaulted a co-worker.
And Williams was accused of sexually harassing the prison nurse in July 2018 whom Grevious was accused of sexually assaulting. According to his termination letter he forcibly kissed her and made inappropriate comments about her body. He denied the accusations.
Grevious, the prison's Equal Employment Opportunity Coordinator, was also fired in March for, among other violations, failing to report and investigate the nurse's complaint of sex harassment against Williams.
The nurse Grevious was accused of sexually assaulting had previously told him Williams had sexually harassed her, but Grevious did not report it.
"The EEOC had a duty to report sexual harassment by employees in and out of the facility," according to a "memo of concern" in the state investigation.
Instead, the alleged victim was moved from her office in the reformatory to Roederer Correctional Complex in Buckner, which she said made her "feel like she has done something wrong," according to the investigation.
The nurse did not report either allegation to law enforcement because she didn't want to lose her job and for "fear of retaliation and humiliation," she told Hulker.
During an interview with Hulker, Grevious said he does not remember the nurse telling him about Williams kissing her but he did not deny that she did, just that he couldn't remember, according to a summary of the interview.
Erwin, the former head of corrections for the state, was fired on February 8 for refusing to fire Williams and Grevious, Erwin and his attorney say.
Erwin has since filed a whistleblower lawsuit in which he says he didn't fire the men because the investigations were incomplete. Erwin also claims he was also fired for expressing concerns about mismanagement of the investigation.
"Based upon the faulty investigations, or at least incomplete investigations, he did not feel that he could terminate these two employees," his attorney, Tom Coffey, said in an interview this week.  "He continued to go up the ladder at the justice cabinet voicing these concerns and he was fired as a result of it."
Corrections Operations Director Chris Kleymeyer was also fired with Erwin, as first reported by Insider Louisville. No reason was given for their dismissal when they were first announced.
Tilley named Deputy Justice Secretary Jon Grate acting commissioner. 
In his lawsuit, Erwin argues the investigations into Grevious and Williams were flawed and needed to be properly conducted if the Corrections Department was going to fire the officers.
"What Jim Erwin wanted all along was investigations to be done right, to be done thoroughly, to be done properly," said Coffey. "He did not have a vested interest or any interest in the outcome of these investigations."
Coffey would not go into detail about what Erwin felt was wrong with the investigations.
Since Erwin's firing, the Justice and Public Safety Cabinet has issued statements that "wrongdoing" occurred under Erwin's watch and the cabinet is now "rooting out deception and misconduct."
Coffey points out, however, that Erwin was fired "without cause" and his termination letter included a distinction that he was a "reemployment candidate."
Lisa Lamb, a spokeswoman for the Department of Corrections, said in an email to WDRB: 
"These problems demand a strong and deliberate response, and we are taking every possible step to identify the bad actors and root out this toxic culture. We owe this to our state, to the taxpayers, and most importantly, to those who have suffered under these conditions at the Department of Corrections and its institutions."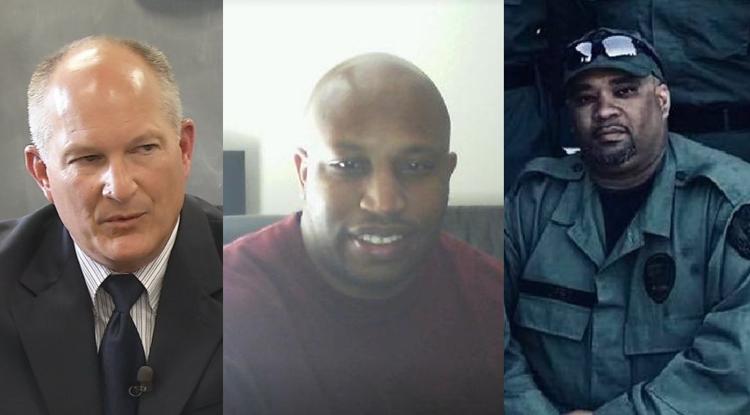 Years of Misconduct
The state investigated sexual abuse and harassment allegations at the 1,058-bed state reformatory in Oldham County in 2013, 2015 and again the last three years, according to records obtained by WDRB.
The documents are heavily redacted and some of the allegations were ruled unfounded. However, it was noted that the culture needed to change at the prison and employees feared retaliation if they spoke up.
One investigation concluded last May said that "there was also concern that complaints never made it past the EEOC desk and that there was fear of retaliation."
Among the findings in the various state reviews:
   --In 2015, Williams was found to have shown naked photos of a female officer to a class of correction recruits during a training session.
   --In 2017 Williams and another employee were investigated for allegedly intimidating a female worker to show them a tattoo she had between her breasts. However, the investigation was closed with no finding of wrongdoing. Williams admitted he should have reported the incident.
   --Also in 2017 two prison staff members told Williams about two workers having sex in an office while inmates watched. But according to internal documents, Williams never conducted an investigation or reported the incident.
   --Grevious was demoted from sergeant to correctional officer in 2012 for "workplace violence" against a woman, according to his termination letter. In 2017, he was suspended for a use of force violation. He was also found to have a conviction in a domestic violence case that prohibited him from owning a firearm.
Hulker's more specific investigation began last November, when Department of Corrections Human Resources Director Rodney Moore launched a probe into a sexual harassment complaint against Grevious.
It notes that around the same time, the prison warden was also told about alleged inappropriate conduct by Williams.
And there were already red flags in the history of each man.
For example, when Michael Williams applied for a job at Kentucky State Reformatory in 2011, he wrote that he had left his most recent job as a deputy at the Jefferson County Sheriff's Office because of "health concerns," according to his termination letter.
In fact, Williams had resigned while an investigation by the sheriff's department was pending against him.
During his time at the reformatory, Williams had a reputation of being a "hound dog and ladies' man," according to a state investigation.
Two other women, one still working at Kentucky State Reformatory and one that has left, tell WDRB that Grevious and Williams regularly made inappropriate comments about their bodies. (The prison employee spoke on condition of anonymity because she is not authorized to speak with the media, while the other woman requested she not be named because she fears retaliation.)
One current employee, who also is not allowed to conduct media interviews, says it was not uncommon for Grevious to make unwanted sexual advances.
Lamb, who spoke on behalf of the justice cabinet, said the state has taken steps to improve consistency, thoroughness and accountability in investigations. 
"The Cabinet remains committed to changing the culture in which victims feared retaliation for coming forward and incidents went unreported. We have worked diligently on this issue since taking office," she said in an email. "We appreciate the courage of those who have previously stepped forward, along with those in the media who have helped bring issues to light."
But Thomas Clay, an attorney representing the former prison officers, said the allegations are false or blown out of proportion.
"There's an answer for each and every one of the charges that have been brought by corrections," he said.
For starters, Clay claims there were other prison officials who were supposed to investigate the sexual assault and harassment complaints. He said Grevious was allowed to have a gun while he was at work, according to court records in his domestic violence case.
In addition, Clay said the nurse making allegations against Grevious and Williams has credibility issues and argues the claim she's making against Williams shouldn't be considered sexual harassment.
And Clay says the investigation into Williams had been "slipshod" and Williams was not asked about many of the allegations against him.
"We're going to put to the test these allegations and we hope that we can prove that they are not based on fact," he said in an interview.
Regarding the nurse's allegations that she was sexually assaulted by Grevious in her home, Clay said Williams did not have authority to investigate allegations that took place outside the prison.
"Cpt. Williams has come to the regrettable conclusion that the proposed action against him and John Grevious is racially motivated," Clay wrote.
In the response from the Cabinet, Lamb encouraged anyone with information related to "misconduct at the Department of Corrections or any of our agencies to reach out to our team."
She said people may email information to JusticeListens@ky.gov or contact the Cabinet ombudsman at 502-564-8299. 
Timeline of allegations in termination letters
| Date | Incident |
| --- | --- |
| 2011 | Williams accused of falsifying employment application with DOC. |
| February 2012 | Grevious demoted for work place violence against woman. |
| May 2015 | Grevious has domestic violence order against him; didn't inform prison and wasn't allowed to carry firearm |
| January 2017 | Williams failed to report female employee exposing herself to coworkers. |
| March 2017 | Grevious suspended for use-of-force violation. |
| July 2017 | Williams failed to report or investigate alleged sexual assault. |
| July 2017 | Grevious accused of sexual harassment |
| July 2017 | Williams did not report or investigate alleged employee sex with inmate |
| July 2017 | Williams failed to report two employee's having sex in a Captain's office. |
| Summer 2018 | Willaims accused of forcibly kissing nurse |
| Summer 2018 | Grevious accused of failing to report or investigate Williams' incident with nurse |
| Summer 2018 | Grevious accused of sexually assaulting nurse. |
| Summer 2018 | Williams fails to report or investigate alleged sexual assault of nurse |
Copyright 2019 WDRB Media. All rights reserved.