LOUISVILLE, Ky. (WDRB) -- Jefferson County Public Schools is introducing options for students to take more dual-credit, Advanced Placement, and career and technical courses virtually after the COVID-19 pandemic temporarily forced K-12 classes online.
JCPS officials announced the expansion of its course options during a news conference Monday at Central High School, where Superintendent Marty Pollio also touted the district's roughly 5,500 newly purchased touchscreen smartboards purchased with federal stimulus funds.
Dual-credit courses allow juniors and seniors to earn college credit while also completing high school graduation requirements.
The addition of online options is an expansion of the district's partnership with Jefferson Community and Technical College for dual-credit classes, which are open for juniors and seniors with grade-point averages of at least 2.8.
"The dual-credit experience is giving students an opportunity to taste a collegiate-level course, to see what it's going to be like, to understand that it's as much about doing the work and endurance as it is about raw intelligence," JCTC President Ty Handy said.
Students will be able to take the virtual classes at their schools during the day, and JCTC instructors will maintain office hours for anyone enrolled.
"We'll do as much face-to-face as we can get away with," Handy said. "We know students learn well that way."
Students have until Aug. 4 to enroll in dual-credit courses, and the district says those interested in such classes should contact their school counselors.
.@JCPSSuper announcing expanded dual-credit and Advanced Placement opportunities for @JCPSKY students. Students will get opportunity to take dual-credit courses virtually with JCTC instructors. pic.twitter.com/fBpNPRxA4p

— Kevin Wheatley (@KevinWheatleyKY) July 19, 2021
Pollio noted that JCPS graduates are also eligible for two-year scholarships at JCTC and Simmons College of Kentucky through Evolve502.
He said he believed the expanded virtual learning opportunities for high school students could make the district a national model in ensuring "equity in access" for advanced courses.
The district is also working to provide devices and internet connectivity for all students as it expands remote learning options, he said. More than 300 students have applied for the district's new virtual learning academy, according to spokesperson Mark Hebert.
"Research is pretty clear," Pollio said. "When a child graduates from high school and they already have dual-credit or college-bearing-credit classes, they're much more likely to go on to college and graduate from college."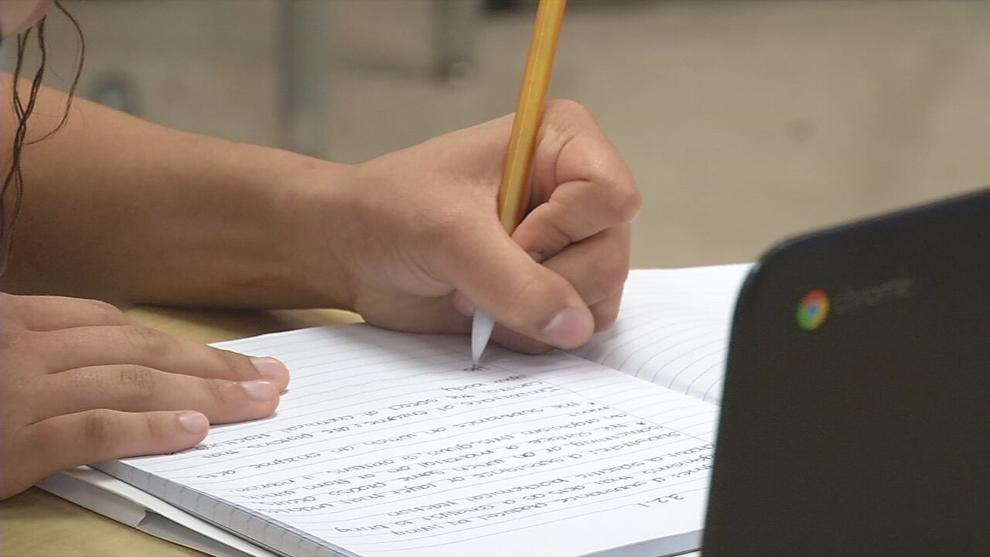 Two rising seniors urged their fellow JCPS classmates to consider registering for the classes, which are free for students.
"I've already knocked half of my classes for my first year in college. Basics," said Leilani Rodriguez, who attends Iroquois High School and plans to pursue doctorate degrees in biology and marine science. "How many students don't succeed in college because of basics? They drop out because they don't like them or they fail those classes."
"I aspire to be a geriatric physician, so I know especially the math dual credit will definitely take me a ways, and it's definitely going to set me apart from some of my peers," said Waggener High School student Nubia Ali.
JCPS will also provide online AP and career and technical courses for students at schools that do not offer the specific classes they want to take. Virtual learning hubs will be established at schools to support such coursework, according to the district.
Instruction will be asynchronous, with teachers available during office hours for in-person assistance, said Assistant Superintendent of High Schools Joe Ellison.
"For the first time ever, we're able to extend an opportunity to our students to engage in high-rigor, high-level instructional opportunities while they are where they currently are," Ellison said.
Copyright 2021 WDRB Media. All Rights Reserved.