LOUISVILLE, Ky. (WDRB) -- Louisville Metro Police Chief Steve Conrad exonerated several officers whose 2018 stop of a man in the west end for failing to use a turn signal prompted a federal lawsuit against the department alleging "racially biased policing" and other civil rights violations.
And the chief found that former Ninth Mobile Division Det. Kevin Crawford, who resigned while under investigation, committed "no policy violations" during the controversial stop of Tyrone Daugherty and his mentally disabled passenger.
Crawford, who has since been hired by the Jeffersonville Police Department in southern Indiana, is currently named in three civil rights lawsuits regarding traffic stops.
The stop of Daugherty likely would have violated several new policies that were put in place last summer, which raised the threshold for pulling over drivers and added rules on when people can be removed from their vehicles or handcuffed as well as limiting the number of police cruisers that can be involved.
But there was no such policy when Daugherty and his mentally disabled passenger were pulled over Sept. 18, 2018, frisked while a drug sniffing dog and officers searched the vehicle, even removing speakers out of the trunk.
During the lengthy stop, both men had to remove their shoes and the man with Daugherty was searched twice. Daugherty was the man's caregiver as part of his job, he said during police body cam video, obtained by WDRB News.
Daughtery was eventually released with a traffic ticket.
The internal investigation against Crawford was closed by exception because he resigned, but Conrad wrote that "the investigation would have concluded with no policy violations," according to a Dec. 10 memo.
Four other officers at the scene were exonerated after an internal investigation, according to Conrad's memo on the findings, obtained by WDRB News through an open records request.
An exoneration means, according to police, that an incident occurred but it was "lawful and proper."
Daugherty filed a complaint with the department after the stop, claiming Crawford unlawfully ordered him out of the vehicle and illegally searched his car without consent. The complaint was dismissed.
The lawsuit against officers and the department, which is still pending, alleges 'racially biased policing' and other civil rights violations during the stop. It is one of at least three pending lawsuits against Crawford and the Ninth Mobile Division over traffic stops in western Louisville.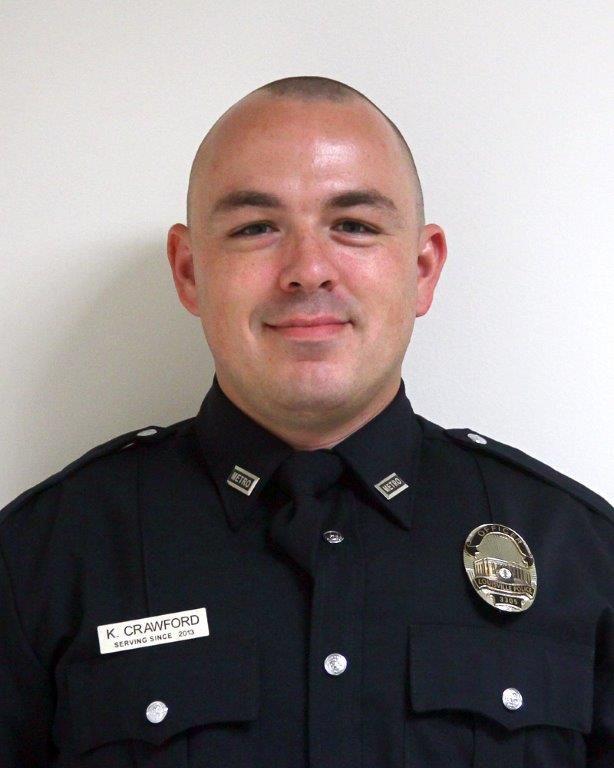 Video in some of the stops has gone viral, prompting complaints of racial bias and community outrage that led to the drastic change to the department's traffic stop policy.
Attorney Shaun A. Wimberly Sr., who represents Daugherty in the lawsuit, has said police pulled his client over because of his race and what part of town he was in.
"He was searching him because he is black driving a muscle sports car, a Challenger, which is profiled," Wimberly said.  
When Daugherty asked Crawford why the officer was ordering him out of his 2015 Dodge Challenger near Hale and Cecil avenues, Crawford said, "Because I'm giving you a lawful order to exit the vehicle."
Daugherty again asked Crawford for a specific reason why he and a mentally disabled passenger had to leave the car, according to body cam video obtained by WDRB.
"I don't have to give you a reason, sir," Crawford responded. "The Supreme Court of Kentucky says I can get you out of the vehicle, and any other passengers."
Wimberly said officers had no reason to believe that Daugherty was a danger and ordering him out of the car and searching him, the passenger and vehicle was an unlawful seizure and detention.
Wimberly also cited multiple lawsuits in the last year against police in the Daugherty suit, saying it shows a pattern of racially biased stops by police – "a custom, practice and policy" by the department, according to the suit.
Crawford and other Ninth Mobile officers were also involved in a lawsuit filed by Anthony Parker over a stop from August of 2018  when Parker was driving home from church with his fianceé and 9-year-old son and was pulled over at 28th Street and Broadway. Officers told him he failed to use his turn signal.
Police body cam video showed Parker had used his turn signal.
The three were surrounded by officers – blocked in by unmarked vehicles behind and in front of them – questioned, removed from the car and frisked while police thoroughly searched inside the car and trunk.
When Parker's girlfriend, Demetria Firman, was searched, in her church dress, while her purse and vehicle were "torn apart without consent," according to the suit, she asked Officer Josh Doerr if "something was wrong."
"This is how we conduct all our stops," Doerr responded, according to his body cam video, obtained by WDRB News. "We're a different kind of unit that works a little different than traditional."
In addition, Crawford and other Ninth Mobile officers are also defendants in the stop of an African American teen in August 2018 for making a wide turn. Tae-Ahn Lea was forcibly removed from his car and handcuffed while a police dog searched his vehicle. 
The lawsuits criticize the Ninth Mobile Division and police policy at the time, saying officers targeted poor neighborhoods and black residents by using alleged traffic violations as a pretext for stopping vehicles and searching occupants, hoping to find guns or drugs.
Copyright 2020 WDRB Media. All Rights Reserved.