LOUISVILLE, Ky. (WDRB) -- When Kevin D. Newton looks out from the porch of the small house on Thornberry Avenue that his grandparents bought in 1951, he sees more than an expanse of asphalt big enough to store 4,350 cars a couple of days a year.
Newton remembers that roughly 100 homes used to stand between his family's house and Central Avenue, in the shadow of Churchill Downs' iconic racetrack, where the 145th Kentucky Derby went off Saturday.
"This was our childhood. We rode our bikes here. We played outside. We shot basketball in the alley," the 65-year-old Newton recalled in an interview last week.
While Newton's side of Thornberry Avenue is still intact, the massive parking lot surrounding what's left of his neighborhood represents the culmination of Churchill Downs' decades-long creep into the residential area west of the racetrack.
"We're like the little, last island that's left here," Newton said.
Since the 1990s, Churchill Downs and former property owners have bulldozed homes and replaced them with a hodgepodge of grass and gravel lots.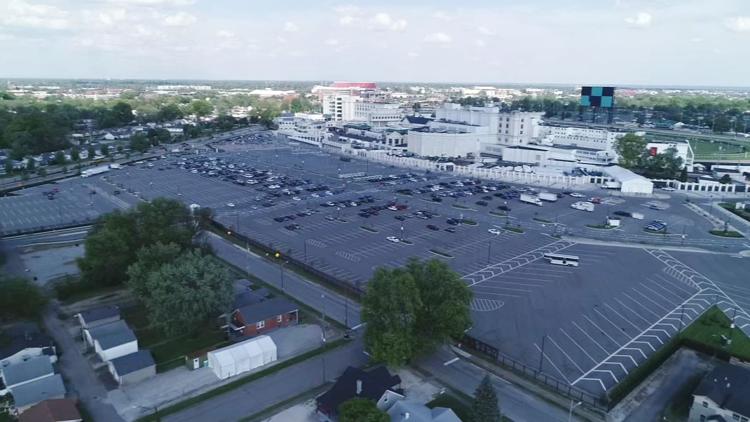 Then in 2017, Churchill Downs went on a $13 million buying binge around the track, adding the last bits of real estate west of the facility needed to complete a 37-acre expanse.
RELATED: Churchill Downs grabs $13 million in neighborhood real estate during unprecedented buying binge
The area was paved over last year, with trees and landscape islands, as part of a project to add a promenade entrance and re-route the flood of traffic into the facility for the Kentucky Oaks and Derby.
In some cases, Churchill Downs paid eye-popping prices for the few remaining homes, only to raze them. In April 2017, for example, the company paid $500,000 for a house on Homeview Drive that had a tax value of $72,250. Six months later the house was gone.
The expansion leaves Newton's street at the edge of the racetrack's new footprint. The question for him and for others who remain: Is Churchill Downs going to offer them a windfall buyout, too?
Or, is the company finished gobbling up the neighborhood, never coming for their homes? 
Ryan Jordan, the Churchill Downs official who oversaw the expansion project, did not respond to inquiries for this story.
But in recent months, Louisville-based Churchill Downs has told its investors that it may add a hotel and casino-like facility, with slot-like historical racing machines, at the Central Avenue racetrack.
"Certainly those are very logical things for us to be considering," Churchill Downs CEO Bill Carstanjen said during an earnings call last month.
But even if a hotel or casino materializes, it's unclear whether they would be within the existing track footprint or require a further expansion.
Some homeowners seem to resent that they may be left living next to company's vast expanse without receiving the financial windfall their neighbors enjoyed.
When a Louisville zoning board approved the giant parking lot in 2017, Taylor Boulevard homeowner Joe Lanham told the board he couldn't believe Churchill Downs paid $415,000 for a house across his alley, which was in such bad shape "I could have huffed and puffed and blowed" it down.
"The residents wonder why they pay some wonderful prices for some of the homes they purchase … Most of us residents who seem left out are wondering why," Lanham told the zoning board.
For those who remain, he said, "They've wiped out the whole neighborhood; look at it. The value of homes is gone. The neighborhood is gone. Just like that."
Churchill Downs, for its part, told city officials that its massive paving project would be good for the area.
"The proposed improvements represent a significant economic investment to an area that has been in need of attention for years and will only help the relationship between the Racetrack facility and its residential neighbors to the west," a lawyer for the company wrote to planning officials in 2017, when the project was approved.
The long-term destruction of the working-class neighborhood – officially called "South Louisville" – comes at a time when Louisville officials are increasingly concerned about the lack of affordable housing, even committing public dollars to help developers build more low- and middle-income apartments.
And city planning officials usually prefer to see buildings remain rather than give way to surface parking.
Yet, Churchill Downs has faced little opposition to its plans.
"If the houses that were being torn down (around Churchill Downs) had a better historical or architectural significance than they did, somebody might have been able to make a case (to save them)," said Steve Porter, a land-use attorney who often helps neighbors fight developers' plans. "Even my good preservationist friends weren't so interested in saving those houses."
Porter, who has represented a few homeowners near the racetrack over the years, added that there has never been a significant number of neighbors eager to oppose the company.
"The problem is that you have such a mix of attitudes over there," Porter said, adding that many owners are disinterested investors who rent to tenants.
In fact, some residents agree that Churchill Downs has improved the area.
Steve Krajcir, who lives most of the year in a duplex home he owns on Queen Avenue, said the manicured, landscaped parking lot looks a lot better than the mix of vacant lots and few homes that remained before the company's 2017 spending spree.
"They did a great job with their parking lot; it really looks good," said Krajcir, a jockey agent who works on Churchill Downs' backside.
Two years ago, Churchill Downs paid $238,000 for a house next door to Krajcir's (it's assessed value was $64,520). Krajcir said the company used the house as a construction trailer last year before demolishing it.
Krajcir said he's content to keep his house and doesn't mind that Churchill Downs hasn't made overtures for it yet. But, "If I can get comparable prices that they are paying to these others, I wouldn't mind selling to them."
For Newton, it's "depressing" at times to look out at the neighborhood that no longer exists across the street from his house on Thornberry. But most of the time, it's a "quiet" and "peaceful" place to live, he said.
He said he's never been approached about selling, but some of his neighbors have asked Churchill Downs about buying their houses and been told, "not at this time."
He said he's not so eager: "I'd think there'd have to be a lot of zeroes at the end of that check for me to finally say goodbye."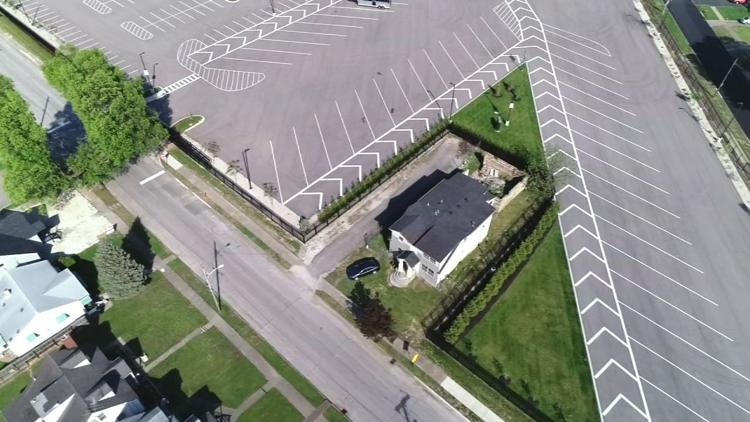 Even within Churchill Downs' 37-acre sea of asphalt, one remnant of the neighborhood remains: the two-story house at 3209 Bohannon Avenue, which is surrounded on three sides by the new parking lot.
Osman Yarow, who owns the home, was reluctant to speak with WDRB about his conversations with Churchill Downs.
Reached briefly by phone, Yarow said: "I didn't want to sell it. What's the problem?"