LOUISVILLE, Ky. (WDRB) -- For Edwin Chandler, the criminal justice system came quickly.
Ten days after someone shot gas station clerk Brenda Whitfield in the head in 1993, investigators pinned the crime on Chandler. He was arrested and would spend the next nine years behind bars.
But in 2009, Louisville Metro Police admitted it got it all wrong. New technology to analyze fingerprints showed that Chandler was innocent. Another man, Percy Phillips, had allegedly shot Whitfield.
Despite the life-altering miscarriage of justice, Chandler maintained that he had faith in the system.
"I have no choice but to continue to believe in it," he said at the time. "I know it works."
That faith is now being tested. According to records reviewed by WDRB News, authorities are moving much more slowly to hold Phillips accountable for the crime that they once blamed on Chandler. Twelve years after Phillips was charged with Whitfield's murder, the case has yet to go to trial, making it by far the oldest pending criminal action in Jefferson County.
And on July 22, Phillips was released from prison after serving out a 20-year sentence in an unrelated assault conviction. With no bail holding him on the murder charge for the 1993 shooting, Phillips walked free.
"I'm just shocked right now," Chandler said when told last week that Phillips was now free. "That's hard for me to believe."
While prosecutors say they intend to follow through with the case against Phillips, no trial date has been set.
"After dealing with all of that, then to come find out that they have had the wrong man the whole time ... and then you let the actual killer out?" Chandler said. "How do you think the family is going to feel?"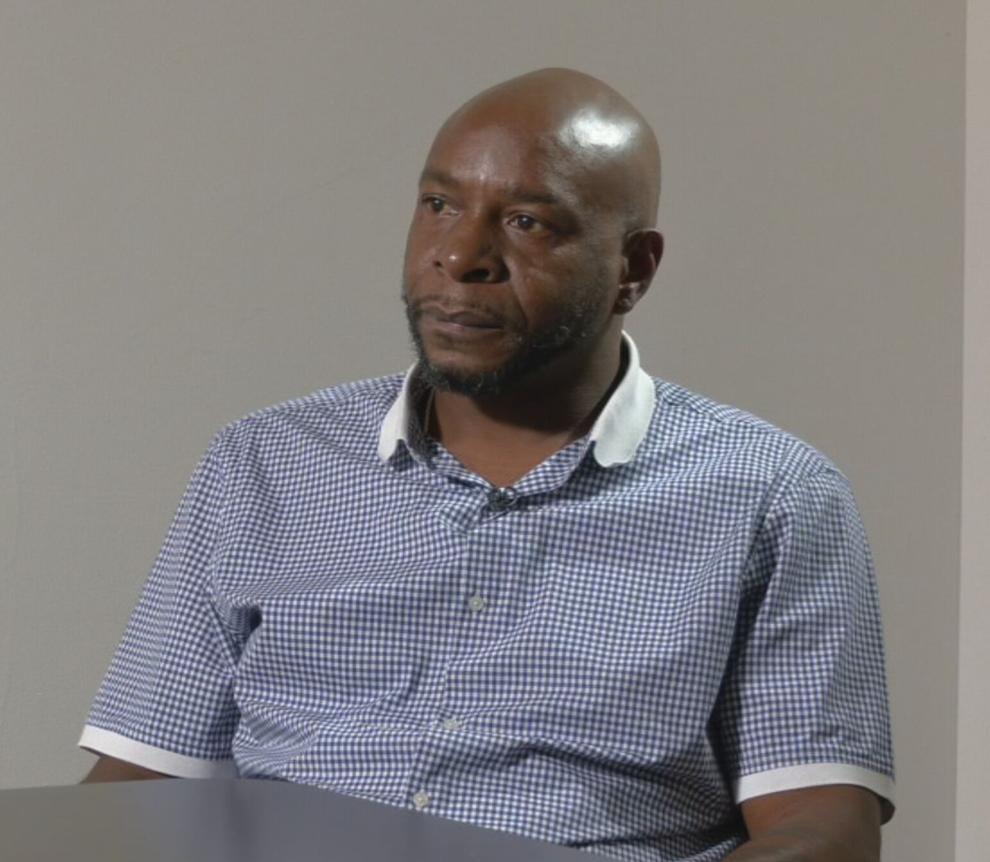 WDRB News was unable to reach family members of Whitfield, who was killed in the course of a robbery.
Former Louisville Metro Police Detective Denny Butler, whose investigation of the case helped free Chandler and indict Phillips, said the Whitfield family "deserves better."
"And the people that made that choice and are allowing (Phillips) to walk the streets, they should have to answer to ... the Whitfield family," Butler said.
But prosecutors said they too were caught off guard by Phillips' release.
In May, Assistant Jefferson Commonwealth's Attorney Mark Baker, who handled the case early on and then took it over again in recent years, asked Jefferson Circuit Court Judge Barry Willett to put a bond on Phillips as Baker at the time believed Phillips could be freed early as September in the assault conviction.
Willett denied the request without explaining his reasoning.
Murder defendants are commonly required to post a bond in the six figures — sometimes more than $1 million — to be released from custody while their trial is pending.
Requiring defendants put a large amount of money at risk is meant as a safeguard against their fleeing before being tried or committing other crimes while free. When a large bond is required, defendants are often unable to come up with the money, so they remain in custody.
All this appeared to be a nonissue in 2009, when Phillips was first charged with the 1993 murder, because he was already in prison for the 2001 assault conviction. With a 20-year sentence, he wasn't going to be released anytime soon, and murder cases generally take a few years to prosecute.
Julia Mudd, Phillips' attorney, argued during the May hearing that there had been no change of circumstances in the 1993 murder case and, since no bond was set in 2009, Phillips had done nothing to warrant altering it.
And she noted Phillips made a motion for a speedy trial in 2010.
"We've had about 12 years this case could have been tried," she said.
It is unclear where Phillips is now, and Mudd declined to comment. Phillips has pleaded not guilty and is due back in court later this month.
Baker said he will again ask a judge (Willett has retired) to assign a high bond for Phillips, likely putting him back in jail. Baker said Phillips is a danger to the community.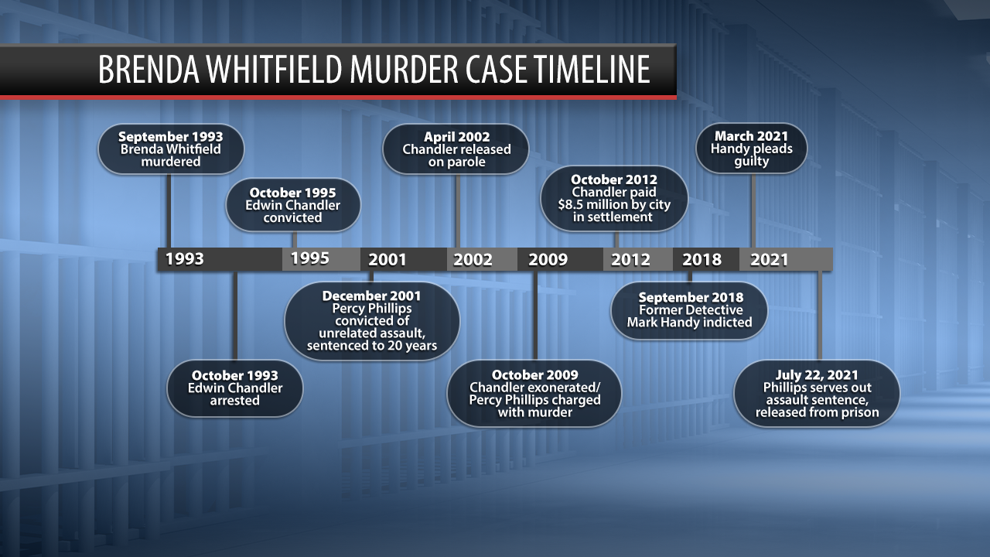 Corrupt cop
After he was charged for the Whitfield murder in 2009, Phillips requested a speedy trial, which under the law means within six months, barring certain circumstances. He made the same request in 2013.
But the prosecution didn't even announce they were seeking the death penalty until 2015. Since then, the case has been set for trial at least a half dozen times before being postponed for various reasons.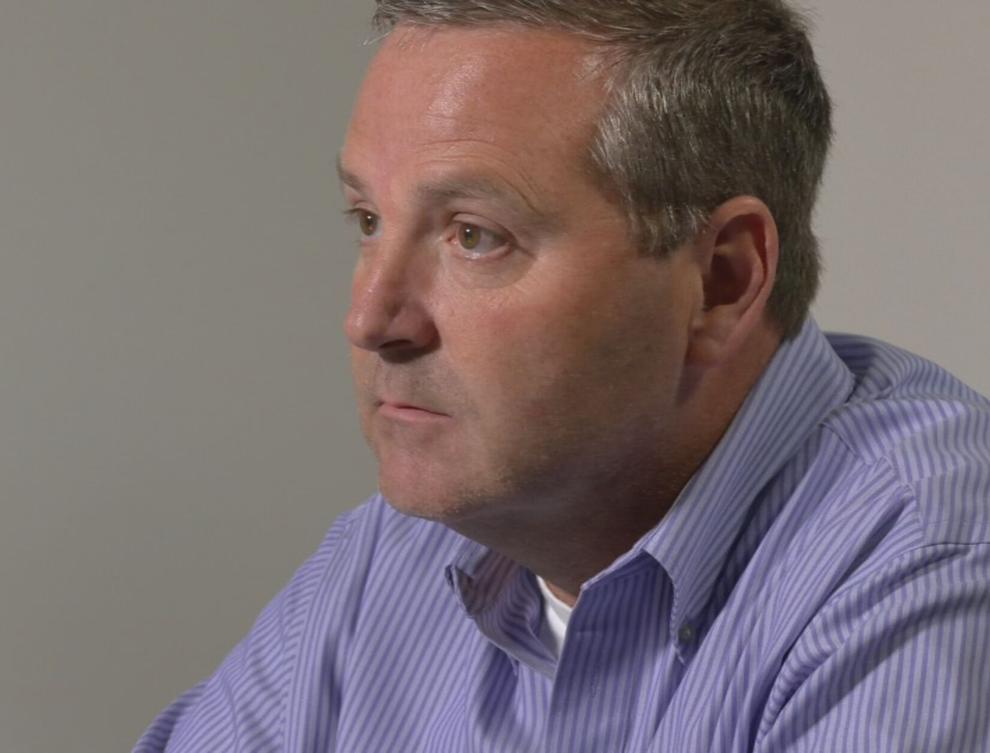 Butler, who after retiring from the police department was elected to the Kentucky House of Representatives from 2013-17, said he's never seen a murder case remain pending this long and doesn't believe prosecutors want the case to go to trial.
"I think you have to put it in context," he said in an interview. "It's a murder arrest in relation to a wrongful conviction ... I think the entire justice system just doesn't want to go there."
In March, former Louisville police detective Mark Handy pleaded guilty to committing perjury during Chandler's 1995 trial. Handy lied about something he said Chandler told him about the case, something only the murderer would have known.
And Handy is accused of framing several other people for murder.
Chandler was found guilty in a 1995 trial, in part because he confessed, though he said it was because he was coerced by Handy's threat to take away his sister's children. He was released on parole in 2002 and still maintained his innocence.
Chandler has said he was told by another inmate in 1996 that he was also at the gas station the night Whitfield was murdered and could identify Phillips as the shooter.
The inmate contacted police, but investigators didn't follow up at the time.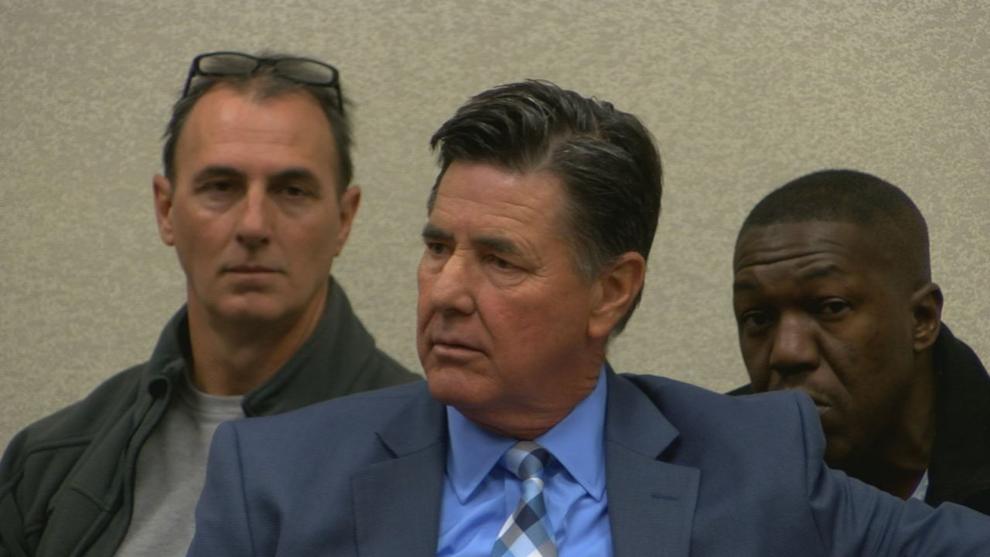 Upon his release, Chandler approached the Kentucky Innocence Project, which took on the case even though Chandler was no longer incarcerated.
In 2008, with prompting from the Innocence Project, Butler re-examined the murder as part of his work in the LMPD cold-case unit. That included using updated fingerprint technology.
In 1993, the suspect brought a beer to the convenience store counter and when Whitfield opened the register, he shot her in the head. A total of $32 was taken.
The beer was left behind. Running a fingerprint scan on the bottle, Butler discovered three prints: Two were from gas station employees, and the other was from Phillips, according to court records.
During the subsequent investigation, a photo lineup that included Phillips was presented to the former inmate who was in the parking lot at the time of the murder. He identified Phillips as the person who walked out of the store after the shooting, according to court records.
"All I can do at this point is apologize to you on behalf of the justice system," former Judge Fred Cowen told Chandler when his charges were officially dismissed in 2009.
After his exoneration, Louisville Metro government eventually paid Chandler $8.5 million to settle a lawsuit.
Whitfield's family met with Chandler and expressed sorrow that he had to spend nearly a decade in prison for something he didn't do.
Keith Whitfield, Brenda's husband, told a Courier-Journal reporter at the time, "Now I have to go through the whole thing again."
Judge blamed for delay
But the case against Phillips remains stalled with no end in sight.
Phillips' attorneys have repeatedly asked for the robbery and murder charges to be dismissed, in part because of violations of the speedy trial law.
"The defendant was charged in 2009!" a defense attorney wrote in 2018. "The stress of facing a murder accusation, endless evaluations, hearings and pretrial conferences and the looming threat of the death penalty cannot be quantified. He has faced these for nearly 10 years."
Given the Whitfield murder took place in 1993, attorneys for Phillips have also argued that several witnesses have either died or can no longer be found.
The defense also accused prosecutors of withholding evidence, including an FBI investigation into Handy's actions.
And both sides of the case say Willett — a judge who has been reported to run a notoriously slow courtroom — shares blame for the delays in the Phillips prosecution. Even Willett has acknowledged partial responsibility for the pace of the case.
"I've never been involved in a case where we have a defendant that has taken this long to take to trial," said Baker, the prosecutor. "All I can tell you is the commonwealth has lot of power, but (a prosecutor) doesn't have the power to control the court's docket."
In 2009, just a few months before Phillips was indicted, The Courier-Journal wrote that a computer analysis of state court records showed Willett was responsible for more court delays than all 12 of Jefferson County's other circuit court judges combined. And the newspaper reported that Willett had more final motions pending for at least 45 days than all 25 judges in Jefferson County combined.
"I need to do a better job," Willett said at the time. "Some of my old cases have fallen through the cracks. I've screwed up."
In 2019, Willett admitted in an order in the Phillips case that his "overcrowded schedule" caused him to postpone hearings.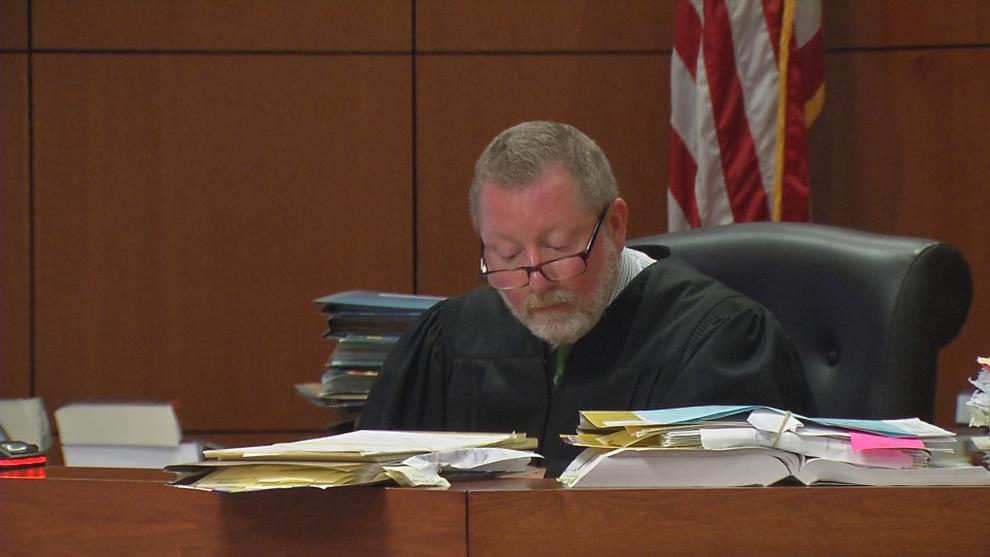 But Willett denied Phillips' motion to dismiss the charges, noting that the case was repeatedly delayed because of "a multitude of motions filed by Phillips" and his attorneys, mental competency evaluations, a voluminous amount of evidence and "the court, the prosecutor, and defense counsel all having burdensome schedules."
Willett also argued that Phillips was trying to delay going to trial, saying his assertions that he has a right to a speedy trial "were less than vigorous and almost certainly not genuine," according to court records.
Willett retired June 30. District Judge Eric Haner was selected to fill his spot.
Years ago, prosecutors offered Phillips a guilty plea with time served, meaning he could be released as soon as he served out the 20-year sentence in the separate assault case and not spend any time in prison for the murder of Whitfield. But Phillips has rejected the offer, maintaining his innocence.
Baker, who was not the prosecutor when the plea deal was offered, said the deal is "not under consideration" currently.
"As soon as we get a trial date, we will try the case," he said.
Meanwhile, Chandler, who is a witness in the Phillips case, continues to wait for closure in the defining event of his life.
"I don't want to have to keep coming to Louisville to go to court ... This happened in '93," he said. "I feel like I'm a victim ... I'm not a murderer. But that's what I've been labeled as. "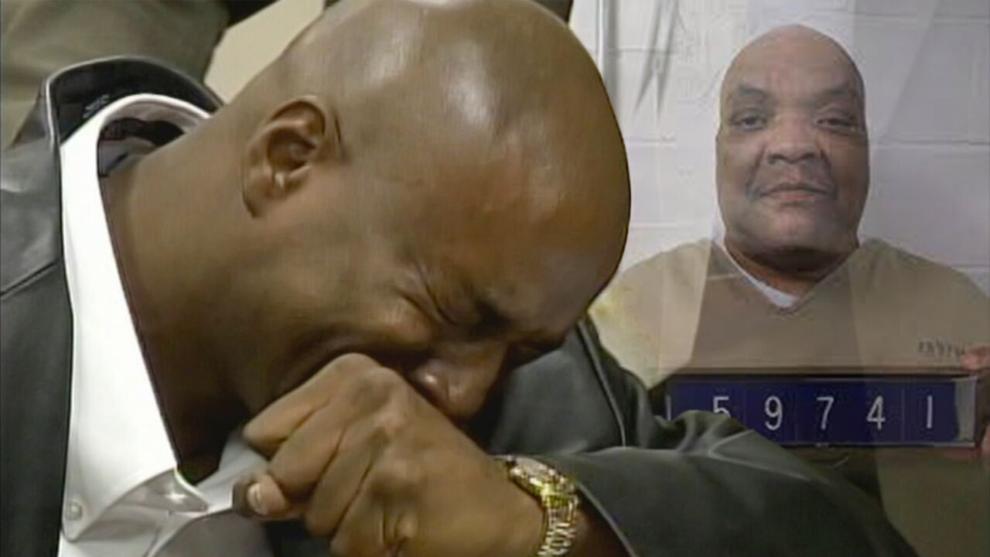 Copyright 2021 WDRB Media. All Rights Reserved.