TAYLORSVILLE, Ky. (WDRB) – At the edge of Little Plum Creek in rural Spencer County, Bland Baird's family raises beef cattle and other crops on land it's owned for more than 100 years.
Continue east, and Plum Ridge Road passes other working farms before giving way to modern subdivisions and single-family brick homes. To the west, it splits low-lying cropland and tumbling hillsides.
But big changes could be coming to this area and others like it. Kentucky is studying whether to build a new road linking Interstate 65 in Bullitt County with I-71 in Oldham or Henry counties, creating an interstate-type bypass around Louisville farther east of the Gene Snyder Freeway.
Planners are evaluating routes through six or possibly seven counties, and the general project area in Spencer County takes in Plum Ridge Road near the Baird family property, according to a preliminary map reviewed by WDRB News.
A new highway would likely help Spencer attract jobs and aid existing industry, said Baird, a retired schoolteacher. But he also fears it would "destroy" a place that has deep agricultural roots and in recent years has become home to people who commute to work in Louisville.
"I'd just assume us stay a bedroom community, personally," he said.
The state study is the first step in evaluating a new road and its potential cost, although there is no guarantee one will ever be built. State officials still would have to launch environmental reviews and decide how to pay for miles of new highway at a time of increased scrutiny over transportation spending.
A proposed road could take decades to complete and cover 45,000 acres, say economic development and other officials briefed during small-group sessions. It's envisioned as "another Gene Snyder," said John Snider, executive director of the Bullitt County Economic Development Authority.
Snider is among those who support the connection as a way to prepare the Louisville region for future business and population growth and ease current safety concerns. Other advocates say that crashes and traffic backups on I-65 and on the Snyder Freeway prove a new loop is needed.
Bullitt County officials say the idea began as a solution to traffic congestion between Shepherdsville and Mount Washington on Ky. 44, a two-lane road that connects the county's two largest cities. In discussions with the region's elected representatives, the concept was expanded to an "outer, outer loop," Snider said.
"It's not a project that's going to happen tomorrow. It's not going to happen five years from now," he said. "But it's something that has to happen at some point in time."
But critics believe more road building is out of step with 21st century planning, will lead to sprawl and threatens an area that's synonymous with Kentucky's rural identity. They note that the state has made the widening of the Snyder Freeway, which already links I-71 and I-65, its top priority.
Some also have concerns about a potential highway running next to portions of the Parklands of Floyds Fork, the award-winning linear park in eastern Jefferson County.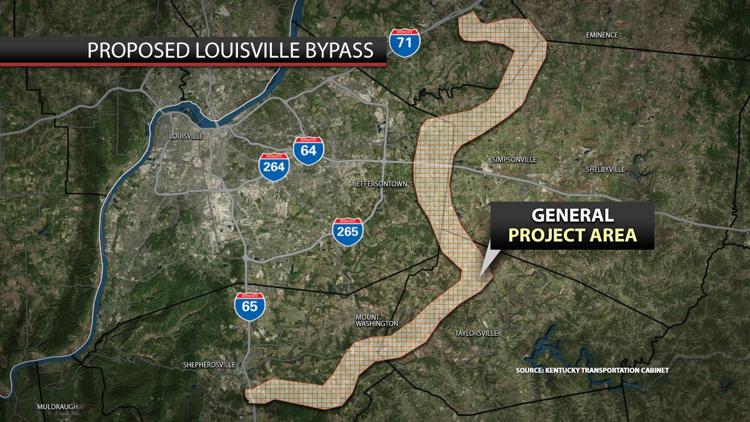 Kentucky lawmakers approved funds for the study in last year's highway plan, and the Kentucky Transportation Cabinet awarded a $1.9 million contract to HDR Engineering last fall. A final report expected in mid-November would include three to four corridor options, including the possibility of building no road at all.
"It is important to remember that these are wide, potential corridors, not specific roadway alignments," Andrea Clifford, a Kentucky Department of Highways spokeswoman, said in an email.
Planners generally are studying an area that runs east from Shepherdsville and cuts between Mount Washington and Taylorsville before heading north along the Shelby and Jefferson county line west of Simpsonville. It would hug the Parklands in some areas and eventually join I-71 near La Grange.
Whatever the route, a proposed highway east of the Gene Snyder would slice through one of the state's fastest-growing areas.
With about 80,000 residents, Bullitt County is expected to grow to about 98,245 people by 2040, according to the Kentucky State Data Center at the University of Louisville. That would be a 23 percent increase.
Two other outlying counties -- Oldham and Shelby – are expected to see population increases of more than 50 percent by 2040, while Spencer is projected to grow by 46 percent, according to the estimates.
The road would cross 10 miles in Shelby County, although there are different alignments being studied, said Kentucky Sen. Paul Hornback, a Republican from Shelbyville.
He acknowledged that as Louisville has grown, some people have moved to traditionally rural communities to get away from built-up urban and suburban areas. It's likely that most residents in the counties where the highway would pass won't want it, he said.
But, he added, "Leaders have to get out there and do some things that aren't accepted."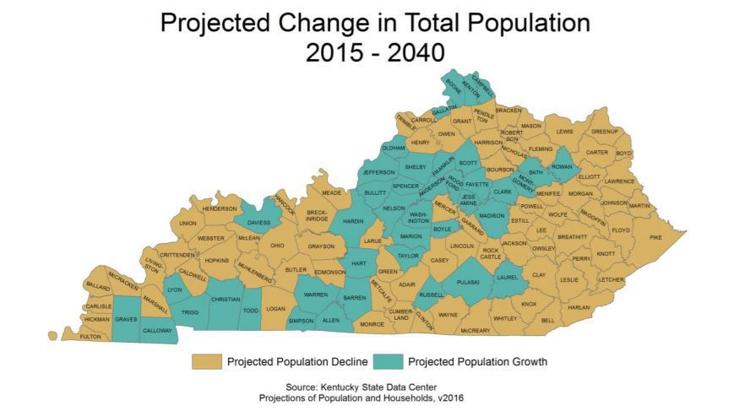 The project is a logical way to address areas where growth is expected, said Dan Ison, Shelby County's Judge-Executive. He likens it to the planning that occurred before the Watterson Expressway and Snyder Freeway were built decades ago as Louisville's population pushed out from the city core.
At the same time, he said, he won't support certain routes. For instance, Ison dismissed a road that runs along the current Ky. 55 as a nonstarter because it would "destroy" the small town of Finchville.
"I'm the Saddlebred capital of the world," he said. "I don't want … road development that harms my horse industry. What's the best route through Shelby County that will be the least impact for the citizens?"
Farther north in Henry County, where the route could join I-71, Judge-Executive John Logan Brent said a new interstate bypass may have merit. But he argues the state ought to focus on projects that need to be done now, including the widening of I-71 and those that are funded but lagging behind.
His prime example: An "incredibly dangerous" stretch of Ky. 146 that he claims has an accident rate three times that of other state highways in the county. 
"Before we start throwing too much money into studying something, we need to take that money and fix what's broke today," he said.
The project study area skirts the Parklands, where private and public funds helped establish a park stretching roughly from Shelbyville Road to Bardstown Road. 21st Century Parks, the nonprofit park developer, did not respond to an interview request and questions for this story.
Chris Glasser, executive director of Bicycling for Louisville and a critic of the Gene Snyder widening, said a new bypass would likely encourage sprawl and development built around automobiles. "Suburban development in and of itself doesn't have to be so auto-centric, but it's going to be with a project like this," he said.
Building a new outer loop also seems to run counter to goals set by cities like Louisville to reduce total vehicle miles traveled and curb the "heat island" effect caused by asphalt and a thin tree cover, said Lane Boldman, director of the Kentucky Conservation Committee.
"Creating a new highway would no doubt put additional pressure on this region, which in part serves as a transitional buffer between developed and rural areas," she said.
Louisville Metro government representatives are providing input to the study, Mayor Greg Fischer's office said in a statement. 
"The study should take into account the volume of new projects that have already been identified in our region, and significant maintenance improvements, alongside available and projected revenues, which we know are well short of the need," the statement said. "The study should also provide return on investment calculations based on economic and population projections for the coming decades."
For now, the planning work continues. A report on traffic volumes, land use, crash locations and other data is expected by March 1, about 2 ½ months later than the requirement in HDR's contract with the state.
State officials pushed back the deadline so that newly elected officials in the region's counties could be included in the meetings, Clifford said.
Back in Spencer County, Jeff Miller welcomes a new route. Miller, who owns Miller Mowing & Landscaping Inc. at an old dairy farm in Fisherville, moved his business from Jefferson County 16 years ago.
"I think it's progress, which is going to happen," he said.
Kentucky State Rep. Russell Webber, a Shepherdsville Republican who has advocated for a new road, said he's keeping an open mind about possible routes. But he believes the loop is needed to handle growth in Louisville's outlying counties and open up areas for development.
While the state consultant thus far has shared data with local elected officials, economic development leaders, legislators and others, Webber said there will be opportunities for citizens to weigh in on the proposals.
"The fact of the matter is that people are coming," he said. "Are we going to be prepared or not?"
Reach reporter Marcus Green at 502-585-0825, mgreen@wdrb.com, on Twitter or on Facebook. Copyright 2019 WDRB Media. All rights reserved.