LOUISVILLE, Ky. (WDRB) -- After recent costly mistakes, an almost unanimous Metro Council on Thursday voted to hold Mayor Greg Fischer's Administration more accountable.
Councilman Brent Ackerson, D-26, said the council hadn't paid "as close attention as I feel like we should have. And I'm remiss on that also."
Now, however, after the bipartisan vote, Metro Council has a safeguard in place to help it pay closer attention to economic development deals by Fischer and his economic development team, called Louisville Forward.
Metro Council will now require quarterly updates from the mayor's administration about recent economic development activities, including "details pertaining to recently awarded Requests for Proposals," "recent successes or failures," efforts by Metro Government to attract more business and the selling or leasing of city-owned properties.
Councilman Anthony Piagentini, R-19, sponsored the ordinance.
"Transparency is incredibly important in any government agency, particularly local government," he said.
Piagentini said something had to change after two recent missteps by the mayor's administration and Louisville Forward.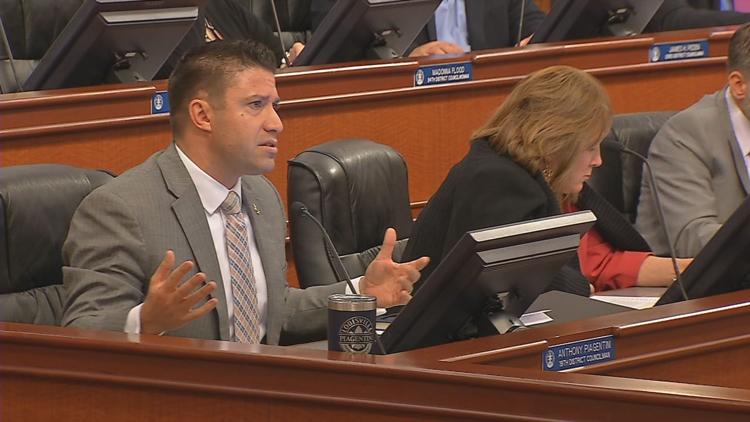 In one of them, Piagentini said, the city leased a piece of city property to two separate developers and faced threats of a lawsuit.
"The city had to also pay $150,000 of taxpayer money to avoid that lawsuit, all because of a mistake made related to committing surplus property to private organizations," Piagentini said.
In a July committee meeting, Ackerson called the incident a "pathetic waste of government resources and money" at a time in which the city's budget is feeling the squeeze of a greater pension obligations from the state government.
Piagentini criticized another recent incident, in which a developer bought some Bardstown Road buildings from the city and, without making any improvements to the properties, quickly sold them for profit.
"I would argue they took a piece of government property that was owned by taxpayers and made money off of it without doing a darn thing to it," Piagentini said.
He said he hopes the new rules will give the council more oversight.
"When mistakes are made that cost taxpayer dollars, that's a serious mistake from my point of view, and we want to make sure that never happens again," he said.
Meanwhile, Louisville Forward spokeswoman Caitlin Bowling told WDRB News via email that the agency will continue to work closely with the council.
"The information items laid out in the ordinance are publicly available on the city website, through the Kentucky Cabinet for Economic Development, and on our economic dashboard," Bowling wrote. "In some cases, the documents represent action that has already been reviewed and voted upon by Metro Council.
"Louisville Metro Government has a long record of transparency and is a leader in open data. We hope taxpayers will use all of our online resources," Bowling wrote.
Copyright 2019 WDRB Media. All Rights Reserved.