LOUISVILLE, Ky. (WDRB) -- A mother-groom dance is a wedding tradition that is often times unforgettable, and for one Oldham County family, the moment held even more weight than normal.
In April, Petricia Crabtree twirled around the dance floor with her son surrounded by guests at his wedding. Five years earlier, Crabtree had done the same thing at her other son's wedding, but this time, she had to work even harder to make the dance a reality.
In July, Crabtree was riding a bike down a hill that she had traveled many times before, when suddenly she flipped over her bike and landed face-first on the pavement. 
Crabtree says she injured her spine from her C4 to T9 vertebrae and also broke bones in her face and jaw. She also knocked out several teeth in the process.
"The first thing I realized was I could not feel my legs at all," said Crabtree. "I was at U of L for three weeks, which apparently during that time I had spinal surgery. It was an extensive injury."
Crabtree eventually moved to start her journey to regain mobility at Frazier Rehab.
"She had what we call spasticity, which is adaptations that happen after the injury," said Dr. Camilo Castillo with Frazier Rehab. "She was very tight, she couldn't move."
Castillo says one thing that worked in her favor was the woman who called for help after Petrina fell didn't move her.
"Petrina's injury was unstable so moving the patient in a situation like hers could have made things much worse, so in those situations you need to immobilize the neck to make sure it doesn't move until they get to the E.R.," said Castillo.
Throughout her time at Frazier Rehab, Crabtree kept one thing in mind: she wanted to dance at her son's wedding in less than a year.
"My biggest goal was to be able to dance with my son at his wedding in April," said Crabtree. 
She slowly began making strides toward her goal, first standing up, then walking with assistance before taking her first steps alone.
Crabtree says every night her husband would ask her what she had done that day and no matter how seemingly mundane, her biggest daily achievement would be written on a gold medal and hung on the wall in her room.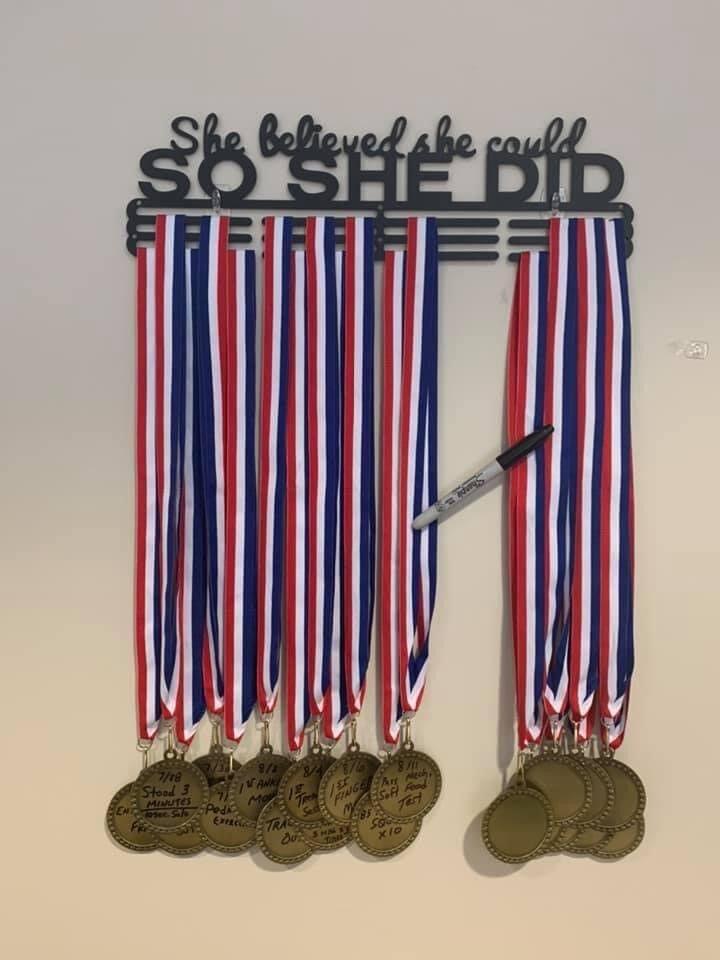 "If I could tell him I walked three steps with assist than that would go on the medal. Or if I managed to transfer without using the hoyer and just using the transfer board, any little accomplishment to him went on the medal," said Crabtree. "He would only give me one a day so I had to decide which one was the most important for the day. By the time I left, that rack was filled with medals."
"One of the things I noticed is the relationship between Petrina and her husband and the connection they have," said Castillo. "Even in this dramatic case, he had time to make it a good time with a sense of humor and that helps because it lifts up the spirit of the person and the whole team."
Step by step, Petrina made her way closer to her goal. Until the big day in April when she danced in her son's arms, surrounded by family and friends.
"It was just the best moment for everything I went through. That was the biggest accomplishment was to be able to stand up and dance with my son at his wedding," said Crabtree.
Now that her biggest goal has been crossed off the list, Crabtree says she has plenty more to tackle. She says she and her husband are especially looking forward to the day she can ride a bike again.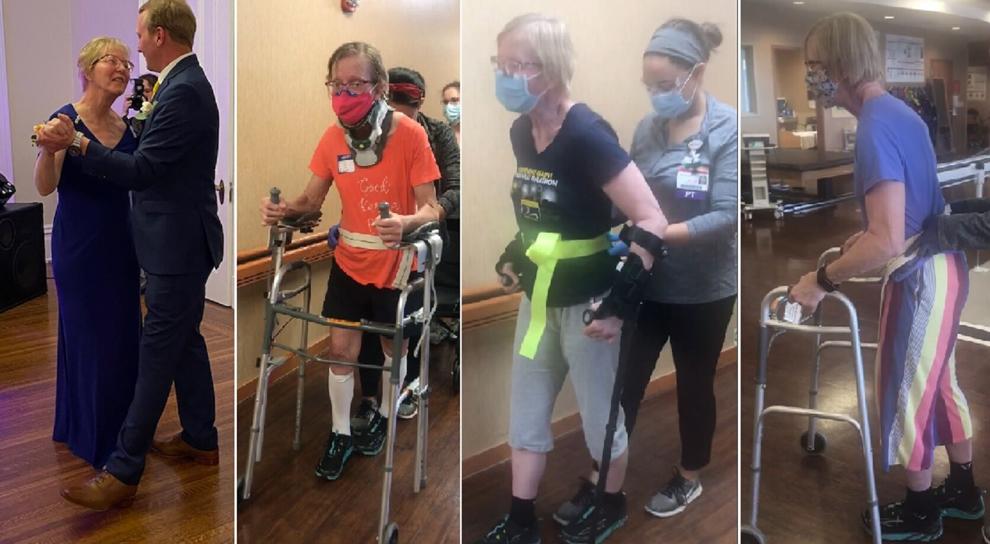 "Riding bikes is my therapy. I get out there and it's just relaxing," said Crabtree. "He really wants me to get back out there and start doing something that makes me feel more normal."
Crabtree's doctors say a progression like hers isn't always possible, but determination and a positive attitude can make all the difference.
"It's hard not to get emotional because we do this, and we care about the patients and having goals like Petrina's is just amazing," said Castillo.
Crabtree says she still has more operations to get through in order to repair the damage done to her face and jaw.
Copyright 2021 WDRB Media. All Rights Reserved.