LOUISVILLE, Ky. (WDRB) — The last time United Parcel Service workers went on strike in 1997, Rob Moreno was 21 and had just joined the company two years earlier as a part-time employee loading trucks.
In the days before social media, Moreno remembers schlepping his 8-month-old son to the picket line in San Diego, Calif., to find out what was going on — and the "scary" feeling of not knowing how long he would go without a paycheck.
"I wasn't in the best financial situation, but I knew what we were doing was right," Moreno told WDRB News. "Even if I had to struggle and beg and borrow money to make the bills, I knew it was important."
Now a fulltime semi-truck driver with nearly 30 years of service to the Atlanta-based shipping giant, Moreno, 48, is once again preparing for the possibility of a strike this summer, including sharing his early-career experience with young part-timers.
Moreno said the message from Sean O'Brien, the new leader of International Brotherhood of Teamsters, is clear: "He's told us, 'Buckle up. We're in for a fight.'"
Monday is the scheduled start of talks between UPS and the Teamsters on the renewal of their five-year contract, which expires July 31. Covering more than 340,000 delivery drivers, package handlers and other rank-and-file employees, it's the largest private-sector labor agreement in the country.
Buoyed by low unemployment and new leadership, the Teamsters are taking a more "militant" tact toward the company than five years ago, eager to capture a bigger bite of UPS' surging profits during the pandemic.
O'Brien, who ascended to the union's top job in 2021 on a reformer's platform, has said the UPS fight will reverberate throughout the economy, setting the bar for other unions and showing non-union workers at employers like Amazon what's possible with organized labor.
"We are not going to take and accept what UPS gives us. We're going to demand, take and punish if they don't give us what we want," O'Brien said at a Teamsters rally in his hometown of Boston earlier this month. "… If you're a pipefitter, if you're a plumber, if you're a bus driver — what we do in these negotiations is going to set the tone for the entire country, the entire labor movement."
Whether the talks have actually begun is unclear. Last week, the Teamsters accused UPS of dragging its feet on about 40 "supplemental" agreements covering different regions of the country. The Teamsters said they won't come to the table on national issues like wages, pensions and healthcare until those regional agreements are complete.
Regardless, the union says July 31 is a hard deadline.
"If we don't have the contract that you guys want by Aug. 1, we're not working no more," Fred Zuckerman, the No. 2 official at the Teamsters and the former longtime president of Teamsters Local 89 in Louisville, told union members at the Boston rally.
The contract covers the broadest range of rank-and-file UPS employees — from parttime package handlers who must be paid a minimum of $15.50 per hour to delivery drivers who earn an average of $95,000 a year and tractor-trailer drivers who earn an average of $112,000, according to the company.
The first UPS strike in 26 years -- 1997 was the only time the Teamsters walked out on UPS in their history -- would have major implications for the country. Experts say the company's workload of some 20 million packages a day could not be fully absorbed by its primary competitors such as FedEx, the U.S. Postal Service and Amazon's in-house delivery network.
"If there is a strike, there will definitely be some supply chain bottlenecks created by it," said Paul Yaussy, a professional services consultant with Shipware, a company that helps shippers optimize their spending with carriers. "…There's no single carrier that can take on all that volume."
Yaussy said he's told businesses to prepare for the late summer as if it were another year-end "peak season," when shipping volume normally surges and delays are common.
The stakes are particularly high in Louisville, where UPS is the biggest employer with more than 20,000 jobs, thanks primarily to its Worldport global air hub and Centennial ground hub.
What's at stake
In contrast to the Teamsters, UPS has sought to cool the rhetoric surrounding the negotiations. The company referred a reporter to CEO Carol Tome's public remarks on the subject.
"We are not that far apart on the issues," Tome told stock analysts on a Jan. 31 conference call. She predicted it would take only a few "tweaks" to reach a deal.
As an example, Tome said both the Teamsters and the company want to limit forced overtime for delivery drivers.
"I don't want people working six days a week unless they want to. So, we're aligned on this. We just need to get to the bargaining table and work it out," she said.
The Teamsters declined to make O'Brien available for interview, but he has stated the union's broad goals for the contract in several forums over the last few months. Those include:
-          Higher wages for part-time employees, who make up about half of the jobs covered under the contract
-          More fulltime job opportunities. Amber Elizabeth Gover, a package handler at UPS' Worldport hub, said she has 19 years in and is still waiting on a fulltime opening.
-          Eliminating a lower-classified package driver position created in the current agreement. The "combination" drivers also sort packages and work weekends, but get less than fulltime drivers.
-          Eliminating Uber-like "personal vehicle drivers" whom UPS uses to deliver packages in their personal cars
-          Restricting the company's outsourcing of semi-truck driver work to third parties
-          Ensuring UPS cannot use inward-facing cameras to monitor drivers on the job, which UPS says it does not
'People are just bitter'
Despite Tome's optimism about reaching a deal, many UPS workers are eager to avenge what they have called overly conciliatory agreements, especially the most recent national contract approved in 2019.
According to engaged Teamsters, the current deal saddled them with meager wage increases while UPS' business surged because of pandemic-induced online shopping.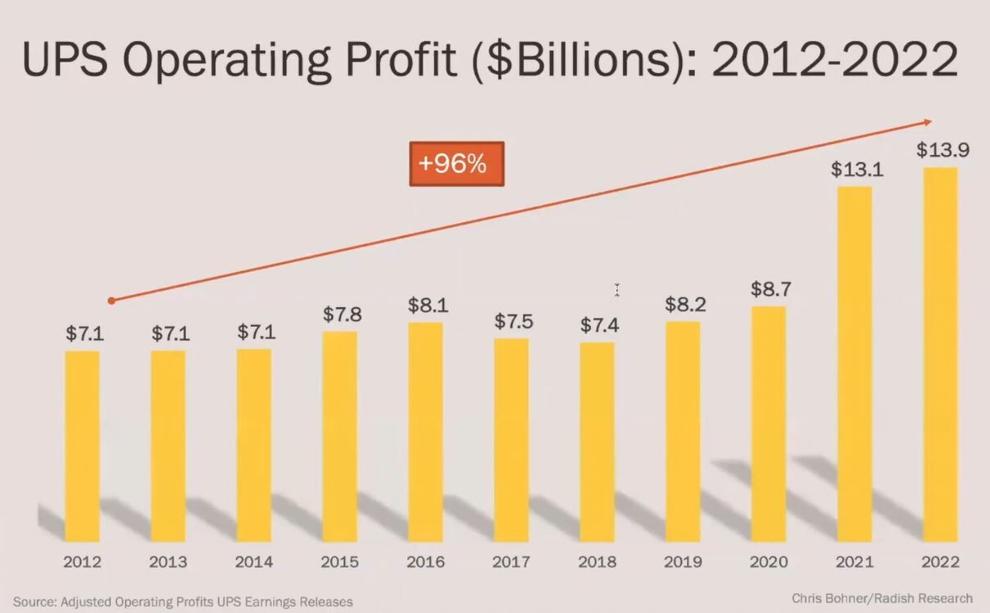 "Clearly, the contract is not keeping up with inflation and as the company continues to book these massive profits," said Chris Bohner, an economic researcher, in a March presentation to an independent group called Teamsters for a Democratic Union.
For example, under the current 2018 contract, UPS must currently pay a minimum of $15.50 per hour to new part-time workers. But because of the tight labor market, the company is paying much more through voluntary "market rate adjustments."
In Louisville, for example, UPS is offering $20-$21 per hour to new employees. Consequently, it has also raised existing part-timers' hourly pay to match, even though the contract sets a lower minimum.
Curtis Veyel, a part-time package handler at UPS' Worldport hub in Louisville since 2009, said $21 per hour is a reasonable starting wage in the current economy. But the situation has resulted in new hires earning the same wage as long-tenured employees.
"I think if someone with no knowledge of any job at UPS is worth $21 an hour, then I should be worth something more," Veyel told WDRB. "It can be a very dangerous job if you don't know what you are doing."
Had part-time UPS wages kept up with inflation since the 1980s, Bohner told the group of Teamsters last month, the starting rate would be "well over" $25 an hour.
"The company has been paying market rate adjustments to people that haven't been there. They're not rewarding the people that have been there a long time. So we're going to fix that problem," O'Brien said on a Teamsters Zoom call last month.
'Unforgivable'
Beyond the details, many Teamsters were enraged by the method in which the current deal was approved.
Under longtime former General President James Hoffa Jr. — son of legendary union leader Jimmy Hoffa — the union used a procedural tactic to push the contract through despite rank-and-file members having voted to turn it down. The move was available because less than half of the union's eligible voters turned in ballots on the contract.
The ramrodding of the current contract was "unforgivable," Zuckerman said at the Boston rally.
Under O'Brien, who took office in 2021, the Teamsters closed that loophole, ensuring that the next deal cannot be pushed through over the objection of the rank-and-file.
"People are just bitter. They feel like they've gotten screwed over the last four contracts ever since 1997 because we've given up and given up," said Anthony Blair, a 37-year package handler at Worldport. "And now, we finally have the power to vote 'no.'"
UPS faces declining volume
Bohner, the researcher helping the union, estimated that a two-week strike could cost UPS about a fourth of its annual operating profits, or $3.2 billion. A month-long strike could wipe out nearly half of the company's annual operating profits, he said. 
The negotiations come at a precarious time for UPS, as the pandemic surge in online shopping has started to wane.
UPS handled 28 million packages a day in the fourth quarter of 2022, down 4.5% from the same period in 2021. Blair said he has noticed the second-day air package volume at Worldport not bouncing back to its usual springtime levels, leading the company to send workers home.
Marc Wulfraat, the founder of logistics consulting firm MWPVL International, said UPS may be limited in its ability to pass higher labor costs to its customers.
For example, he noted that Amazon — UPS' single-largest customer — has spent years building out its own delivery network.
"They will accelerate their own delivery station program if UPS starts raising costs too much," he said.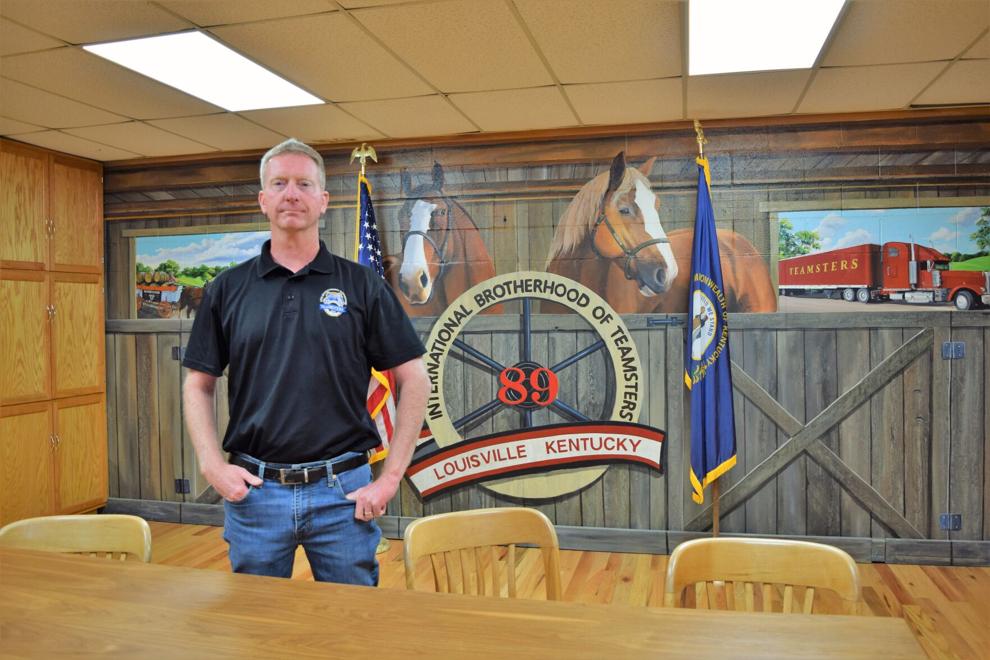 While the Teamster leaders talk tough, the strength of any job action depends on the commitment of rank-and-file workers, including more transient high school and college-aged workers who may not be as engaged as career UPSers.
The Teamsters are trying to demonstrate organized labor's power against a backdrop of declining influence. When they last struck UPS in 1997, 9.8% of private sector workers were members of unions. The rate has steadily declined, reaching 6% in 2022, according to the U.S. Department of Labor.
Conservative states such as Kentucky have adopted so-called right-to-work laws that allow workers at union employers to opt out of supporting unions through their paychecks.
But David Thornsberry, a retired UPS delivery driver who participated in the 1997 strike, said workers today have more support to weather a strike than he did three decades ago.
The union has been touting its $300 million reserve fund for strike pay — benefits that would be worth about $200 to $500 a week per worker to partially offset the pay they would miss from UPS. The Teamsters wouldn't say how long the fund would last, but O'Brien has said he is willing to spend "every penny" to fight UPS.
The 1997 strike lasted just over two weeks, and Thornsberry predicts a 2023 strike wouldn't last significantly longer.
"We found out real quick that the company, UPS, could not do the job without the workers. I mean, it was plain to see in '97," he said. "And if there is a strike in 2023, the same will be abundantly clear."