LOUISVILLE, Ky. (WDRB) -- If you've ever wanted to live in a church, which was turned into a day care, then turned into a school, then turned into a home in Louisville, you now can for just $375,000.
The listing for 8800 Blue Lick Road as been shared thousands of times on social media because of the 3D tour that shows the home's unusual design. The multi-level home features three bedrooms and four half baths, along with thousands of DVDs and CDs, action-figures, urinals and a shower in a baptism tub. 
Troy Curtis has lived in the home for six years and said the boom in recent attention has been both good and bad.
"I don't like all the comments about how dirty the house is," he said. "I haven't been able to clean it since COVID started and tripled my business, and I literally haven't had any time to clean anything. So anybody commenting about the dirt and all that stuff, that's the reason for that."
Curtis said the odd layout was exactly what he was looking for. He sells a variety of items on eBay under his username "TroyACurtis5960" and runs the business from his home.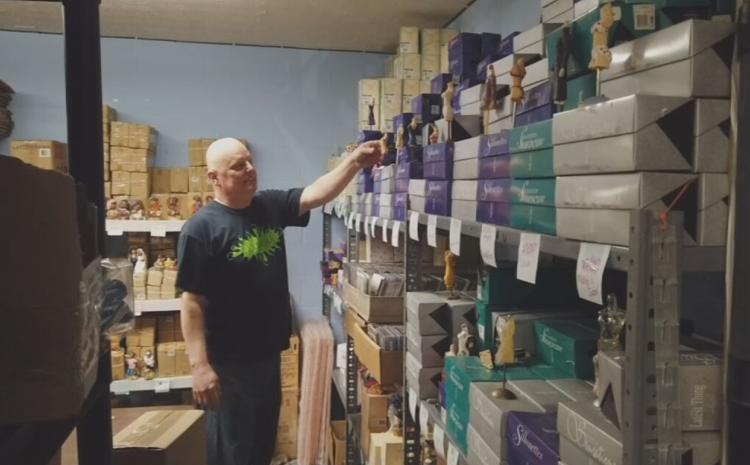 "I've actually sold one extra item that I know of for sure because of the extra attention," he said. "I hope to sell a lot more."
He said he used to work from his father's house nearby but needed more space, so he bought the old church and now he needs even more space. So he's looking to sell. The home is listed by Keller Williams Realty.
Some of the rooms downstairs that hold his DVDs used to be classrooms. Next to those, you'll find bathrooms still labeled separately for males and females.
Over the past six years, Curtis said its been a challenge transforming the lot into a livable space.
"Technically, there were no bedrooms," he said. "It was a church and a school, so there's no showers. That's why I had to turn the baptism tub into a shower. Don't have one bedroom, don't have closets, but I had to turn it into a home."
People online have now made a game out of the 3D tour, challenging people to tour the home without getting lost.
One user on Twitter also made it into a scavenger hunt, telling people to keep an eye out for certain things they come across along the tour, like a set of screwdrivers and Curtis' cat named Loco.
"I hope he makes as much money as grumpy cat," Curtis said.
Curtis, who lives in the home with one other person, said there are more than 1 million items in the home, all of them either ready to sold or already listed. 
"All the DVDs are on one side, all the CDs are on the other side," he said. "They're all in alphabetical order. Christmas stuff is in one section. Books are in one section, star wars stuff is in one section."
Curtis said if someone wants to buy the home as-is, they can for an extra $275,000. 
Copyright 2020 WDRB Media. All Rights Reserved.