LOUISVILLE, Ky. (WDRB) -- Construction on a new park in Louisville's California neighborhood has begun.
A ground breaking ceremony was held on Saturday at Alberta Jones Park. It's located along Maple Street between Dr. W.J. Hodge and 25th streets. 
The area of the park was once residential, but flooding in 2009 caused at-risk residents to sell their property at pre-flood value and relocate. According to a news release, the homes were razed and the land was permanently conserved as greenspace.
The first phase of the park's construction feature a playground with swings, bridges and a soaring climbing tower, a lawn for festivals and events, walking paths and a picnic shelter. It's the first park designed in Louisville by Earthscape, a natural playground company in North America.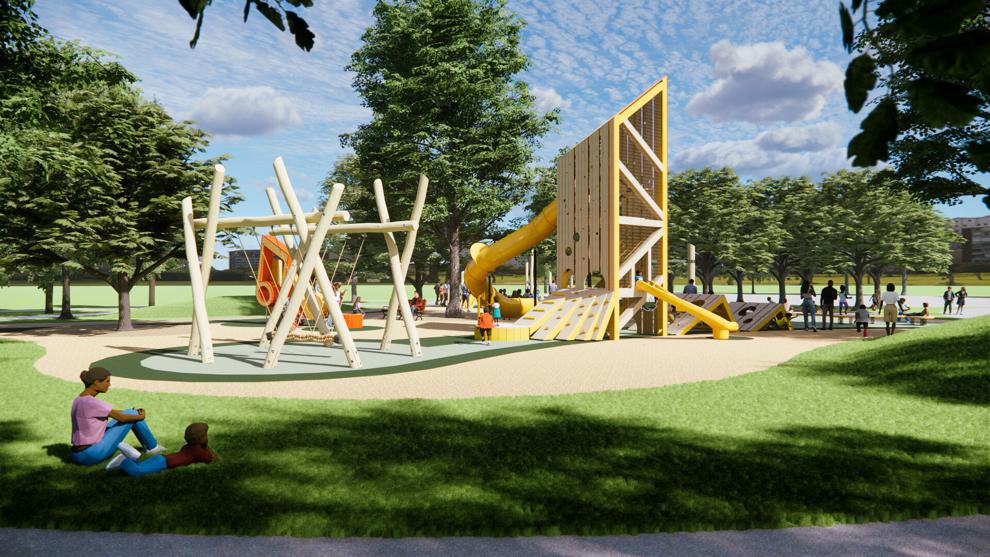 According to a news release, the first phase will utilize five of the park's 20 acres. The playground will have giant musical notes and a climbing tower that looks like an unfolding sheet of music, music-making devices, swings, slides and connecting bridges.
Construction of the lawn, near 23rd Street, is expected to be completed this summer. The rest of Phase I, on the west side of 23rd Street, is planned to be ready in November.
"We will host more community events this summer once the lawn is established to guide the development of the rest of the park," said Brooke Pardue, CEO of the Parks Alliance of Louisville. "As with the first phase, the people of this neighborhood will drive the decisions about what they want to see in their new public greenspace."
Parks Alliance of Louisville secured more than $4 million from dozens of supporters of the park.
Jones was chosen through a survey sent to 2,200 people in the neighborhood. She was born in west Louisville in 1930 and later became the first Black woman to pass the Kentucky Bar exam. She attended Central High School and the Louisville Municipal College for Negros, which merged with the University of Louisville in 1951. Jones graduated third in her class.
Jones became the first Black person to attend University of Louisville's Brandeis School of Law, and then transferred to Howard University, where she graduated fourth in her class in 1958.
She was one of the first Black women to pass the Kentucky bar exam and opened a practice at 2019 West Broadway. Jones was a Civil Rights ambassador and helped Muhammad Ali's negotiate his first professional contract.
Jones formed the Independent Voters Association of Louisville. She rented voting machines to teach Black Louisvillians how to vote.
Jones was murdered in 1965 when she was 34 years old. Her murder has never been solved.
For more information, click here.
Copyright 2023 WDRB Media. All Rights Reserved.