LOUISVILLE, Ky (WDRB) – The man charged with shooting and killing two people at a suburban Louisville Kroger on Wednesday has a history of mental illness, made racist threats and repeatedly called his ex-wife the N-word, according to court records.
Jeffersontown police are not speculating on whether race was a motive in the killing of 69-year-old Maurice Stallard and 67-year-old Vicki Lee Jones, both of whom were black. The alleged shooter, 51-year-old Gregory A. Bush Sr., is white. 
However, Jeffersontown Police Chief Sam Rogers told reporters Thursday afternoon that Bush tried to enter the predominantly black First Baptist Church of Jeffersontown about 10 minutes before the Kroger shooting. 
A church member sitting in the parking lot saw Bush trying to get inside by pulling on doors and banging on them. He was also caught on the church's surveillance video. 
Church leaders said Thurday they're thankful Bush didn't come to the church any earlier, because there was a midday service Wednesday afternoon. 
"Loss of life anywhere is pretty tragic, but just to think that an hour and a half earlier we had 70 people in the church," church administrator Billy Williams said. "But by the time he came through, all doors were locked, and there were probably eight or 10 still in the building."
Williams said the shooting victims were relatives of some of the church members.
Rogers said police were investigating whether Bush was legally permitted to carry firearms. But on several occasions, court records show, judges ordered Bush's guns taken from him, and a domestic violence conviction in 2009 prevents him from legally owning a firearm.
In fact, Bush's contact with the legal system stretches back to at least the 1990s and includes a string of criminal, traffic and domestic violence cases. Bush's parents told police they were "terrified" of their son, whom they said assaulted and held them against their will.
At least twice, records show, Bush was hospitalized over concerns for his mental health, including once after a suicide attempt in 2000. His former wife later claimed he had been diagnosed as "paranoid" and given medication that he stopped taking. 
In one instance in 2001, an ex-girlfriend took out an emergency protective order because she "feared for her life." Bush's father said his son carried a gun with him wherever he went and was "dangerous," according to court records. 
He was convicted of misdemeanor menacing in 2003 for following a 15-year-old girl into a restroom and putting his arm around her at a Jeffersontown movie theater. Bush claimed he thought she was a family member.
In 2009, Bush allegedly punched his 78-year-old father, picked up his 74-year-old mother by the neck and unplugged the phone so they couldn't call police, a report says. Bush's father suffered a possible broken jaw.
"Both victims are terrified of (Bush's) unpredictable behavior," an officer wrote. 
They claimed Bush had put padlocks on their doors and would not let them leave, "holding them against their will." And, when Bush's cell phone didn't work, they told police he shot the phone. 
Bush's 10-year-old son was present when his father shot the phone, the police report said. 
A judge again ordered Bush to stay on his medication and get treatment at a mental health provider. He was convicted of 4th-degree assault.
Also in 2009, Bush was pulled over for weaving in traffic on Main Street in Louisville. After he was stopped, Bush "ran out of vehicle at deputy" and stated he was "mad and on probation," records show.
Also that year, Bush's father said his son got angry and said, "Tonight might be black death," according to court records. The context of the remark is unclear. 
Jefferson District Court Judge Katie King sent Bush to Central State Hospital on a mental inquest warrant in 2009 and ordered Bush's weapons taken away from him as part of an emergency protective order filed by his ex-wife.
The results of the psychiatric evaluation at Central State were not included in court records.
And a different judge ordered Bush in February 2009 to comply with mental health treatment, adding "No Guns!" in a domestic violence case with his ex-wife. 
In a May 2009 case, Bush was accused of screaming profanities at his ex-wife and and threatening her. He was convicted of domestic assault, which means it's against federal law for him to own a gun. 
Bush and his ex-wife divorced in 2000. The divorce file claims he worked as a ramp handler for UPS until February 2001, when he resigned for "personal reasons." 
But Bush's ex-wife claimed he told her UPS fired him for sexual harassment for pulling down someone's pants, but the "union helped get him reinstated." She also claimed Bush was arrested at UPS for selling drugs.
Mike Mangeot, a UPS spokesman, would only confirm that Bush previously worked at the company, but he declined to comment further. 
In court records, Bush said he attempted suicide by slashing his wrists at his brother's home in February 2000 while his 21-month-old son was at the home. He then spent four days at the old Charter Hospital.
"Although he was prescribed medication when he was discharged from the hospital, he discontinued its use after several months because the medication made him tired," according to a domestic relations commissioner's report included in the 2000 divorce file.
A judge ordered Bush to continue taking his medication during criminal assault cases in which he was accused of abusing his wife and parents. 
Bush also allegedly called his wife a "ni**er bit**" repeatedly, according to court records
A Facebook post by a Gregory Bush says he has "worked most of my life and battled mental illness throughout my life. My paranoid-schizophrenia finally stopped me from working and not am on mental disability. I'm lucky I made it this far with all the trouble I've caused myself when I get off my medicine."
In the "About" section of a Facebook page belonging to Gregory Bush, he mentions that he has been battling mental illness.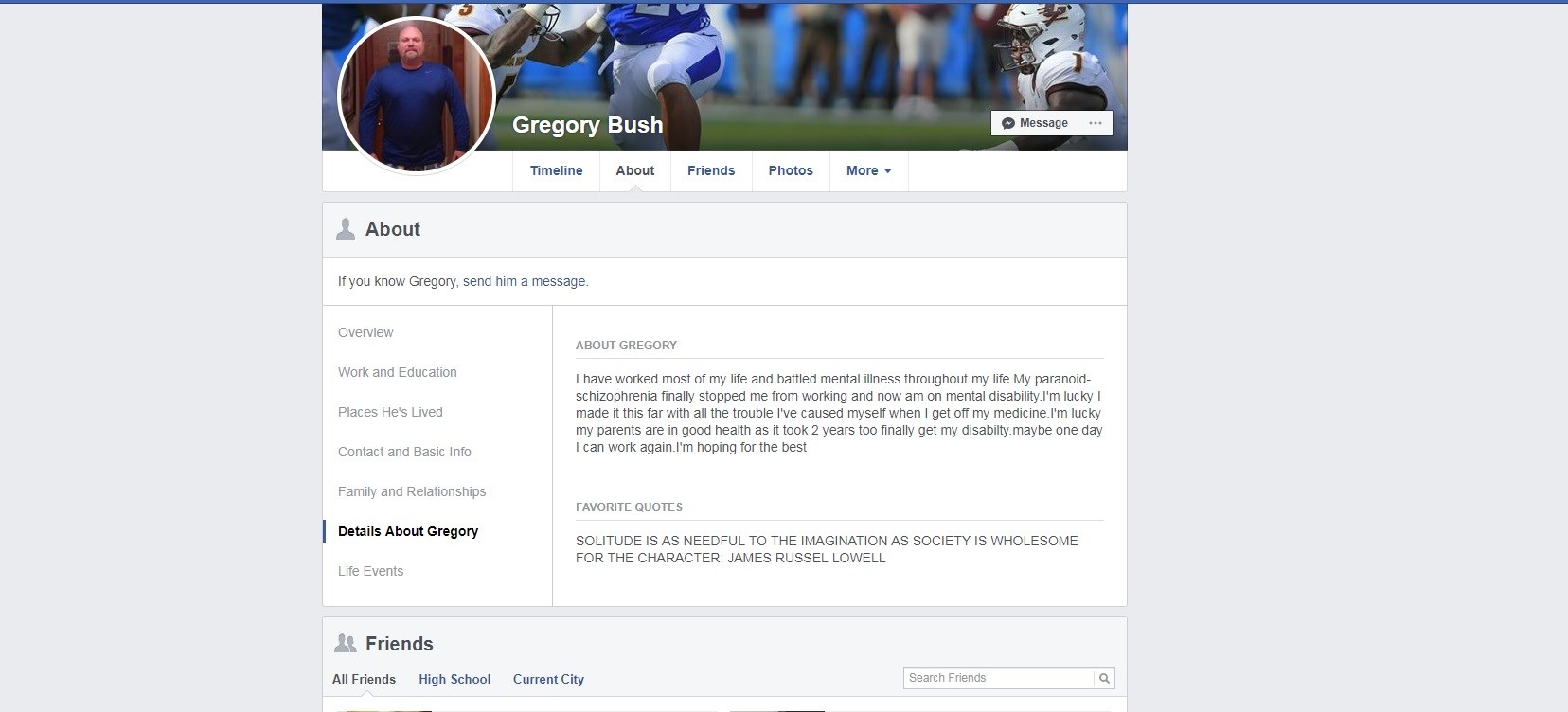 A June tweet from an account with the name Gregory Alan Bush seems to indicate that he believed some people wanted him dead. 
Just before 3 p.m Wednesday, police say Bush entered the Kroger and, for an unknown reason, pulled a gun from his waistband and shot a man in the back of the head, according to police citation. Bush then continued to shoot the man as he lay on the ground, according the report.
Bush then put his weapon away and left the store, according to police. Once outside the store, Bush again pulled out his gun and fired multiple times, killing a woman, police wrote in the arrest citation. At that time, an armed citizen pulled out a weapon and exchanged fire with Bush. Bush, according to police, then started to fire his weapon wildly.
He is facing two counts of murder and 10 counts of wanton endangerment. He has pleaded not guilty, and bond was set at $5 million. 
The judge has appointed a public defender. 
Related content: 
Copyright 2018 WDRB Media. All Rights Reserved.