LOUISVLLE, Ky. (WDRB) -- Former Louisville assistant basketball coach Dino Gaudio says he confronted head coach Chris Mack about alleged NCAA violations a year before his firing in March 2021, according to new court documents.
That is among the new claims made by Gaudio and included in court filings entered Wednesday in his federal extortion case in U.S. District Court in Louisville. The former coach pleaded guilty in June to attempting to get 17 months of salary in exchange for not revealing those purported NCAA violations.
According to the newly filed documents, Gaudio says Mack agreed to pay his severance package "either through the University of Louisville or personally" during a meeting on March 17, 2021, when Mack fired Gaudio because of "poor staff chemistry." Mack secretly taped the meeting, the documents say.
"I'm not trying to f... your family and your money," Mack allegedly told Gaudio during that meeting. "I love you."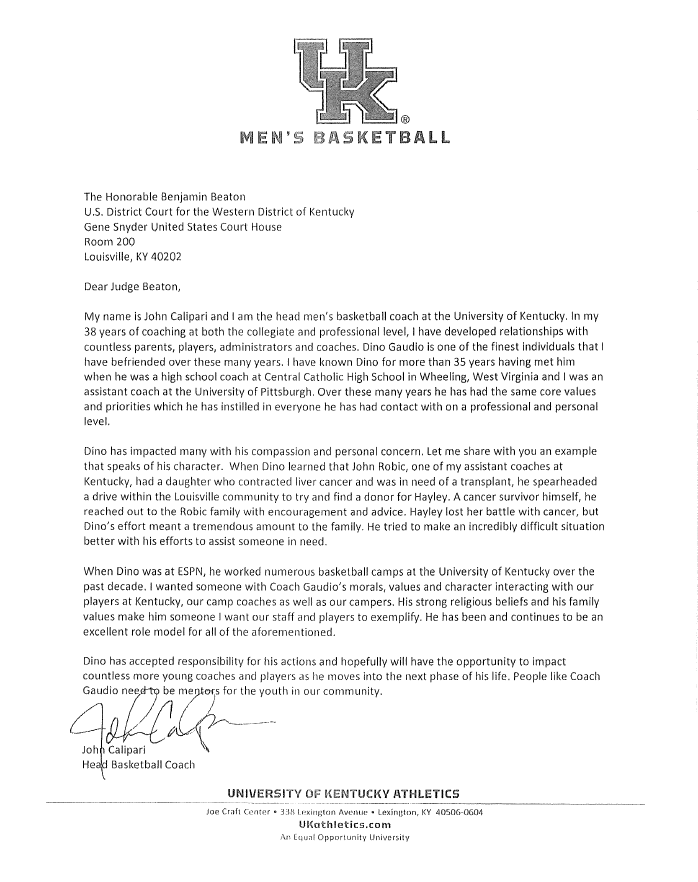 Gaudio's side of the meeting was included in a sentencing memorandum that seeks to blunt the penalty for his admitted extortion attempt. Also filed with the court was a series of letters in support of Gaudio, including one from Kentucky head coach John Calipari. 
Calipari told U.S. District Judge Benjamin Beaton that he has known Gaudio for more than 35 years and that Gaudio's "strong religious beliefs and his family values make him someone I want our staff and players to exemplify."
"Dino has accepted responsibility for his actions and hopefully will have the opportunity to impact countless more young coaches and players as he moves into the next phase of his life," Calipari wrote. 
According to Gaudio, his firing came just days after a contentious meeting of the U of L coaching staff. 
Gaudio claims Mack called a coaches' meeting after Louisville failed to make the NCAA Tournament on March 14 in which "Mack began threatening to pull players' scholarships." Gaudio pushed back, telling Mack that "they had to honor their commitments to the young men they recruited," he alleges.
"Dino certainly did not believe this Sunday night meeting was some sort of watershed in his relationship with Mack," Gaudio's attorney Brian Butler says in the court filings. Gaudio also "did not envision anything had changed" between Mack and him, he claims.
Gaudio also says he confronted Mack about alleged recruiting and coronavirus rule violations at least twice in the summer of 2020. Those claims center around organized team workouts.
On that day, Gaudio claims he went back to the team's offices to meet with Mack and "rescind his statements" about notifying the NCAA about alleged recruiting violations.
The violations related to using graduate assistants in practice and creating personalized videos for recruits.  
According to the filing, Gaudio and Mack also had disagreements about COVID protocols during 2020. 
Gaudio "questioned Mack about running workouts which may have been in violation of NCAA COVID protocol," the court documents allege. 
Gaudio pleaded guilty in June to a charge of Interstate Communication with Intent to Extort, which carries up to two years in prison, but he agreed to a plea deal that calls for probation and a "low-end fine." He will not face prison time. On Wednesday, prosecutors recommended a $10,000 fine.
Gaudio will be sentenced on Aug. 27. The final details of the sentence will be made public then.
Related Stories:
Copyright 2021 WDRB Media. All Rights Reserved.