LOUISVILLE, Ky. (WDRB) -- The Louisville Metro Police Department is using all of its resources to keep people safe as more than 100,000 locals and out-of-towners head to Churchill Downs this week. 
It's all hands on deck for LMPD for the next several days, with officers already working details inside Churchill Downs and surrounding neighborhoods. Along with boots on the ground, LMPD is using its helicopters to get an elevated view of activity on the ground. 
On Thursday afternoon, Officer Robert Skaggs took the first flight of the day in Air 20.
"It takes us about 2 to 2 1/2 minutes to get the helicopter started," Skaggs said. "From Bowman Field, with the clearance from the field, we can get to just about anywhere in the city in about five minutes."
Thursday's destination: Churchill Downs and Thurby, the kickoff to Derby weekend.
"This is a big event for our community," Skaggs said. "We are a part of our community. We want things to be successful in our community, so we are going to do everything possible to help this go off without any hitches."
To do that, officers are working a lot of overtime. That involves protecting and serving from the ground and air.
"We start early. We go late," said Sgt. Matthew Staples, commander of the LMPD Air Unit. "It's Derby. That's what we signed up for. We know what's coming. So we're ready for it."
Staples said despite the long hours, officers are committed to being there for the people they are sworn to protect and serve.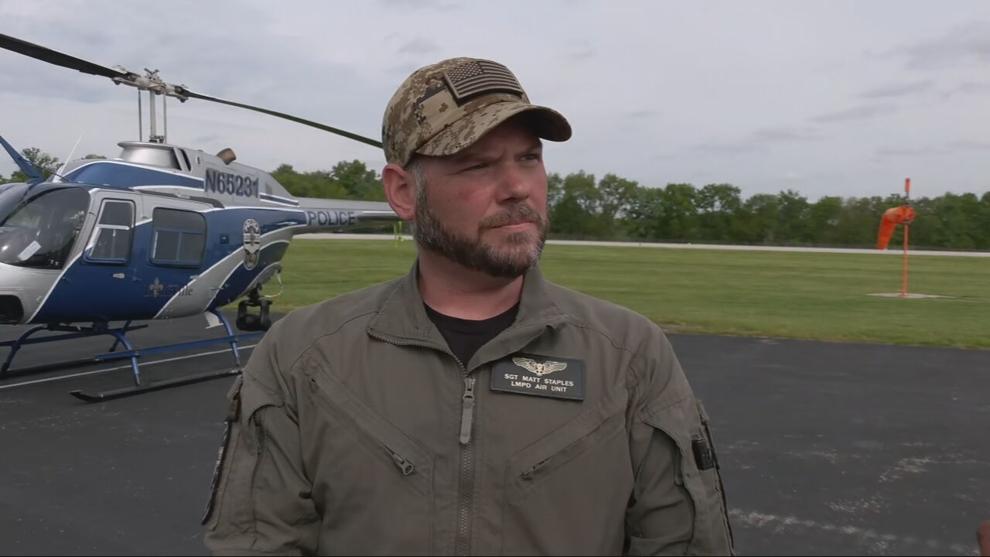 "All off days are canceled. All vacations are canceled. Everyone's working," Staples said. "We know it. We expect it. We just try to make the best of it and try to help the community the best that we can."
The Air Unit is made up of five officers and three helicopters.
"We have two aircraft," Staples said. "They have the exact same equipment as far as cameras, mapping, computer systems and spotlights. And then our third aircraft is for more training and observation."
Two of the helicopters are equipped with gyro cameras and sophisticated, real-time mapping systems. That equipment helps officers navigate scenes from the sky.
"As you can see, our view is second to none," Skaggs said. "Our perspective from the air really does enhance the officers' response and management of the scenes."
Although the biggest crowds and traffic are expected for Oaks and Derby, it has already been a busy week for the air unit with vehicle pursuits, foot pursuits and surveillance operations, Skaggs said.
Police said the Air Units will be in the sky Sunday as well to help monitor traffic and any other issues. 
Copyright 2022 WDRB Media. All Rights Reserved.