LOUISVILLE, Ky. (WDRB) -- There are plenty of Halloween happenings in the Louisville area after many activities were canceled last year because of COVID-19. If you know of an event to add to this page, please email webteam@wdrb.com. 
TRICK OR TREATING AROUND THE COMMUNITY: 
Kentucky: 
Breckinridge County Official's Halloween (Drive-thru at the Courthouse Square) : Friday, Oct. 29, 4:30-6 p.m. 
Elizabethtown, Ky. : Sunday, Oct. 31  5 p.m. to 8 p.m. 
Indiana: 
Clarksville, Ind.: Sunday, Oct. 31, 6-8 p.m.
Floyd County, Ind.: Sunday, Oct. 31 6 p.m. to 8:30 p.m.
Jeffersonville, Ind.: Sunday, Oct. 31, 6-9 p.m.
Spooky Saturday at the Frazier History Museum
Oct. 30 11 a.m. to 3 p.m.
829 W. Main St., Louisville, KY 40202
Spooky Saturday taking place on Halloween Eve will be filled with chills & thrills! There will be a Spooky Scavenger Hunt, creepy Artifacts tour, live performance of The Raven, The History of Jack O'Lanterns craft, and Storytime with The Legend of Sleepy Hollow. Creep over to the Frazier and enjoy your Spooky Saturday! Click here for info.
Day of the Dead, Día de los Muertos Louisville
Oct. 30 2 p.m. to 5:30 p.m. (Free and open to the public)
Fourth Street Live!
Day of the Dead, the 3,000-year-old holiday, most popularly observed by Mexico and Latin America, offers an opportunity to honor and celebrate the lives of loved ones who have passed on with music, art, altars, gifts, and celebration. This year, let's celebrate loved ones at Fourth Street Live! Food, drinks and activities for the whole family will be available.
There will be live performances by outstanding Latin artists from 2:00-3:00, followed by short films and the movie Coco from 3:00-5:00, and finish up the celebration with the Blessing of the Ofrenda. Click here for info.
German American Club Halloween Bierhalle
Oct. 30 6 p.m. to 10 p.m.
1840 Lincoln Ave., Louisville, KY 40213
Come together once again at the German American Club this weekend for their Halloween Bierhalle! With lots of imported beers to enjoy like Ayinger Oktober Fest-Märzen, Warsteiner Dunkel, Spaten Oktoberfest, Paulaner Brauerei München Hefe-Weizen, and more! Don't forget delicious German food, live music, and of course costumes! Click here for info.
Boo Dell at Yew Dell
Oct. 31 1 p.m. to 3 p.m.
6220 Old Lagrange Rd., Crestwood, KY 40014
The family-friendly Halloween event is back in person at the Yew Dell Botanical Gardens! Dress in your favorite non-scary costume and hit the Trail of Treats or enjoy a performance by the Louisville School of Rock! Magicians will be roaming the Gardens to show off their magic skills. Plus many more surprises! Buy your tickets today! No tickets will be sold at the doors.
Boo! At the Zoo
Thursday through Sunday, Oct. 1 - 30
5 p.m. to 8:30 p.m.
1100 Trevilian Way, Louisville, KY 40213
Halloween family fun at the Louisville Zoo is back for another year of kooky, spooky excitement! Hop on the Spooktacular Carousel, dodge the Headless Horseman of Sleepy Hollow and get a sugar rush with trick-or-treating for kids 11 and under! Click here for info.
Children 2 and under enter for free. Purchase tickets here.
LMPD "Faith and Blue" Trunk or Treat
Oct. 30, 9 a.m. to noon at Saint Francis in the Fields Church
Families will be able to enjoy a trunk or treat, bouncy house, and a kid's bike raffle. Police will also have armored vehicles there and an interactive helicopter display. Click here for info.
Zoneton Fire Protection District Halloween visits 
Oct. 27-29, 6-9 p.m. 
Firefighters will travel the Zoneton Fire District over three nights beginning Oct. 27-29 between 6-9 p.m. to hand out candy from their firetruck. Children need to stand in their driveways. A schedule of streets is posted on their Facebook page. Click here. 
2021 Trunk or Treat at the Shepherdsville Fire Dept. 
Oct. 31  5 p.m. to 8 p.m. 
395 Proquet Springs Drive at the Paroquet Springs Conference Center
Free candy for the kids! No food or drinks this year due to COVID-19. Masks are recommended. 
Trick or Treat on Lincoln Square (Hodgenville, Ky.)
Sunday, Oct. 31 4 p.m. to 7 p.m. 
Lincoln Square in Hodgenville, Ky. 
Costume contest, Candy stops and family fun. Click here for info. 
Halloween for Huntington's Disease
Oct. 30, 8 p.m. to 1 a.m. 
Mercury Ballroom (for age 21+)
The Juice Box Heroes, Dancing and More! Party safe -- Vax or negative test required. Costume contest with $1500 in prizes for 1st, 2nd and 3rd place.
Tickets and Info, click here. 
EHBC Trunk or Treat 
Saturday, Oct. 30 6 p.m. 
Eastern Heights Baptist Church
4202 Helen  Road
Jeffersonville, Indiana 47130
The church is hosting the Trunk or Treat for the community in Jeffersonville.  The church is across from Kroger, before the roundabout. 
Trick or Treat at the Track
Sunday, Oct. 31
Churchill Downs
Churchill Downs invites little ghouls and goblins to Trick-or-Treat at the Track during Family Adventure Day. Enjoy Halloween fun under the Twin Spires, a day of thrilling racing, and over 20 activities for kids under 12. hildren under the age of two (2) may attend for free; Children ages two (2) through twelve (12) will require the purchase of a Child's Ticket.  Click here for info. 
Event Highlights:
15 Trick-or-Treat Boo Stations located throughout the track! (noon - 4 p.m.)
Pumpkin Patch - Families are encouraged to take pumpkins home and create your own jack o'lantern!
Stick Horse Races
Pumpkin Bowling
Face Painters (1 - 3:30 p.m.)
Stakes races for the day include Street Sense & Rags to Riches
Jack O'Lantern Spectacular
Sept. 30 - Oct. 31
1801 Amphitheater Road, Louisville, Ky. 40214
Five-thousand pumpkins illuminate the night at Iroquois Park for this Halloween spectacular! Venture out to discover this year's theme and enjoy food and beverages at the Amphitheater.
Open from dusk until 11 p.m. weeknights, dusk until Midnight on Friday & Saturday. Click here for info. 
Purchasing tickets in advance is recommended. Click here. 
Paristown Halloween Fest
Oct. 29-31
720 Brent St., Louisville, Ky. 40204
Head to Paristown for three nights of Halloween fun for the whole family! There will be food and drink, trick-or-treating, entertainment and movies for all ages on the big screen! Click here for info. 
Spook-tacular Halloween decor at the Crescent Hill Reservoir
The Louisville Water Company's Crescent Hill Reservoir is offering a chance to see some "boo-tiful decorations" from now until Halloween. Take a stroll around their walking path, after visiting their ur graveyard and the skeletons guarding our Gatehouse. At the Gatehouse entrance, you'll even find a photo backdrop featuring "Count Tappula" – that's right, Tapper, Louisville's favorite cup of water, is getting in on the holiday fun! Gates are open dusk until dawn. Sorry, the popular "Trick or Treatment" event is canceled again this year because of COVID-19.
Please note: With ongoing construction on Frankfort Avenue, visitors are encouraged to access Reservoir Avenue via the Brownsboro Road entrance.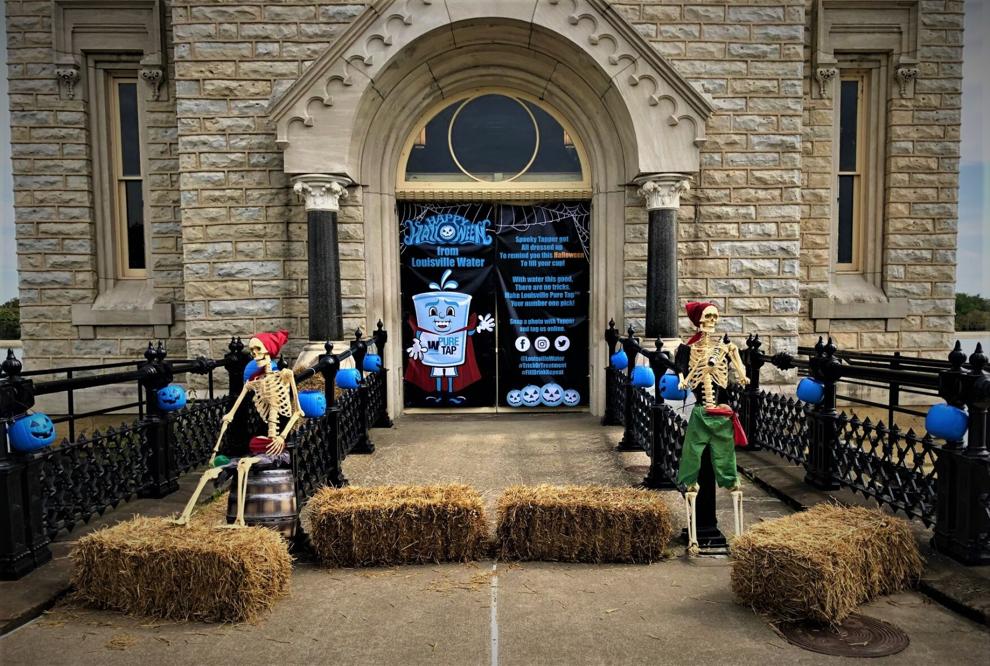 Fear Fair - Indiana's Scariest Haunted House
800 A Ave. E, Seymour, Ind. 47274
Located in: Freeman Municipal Airport, SER
Fear Fair is a 50,000 square foot space with incredibly detailed sets, confrontational actors in movie-quality makeup and costumes, and state-of-the-art use of robotics. Visitors can experience four major attractions packed into a 40-minute attraction- a depraved prison where the inmates are in control, a cursed Egyptian Pharoah's tomb, the darker side of New Orleans, and an ancient catacomb home to a dark cult. Open Fridays & Saturdays in October plus Halloween.  Click here for info. 
Copyright 2021 WDRB Media. All Rights Reserved.