LOUISVILLE, Ky. (WDRB) — Horse racing will be among the first industries to reopen as part of Kentucky's phased approach to gradually easing COVID-19 restrictions, Gov. Andy Beshear announced Wednesday.
No spectators will be allowed as part of the racetracks' public health guidelines when the 2020 Spring Meet begins Saturday, May 16, Churchill Downs said Thursday. 
The governor said the historic racetrack presented "one of the most detailed plans" to resume operations while maintaining social distancing and other measures to limit the spread of COVID-19. 
"Everybody has to go through and be temperature-checked," Beshear said, adding that masks and limited groups will be enforced at the track.
Churchill will reopen its stables May 11, about a week after the original date of the Kentucky Derby, which was slated to take place Saturday before it was rescheduled to September.
Other industries on pace to reopen May 11 include manufacturing, construction, car dealerships, some professional services, and dog grooming and boarding.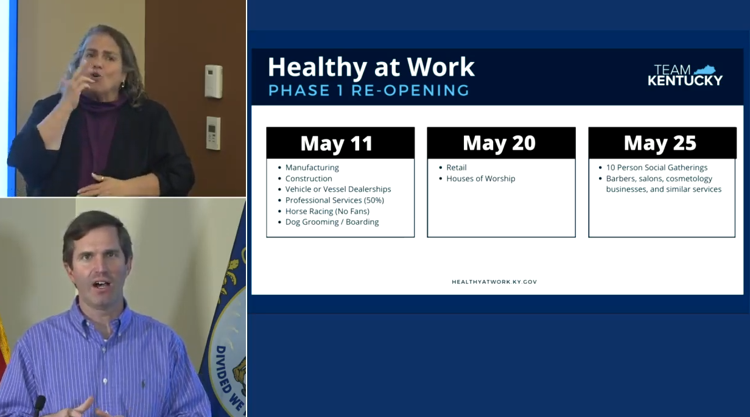 Companies that reopen will need to follow strict public health guidelines, such as requiring employees to wear masks, enforcing social distancing, taking workers' temperatures, allowing employees to continue working from home as much as necessary, closing common areas and creating a COVID-19 testing plan.
Retail and houses of worship will be allowed to resume operations May 20 as part of the state's gradual reopening of the economy.
"What it'll allow is just the worship service itself, and then we're going to be working with faith leaders," Beshear said. "We've already been talking with them ... to see a gradual schedule where we can go from the one experience to some of the other pieces that typically happen like Sunday school."
Salons, barbers and cosmetologists will reopen May 25, with restrictions against 10-person social gatherings lifted on that date as well.
"We want you to know that we think this is possible, but it's all contingent on all of us doing this right and making sure that we don't see a spike in the virus," Beshear said.
Beshear announced 10 additional deaths linked to COVID-19 and 184 newly identified positive cases on Wednesday, pushing those totals to 235 and 4,539, respectively, since the pandemic began.
While sectors of the economy will gradually reopen in the coming weeks, daycares centers will remain closed. Beshear said the prospect of summer camps resuming is also in doubt.
"We're going to have to work at hopefully a June solution to that, but I want to be transparent," Beshear said of childcare options remaining closed in the first phase of Kentucky's gradual reopening. "I know it's going to make even this difficult, but if we did it right now, we couldn't do this."
"It's not fair, and it's hard, but if we opened a daycare right now, then we would see a spike that ultimately would set us back," he said.
Beshear said the phased approach could be halted if the state sees a resurgence of COVID-19.
"I hope everybody also sees that these are cautious steps that are going to be done with strict compliance," he said.
Copyright 2020 WDRB Media. All Rights Reserved.