LOUISVILLE, Ky. (WDRB) -- The number of new COVID-19 infections in Kentucky remains at an elevated level — but the virus' mortality rate in the state appears to be declining.
Gov. Andy Beshear reported 776 new cases Wednesday, bringing the state's total since Saturday to 2,399 — only 67 cases below the record for a Sunday-Wednesday period from two weeks ago.
The governor also reported eight more COVID-19-related deaths, bringing the state's total since Saturday to 25, which is five more than last week at this point, though significantly below the Sunday-Wednesday record of 45, from two weeks ago.
Nearly 1,100 Kentuckians have died from the disease. Nearly three out of every four Kentuckians who have died were at least 70 years old. Nearly half were at least 80. Only six people who died were under 40.
Beshear also said that the state's positivity rate, or the share of tests that come back positive, has remained below 4% for a second consecutive day, at 3.89%, though it remains about where it was a week ago. Health experts have said that mitigation measures should be relaxed only after communities see sustained positivity rates below 5%.
According to a new White House report, Kentucky's infection rate has fallen from 110 new cases per 100,000 population last week, to 90 cases this week. The national average is 74.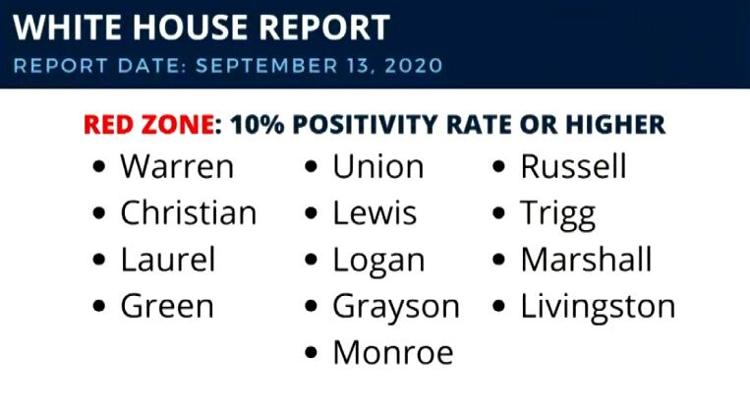 The White House also said that 48% of Kentucky counties have a test positivity rate of at least 5%, down from 53% of counties last week. The White House also said that 11% of Kentucky counties have a test positivity rate of more than 10%. The prior week, 20% of counties had a rate at least that high.
Beshear also said Wednesday that the state's mortality rate, or the share of people who die after testing positive for COVID-19, has fallen slightly. It had been near 2% but on Wednesday stood at 1.84%, according to data provided by the state.
That means that previously one person died for every 50 people who became infected. Now, one person dies for every 54 infections.
Kentucky's mortality rate also is much better than the national rate, which is one death for every 34 infections, and much better than the global rate, which is one death for every 32 infections, based on data from Johns Hopkins University.
State Health Commissioner Dr. Steven Stack urged people to continue to wear masks to reduce the spread of the disease, quoting a Wednesday tweet from U.S. Surgeon General Dr. Jerome Adams, who reminded people that the coronavirus can kill you and that, no matter how people feel about masks, the country cannot reopen and stay open if the virus is still being spread.
1) Coronavirus is real, and it can kill you2) No matter how you feel about it or masks, we won't be able to reopen and stay open if it's still being spread. 3) Wearing a mask isn't hard, and if can help us reopen then why not try it? Help us (& yourself) out. Wear a 😷

— Jerome Adams (@JeromeAdamsMD) September 16, 2020
Stack expressed frustration at some people's continued refusal to wear masks.
Surgeons wear masks sometimes for 10, 12 hours at a time, and people who have undergone surgery should be grateful that surgeons wear face masks rather than spraying saliva into patients' open chest cavities, he said.
"I have a real difficult time understanding when … grown adults are saying they can't breathe through a mask," Stack said. "I think they have misunderstood inconvenience with inability."
"We have got to get over this inconvenience somehow being an infringement that is offensive to us," he said.
Indiana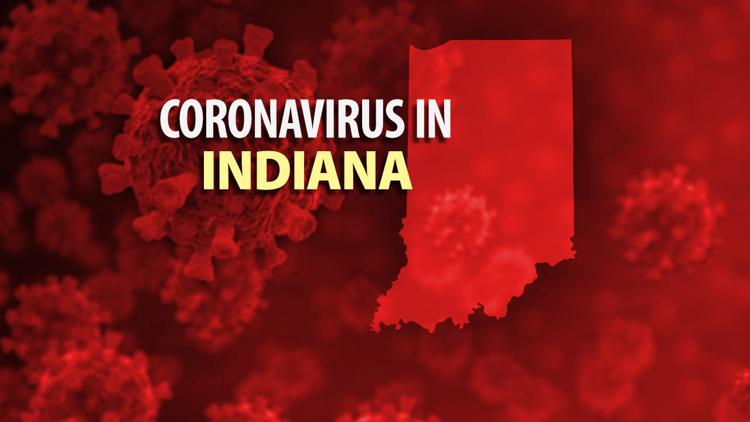 Indiana is seeing more COVID-19 cases in young people.
Dr. Kristina Box, the state's health commissioner, said the influx in young people testing positive for the virus is not only because universities are testing but also because students of all ages aren't listening to warnings about get-togethers.
"This is likely because these age groups are less likely to observe social distancing, don't wear their masks regularly and have larger social bubbles," Box said. 
Parties and sleepovers are becoming real problems, Box added. 
"The CDC has found that half of the deaths in individuals under the age of 21 occurred in the 18-to-20-year-old age group," she said. "So we need our younger Hoosiers to understand that they are not without risk." 
Indiana reported 624 new cases of COVID-19 on Wednesday, bringing the state's total confirmed infections to 107,809.
The Indiana State Department of Health (ISDH) said 12 more people have died from the novel coronavirus, bringing the total number of deaths in Indiana to 3,247. To date, more than 1.2 million tests have been reported to ISDH.
In southern Indiana, Clark County has 2,027 confirmed cases, and Floyd County has 1,270.
To find testing locations, visit www.coronavirus.in.gov and click on the COVID-19 testing information link. More than 200 locations are available around the state.
Nationally, more than 6.6 million people have become infected with COVID-19, and more than 196,000 have died, according to Johns Hopkins. Globally, nearly 30 million have tested positive, and more than 937,000 have died.
Copyright 2020 WDRB Media. All Rights Reserved.