LOUISVILLE, Ky. (WDRB) -- Louisville Metro Police will conduct an internal investigation into an officer who was captured on video punching a man several times in the face during an arrest Sunday at Jefferson Square Park, Chief Erika Shields said in a statement. 
Shields, who did not name the officer, said his conduct raised "serious questions and is not consistent with LMPD training." 
"Our officers have to manage difficult situations every day. That's part of our job. My expectation of officers is to handle these incidents professionally and consistent with their training, every time," the chief said in her statement. "... a Professional Standards investigation will be opened immediately into the officer's conduct as well as the on-scene supervisor." 
Video of officers arresting 29-year-old Denorver Garrett was captured by Jaime Hendricks and shared to social media by Riotheart, a member of the 502LiveStreamers independent media collective. On Monday, with an eye swollen shut, Garrett said he "wants justice" from the department.
"I have the right to protest," Garrett said. "I'm going to keep doing it. I could have been a George Floyd yesterday."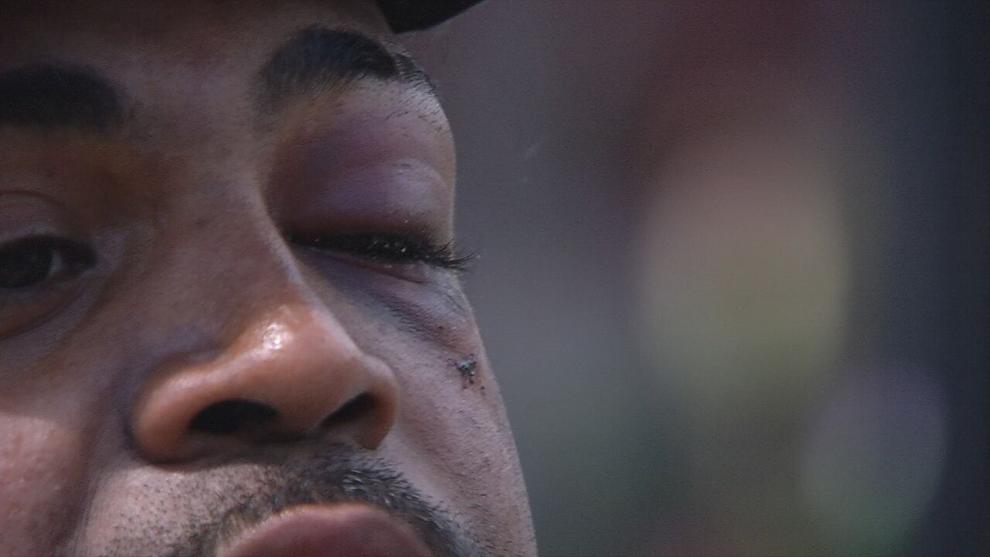 As Hendricks' 85-second clip begins, one officer can be heard telling Garrett, "You're under arrest."
An onlooker can be heard asking police, "What did he do?" 
Garrett has been charged with second-degree disorderly conduct and resisting arrest. Garrett's arrest report says officers were notified by the Real Time Crime Center (RTCC) about Garrett "standing in the middle of the street" at Sixth and West Jefferson streets "holding a large wooden cross" from 3:27 p.m. to 4:05 p.m.
"He was causing a disturbance to the public and causing a safety issue to motorists," the report says. 
Hendricks' video of the arrest shows an officer standing behind Garrett and holding his hands together while two other officers watch within arm's reach. Someone can be heard in the video saying, "Don't flex on me, man. Don't flex on me," and the officer behind Garrett then reaches for a pair of handcuffs on his belt.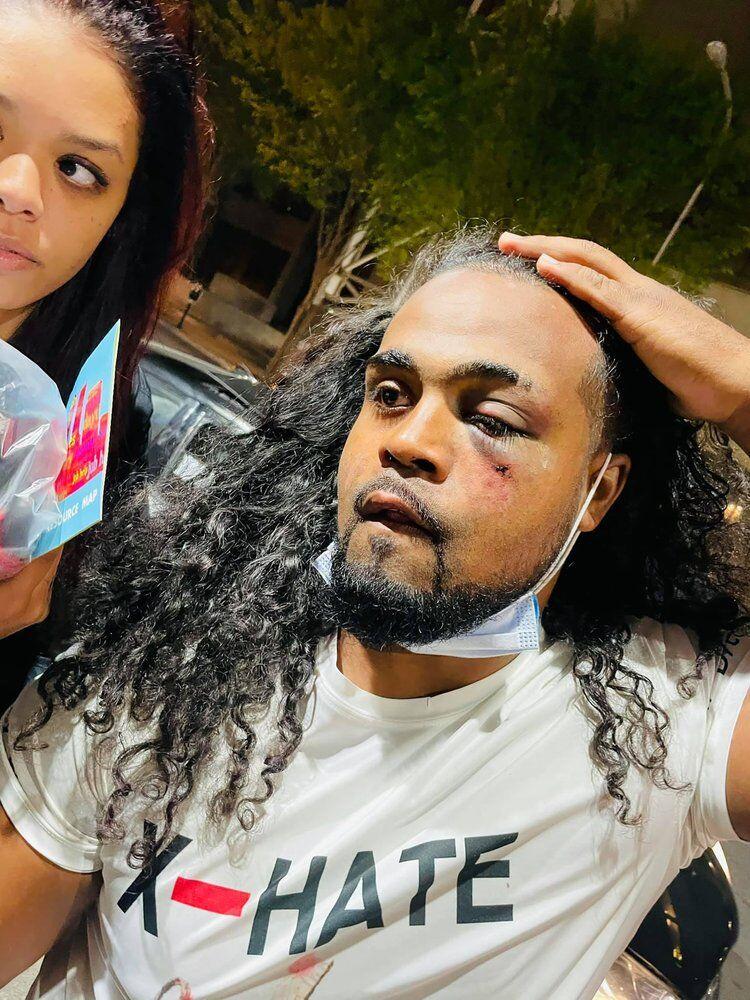 As the officer works to get a cuff around one of Garrett's hands, someone can be heard in the video saying, "Stop flexing on me." 
Someone responds, "I'm not flexing. I'm not doing nothing." Garrett's face is turned away from the camera and obscured by a pole during this portion of the video. 
In Garrett's arrest report, police said he "resisted the officers movements to put his hands together close enough to put handcuffs on. He was given loud verbal commands to stop resisting and place his hands behind his back which he did not follow." 
In Hendricks' video of the arrest, the officer appears to secure a cuff around one of Garrett's hands, and Garrett moves slightly. Someone then yells, "Stop," to which Garrett can be heard and seen replying, "I'm not doing nothing." 
A second officer then appears to put his hands on Garrett as the officer who was first behind him puts an arm over his chest. Someone can be heard saying, "Bring your hands together — now." 
Video then shows an officer putting a leg in between Garrett's legs. Garrett takes a step back, and officers begin trying to force him to the ground. An onlooking officer who was standing in front of Garret and blocking the camera's view of the interaction steps forward and joins the two other officers in attempting to restrain Garrett. 
As Garrett is being forced to the ground, video shows the officer who was originally attempting to put the handcuffs on him throwing his first punch to Garrett's face. Video shows the officer throw at least three more punches to Garrett's face while he and other officers force him to the ground. 
One officer can be heard in the video yelling, "Put your hands behind your back and stop resisting — now." 
"Regardless of what he did or didn't do, we have this thing called the presumption of innocence in our constitution," said Garrett's attorney, David Mour. "When they're taking him into custody, he's innocent, and this is the way we treat an innocent Black man."
Video shows Garrett stop moving and the officers put him in handcuffs. As the officers pick Garrett up off the ground and lead him away from Jefferson Square Park, someone can be heard on video telling the officers they "broke his glasses."
"He was standing on the sidewalk," someone can be heard yelling at the officers leading Garrett away. "Why did y'all have to pull up and do that?" 
Bryanna Courtney, who was at Jefferson Square Park with her mother and 10-year-old brother, said watching Garrett's arrest was "traumatizing." 
"I really haven't seen somebody I care about get beaten by the police in front of my face," Courtney said Sunday evening. "... They broke his glasses to where his eye was swollen, and I have his lens in the car."
Copyright 2021 WDRB Media. All Rights Reserved.