LOUISVILLE, Ky. (WDRB) -- There's no doubt that it is a challenging time to be a police officer in Louisville. But with crime spiking and the community concerned, technology is helping them prepare for different scenarios.
Louisville Metro Police officers have a new tool that's helping them de-escalate stressful situations. On Tuesday, the department gave reporters the chance to do hands-on training on de-escalation tactics. It was a real-life scenario in a simulator at the academy that gave a feel of what officers deal with every single day.
"Understand that when the police are called, it's probably the worst day of someone's life," LMPD Sgt. Justin Witt said.
This is a real-life scenario played out in a Virtra simulator:
The user is surrounded by five screens while trainers play out potential situations from a computer.
"When the police show up, this is already a highly stressful situation, and we have to do our best to hear what's going on, to understand what's going on and try to prescribe some kind of response ... to fix the problem in a short amount of time," Witt said.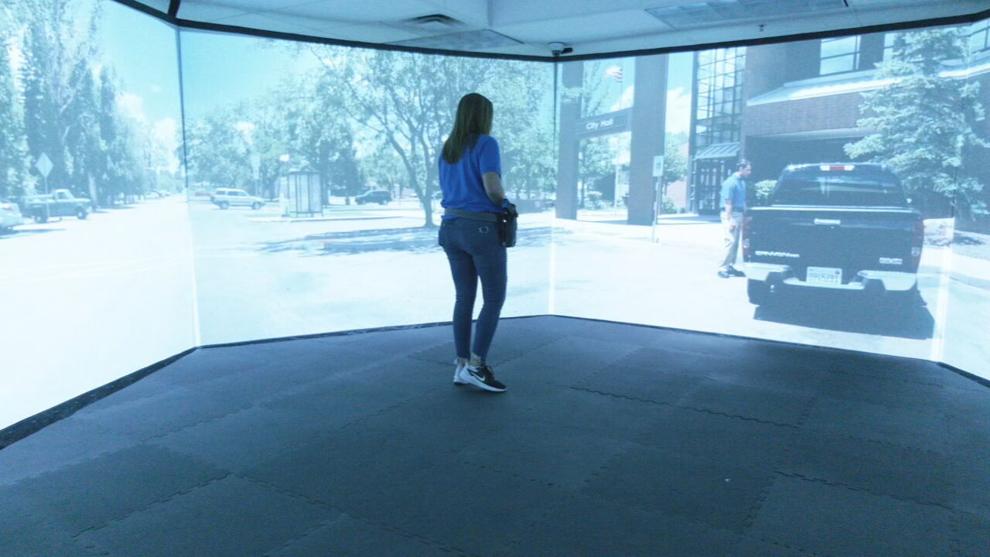 But they never know what the person is going to do, so they must use their skills and experience to try to de-escalate the situation. This system allows officers to do that in a safe environment.
"No matter what the person looks like, no matter what their gender is, their racial background, their religion, this process will guide me toward the right answer," Witt said. "And the outcome will be favorable for anybody that I deal with."
A University of Cincinnati study found that LMPD de-escalation training is working. It said use-of-force incidents dropped 28.1% since implementing the training in 2019. More than 26% fewer people and 36% fewer police officers have been hurt.
"I think that answering to the community's calls for us to step back, slow down and give people a chance to communicate with us is where we're going," Witt said.
It's an experience he invites the community to take part in, too.
"Come, reach out," he said. "If you want to be a part of it, come. If you want to sit in training, contact me. I'll gladly have you come and sit in."
Copyright 2021 WDRB Media. All Rights Reserved.