LOUISVILLE, Ky. (WDRB) -- A new drive-thru COVID-19 testing site is now open in downtown Louisville. 
SV Diagnostics opened the site at the Jefferson Community and Technical College location on East Broadway. This type of testing is oral, using a mouthwash solution.
"We're not like any other COVID test," said Perrin Johnson, a spokesperson for SV Diagnostics. "We are a mouthwash."
Johnson said those wanting a test are encouraged to make an appointment, but walk-ups are also welcome. To make an appointment, he said to call 859-203-1460.
Johnson said the purpose of the site is to expand access to free testing. He hopes being located downtown will allow people from all parts of the city and southern Indiana to have easy access to the site.
How It Works
Johnson said a health care professional will meet the person in the drive-thru line, hand them a bag with a solution and that person will rinse the solution around in their mouth for 60 seconds before spitting it into another container with a mixture. It will then be ready for testing and results are expected back within 48 hours.
Johnson said the solution tastes like a flat Red Bull drink.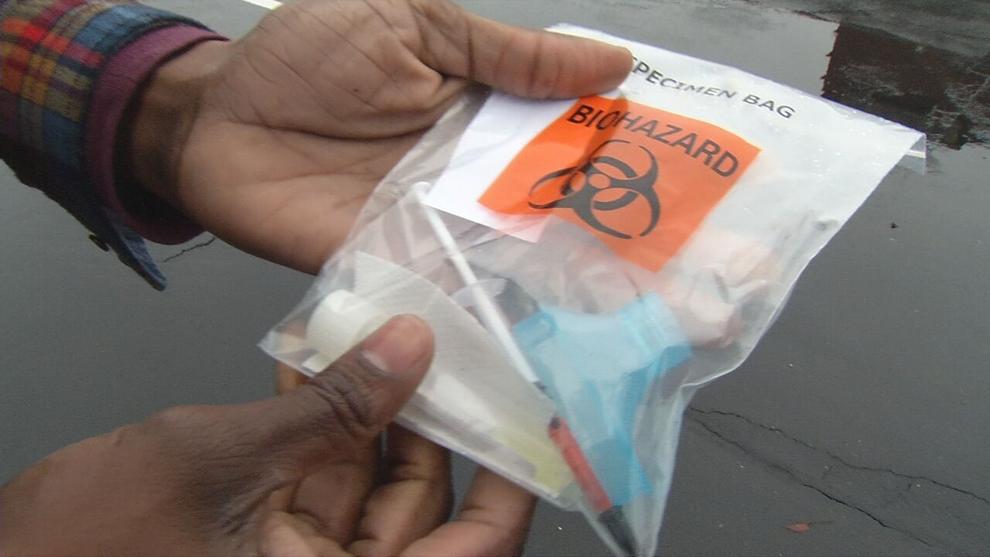 "Normally, in a medical profession, most medications don't taste great," he said. "But I'll take flat Red Bull any day of the week verses someone sticking a giant Q-tip up my nose, swabbing my nose."
According to information from Johnson and SV Diagnostics, this type of mouthwash test is run on the same "gold standard technology" as the nasal swab testing.
Other Types of Testing
There are still other types of testing available throughout the area, such as a saliva test (not requiring a mouthwash solution) and a nasal swab. 
According to Erik Korte, lab director for Bluewater Diagnostics, the most accurate test really depends on the quality of the sample, more than the type of test.
"The nasopharyngeal swab is going to be a very good option, but there are lots of other options out there," Korte said.
Bluewater Diagnostics is the group running the testing site at Southeast Christian Church. Korte said  they're still using the nasal swabs, but there is an option for an oral rinse for kids.
"Children will literally run away from you if you're trying to swab them," Korte said. "You may get a better collection out of a child than you would an adult.
"All three methods are very sensitive. It's really just a question of where the virus lives."
Other large test sites such as the various locations run through UofL Health also continue using the nasopharyngeal (nasal) swab. 
"The reason we do the nasal swab, at least from what I've seen, it has consistently been the easiest way to achieve the best results for the COVID test," Chief Medical Officer Dr. Jason Smith said.
Smith that could change in the future as different testing methods come out and test become more sensitive. He said if you have a question about testing, it's a good idea to talk with your health care provider.
Copyright 2021 WDRB Media. All Rights Reserved.