LOUISVILLE, Ky. (WDRB) -- A homeless man is accused of shattering several glass windows on a downtown office building just days after they were re-installed. 
The property manager of the Brown & Williamson Tower, at the southeast corner of Fourth and Liberty streets, said new glass was installed Friday, but every new piece of glass was broken Sunday night. The property manager said the plan now is to put plywood back up and keep it boarded up, at a time when businesses are being encouraged to take off the boards.
"We have seen a decrease in our residency in downtown — both residents and in businesses — and we've seen an increase in the vagrant population," said Doug Owen with JLL Commercial Real Estate, the company that manages that building. "We have no other assurances that this isn't going to happen again, and we simply don't have a blank check to keep replacing windows."
Owen estimates more than $300,000 in damage was done to glass in the building during riots downtown. The latest damage could cost nearly $100,000.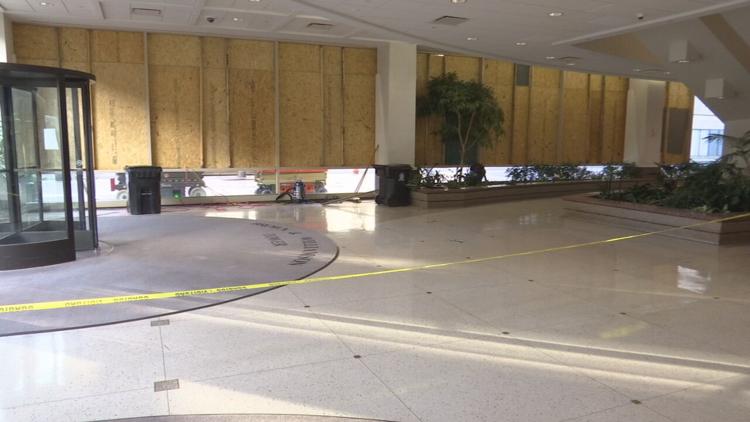 According to court documents, after an investigation, police arrested 38-year-old Troy Mercer early Monday morning. Police said he confessed to the crime. 
Police said Mercer, whose address is listed as "city at large," was seen on surveillance video using a hammer to break the windows.
Jean Porter, a spokesperson for the city of Louisville and Mayor Greg Fischer's office issued a statement to WDRB News saying in part:
"Metro and homeless service providers are in conversation about additional steps that can be taken to address the issues highlighted by this incident, and we agree that additional resources will need to be added to combat these challenges."
Mercer is charged with one count of criminal mischief. He is due in court for arraignment on Nov. 17. 
Copyright 2020 WDRB Media. All Rights Reserved.