CRESTWOOD, Ky. (WDRB) -- Six letters, two words and one sign help Raegan and Rylyn Richinsa spread an important message.
"We believe that you should love your neighbor," 10-year-old Raegan said.
Raegan and Rylyn first got the idea to make "Be Kind" signs after seeing similar ones in LaRue County.
"We were so excited to see them," Rylyn said. "We were like, 'Oh there's one sign. Oh there's another one!'"
"It just brought so much warmth to our hearts," Raegan added.
They wanted to share that warmth with Oldham County. In less than a month, the girls say they've seen a difference around town with the signs in front yards.
"I see people driving by the streets, and then they just wave at each other in their cars, which is kind, because people might just need a smile or just a wave," Raegan said.
The signs can be purchased for a $10 donation to a local charity, including Pillar, Oldham County Humane Society, Blessings in a Backpack, Guns and Hoses and Hope Health Clinic.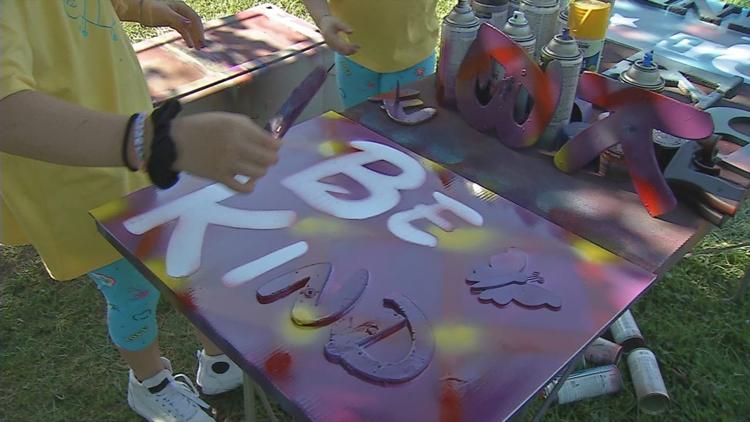 Pillar is a charity that holds a special place in the sisters' hearts, because they have three siblings with special needs.
The girls and their family have made about 500 signs so far and have 300 more to go to complete 800 orders.
"Never in our wildest dreams would we project it to be this much of a need or this much of a want in our county," said Rhonda Richins, the girls' mother.
Some signs are even being shipped to California, Australia and China.
While every sign is different, the girls' favorites have lots of hearts and lots of colors.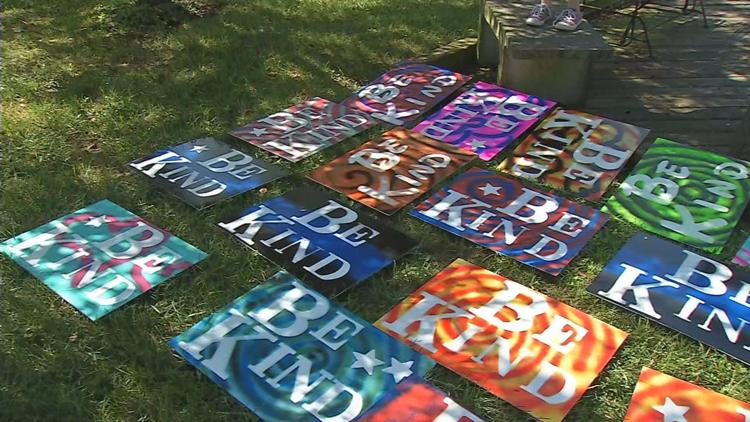 "You can love others and be kind at the same time," Raegan said.
"You know how every color is different? Every single person is different, and it represents everybody." Rylyn added.
If you would like a "Be Kind" sign, the girls will be at the La Grange Farmer's Market from 9-11 a.m. Saturday, or until supplies last. You can also follow along on Facebook to see if they've sold out. If that's the case, you can send a direct message to the Facebook page at "Be Kind Oldham County."
Copyright 2019 WDRB Media. All Rights Reserved.