LOUISVILLE, Ky. (WDRB) -- Louisville Metro Police have arrested a man who authorities say raped and fractured the skull of an 8-year-old girl.
Cane Madden, 29, was arrested early Saturday morning.
According to an arrest report, officers responded to a call Friday in the 1700 block of Hale Avenue, near Dixie Highway, on a call that a child had been hit in the head with a shovel and robbed of an iPad.
"Well, there's only one kind of prayer you can send. It's, 'Lord have mercy, and Lord send the angels to watch over her,'" said Ruth Watkins, a neighbor. "Oh, it was a hurting, paining feeling going through my heart to know that something like that would happen on this street."
The child was taken to Norton Children's Hospital. A doctor told police that the girl suffered a right skull fracture, multiple cuts and contusions to her head as well as "significant bruising & tearing ... indicative of sexual assault."
Authorities say Madden was seen in the area before and after the assault, and he admitted that he had knowledge of the incident when stopped by officers. LMPD says Madden confessed "intimate details" of the assault with the shovel as well as the sexual assault.
Online court documents suggest Madden was accused of a previous sex crime.
According to a police report from June 2017, Madden, then 27, admitted to a detective that he sexually assaulted a victim. In that incident, LMPD says Madden "bit the victim on her face above her left eye removing a large chunk of the victim's face." Officials say the victim suffered serious physical injury.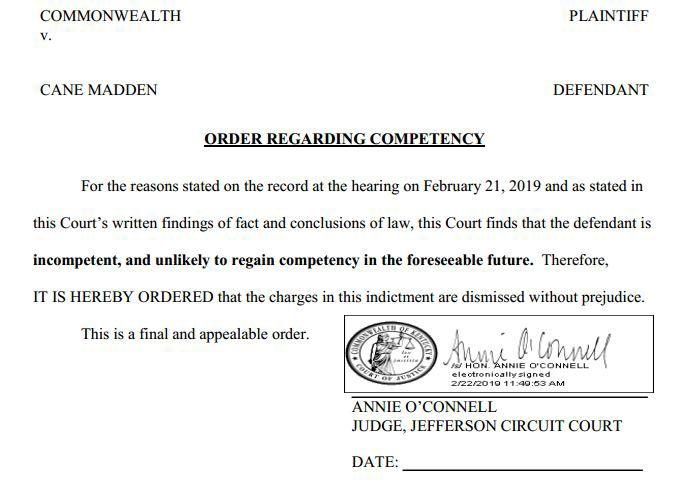 The charges were dismissed in February 2019. Judge Annie O'Connell found Madden mentally incompetent to stand trial. She wrote that she reviewed six separate reports of "three different mental health professionals" and determined that Madden's "intellectual deficits" gave no suggestion Madden "would be able to follow the evidence presented during a trial."
"Mr. Madden lacks the intellectual capacity to understand his basic Constitutional rights," she wrote in the court filing.
At the time, she also determined Madden was "unlikely to regain competency in the foreseeable future."
After the Friday incident involving the 8-year-old, Madden is now charged with first-degree rape, first-degree assault and first-degree robbery.
"The neighborhood is hot. They are heated. They are heated, because they are just beyond belief," said Yolanda Walker, the President of the California Neighborhood Leadership Council. "I don't know if you want to put it on the news, but I'd like to see him castrated."
Madden is scheduled to appear in court on Monday morning.
Related stories:
Copyright 2019 WDRB News. All rights reserved.