LOUISVILLE, Ky. (WDRB) -- The early morning police raid that killed Breonna Taylor sparked months of protest, demands for justice and calls for police reform. It also started a bigger conversation about search warrants, like the one used in the March 13, 2020, raid.
"Obviously, in Breonna's case, just dramatically unfolded in an awful way," said Ashlea Hellmann, a Louisville attorney. "But again, she's not the only time that something like that has happened."
Hellmann said she has plenty of examples to prove there's little consistency in how search warrants are applied for, signed off on and executed across Kentucky. 
"There's a case I have right now, in a county out in the state, where officers actually searched a vehicle and then went and asked for the search warrant," she said.
Reacting to the Taylor case in particular, Attorney General Daniel Cameron on Thursday filed an executive order to create a statewide search warrant task force. Cameron said the task force will examine current procedures, consider public input and recommend changes.
"We made a promise to Kentuckians that questions and concerns raised about search warrants would be thoroughly considered," Cameron wrote, in part, in a news release. "Our goal is to establish Kentucky as a national model for how search warrants should be pursued and executed."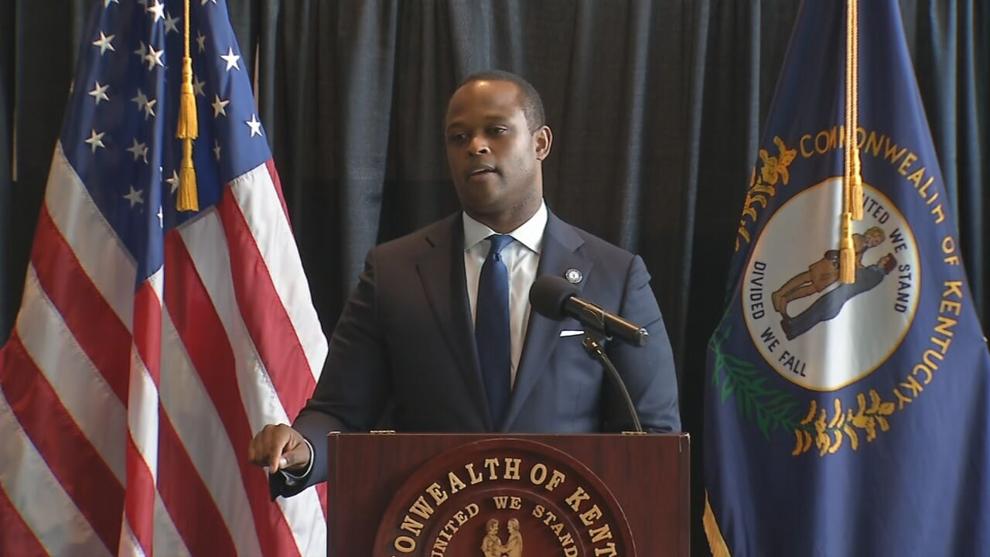 Ted Shouse, a criminal defense attorney, isn't impressed by Cameron's task force, which he said seems like "window dressing."
"Kentucky has a long history of blue ribbon panels and appointed commissions, and those are frequently places where ideas go to die," Shouse said. "This feels like one of those."
Shouse doubts the task force will accomplish much, since most of the people who will serve on the 19-member group are either appointees of law enforcement, prosecutors, or the attorney general himself. Hellmann voiced similar skepticism.
"There's only one member of this commission ... whose job it is to represent people who've had these warrants executed on their homes," Shouse said.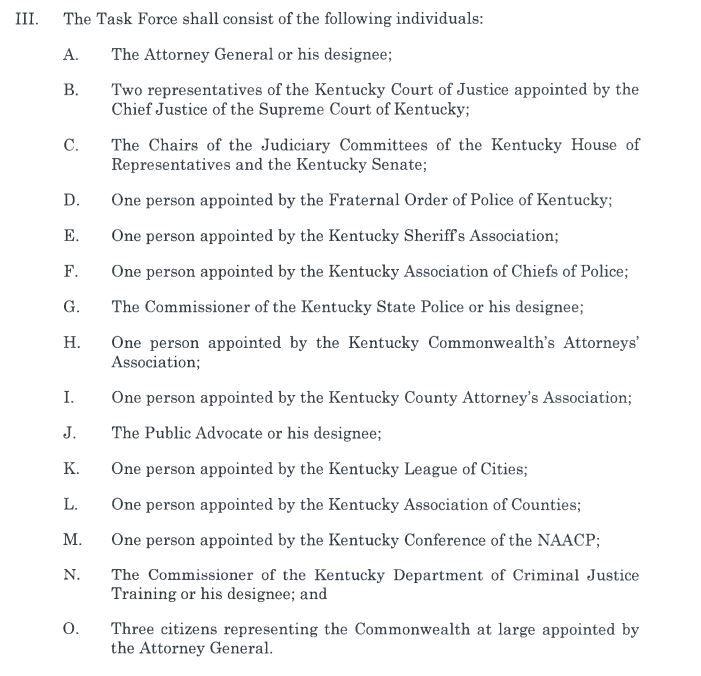 Despite his skepticism, Shouse said whoever serves on the task force should consider key reforms to the search warrant process: randomly assigning judges to the officers seeking search warrants to prevent shopping, recording officers' conversations with the approving judges and being transparent with the info showing how a warrant was obtained.
"If you don't think that the Breonna Taylor case has taken a huge whack out of the public's faith in the criminal justice system, then you haven't been watching," he said. "This would be a step to restore that faith." 
Appointments to the task force must be made by Feb. 5, according to Cameron. The group will meet "as often as necessary to examine the search warrant process, solicit public input, and develop recommendations," the news release says. 
The work is expected to conclude no later than Dec. 31, 2021.
Sam Aguiar, an attorney for the Taylor family, also presented skepticism when asked about Cameron's task force.
"It seems pretty ironic that Daniel Cameron completely dodged the investigation into the search warrant obtained to go into Breonna's home, yet now suggests that he is the best person to establish and chair a task force investigating search warrant methods and processes in Kentucky," Aguiar wrote. "The fact that he put Breonna's name into the order setting up the task force is appalling."
Copyright 2021 WDRB Media. All Rights Reserved.