HILLVIEW, Ky. (WDRB) -- Despite pleas by Gov. Andy Beshear and others, a Wednesday night in-person worship service went on as scheduled at the Maryville Baptist Church in Bullitt County.
There, the Rev. Jack Roberts said he won't back down as health department officials use state authority to try to close his Bullitt County church that continues to hold in-person gatherings during the COVID-19 pandemic. But Wednesday, in an interview with WDRB News, Roberts explained why.
"It's my life, and I feel like the Gospel is more important than anything else," he said.
In the Wednesday night service, Roberts said the county attorney instructed him to close the church, and the pastor also told church-goers he was ready to get arrested, if necessary, as he defied those pleas.
Two troopers with the Kentucky State Police patrolled the church parking lot during the service. A spokesman said they were there on an "observational" basis and could return on Easter on a similar mission. The spokesman didn't say what kind of action, if any, the agency might eventually take.
On Tuesday, using a Kentucky Cabinet for Health and Family Services enforcement notice, the Bullitt County Health Department ordered Maryville Baptist Church to cease its in-person gatherings "immediately." The notice cites Beshear's March 19 executive order banning mass gatherings during the outbreak.
Roberts said he doesn't want a fight but maintains he has a constitutional right to keep his church doors open. During the Wednesday evening service, Roberts said he still plans to keep the church doors open on Easter Sunday.
"I know everybody thinks I'm crazy," he said. "Maybe I am."
Roberts said he's encouraging more worshipers — those who are older, immunocompromised, or scared — to stay home and watch the service on Facebook Live. He said the church is also taking other measures to keep worshippers safe.
Regardless, over the weekend, Roberts and Maryville Baptist Church were called out by Beshear twice during news conferences as the church proceeded with in-person worship on Palm Sunday.
"We know that it's a scientific fact that him holding this service today will spread the virus within his congregation, and at Christmas, he's going to have fewer people in his congregation," Beshear said Sunday.
Here are @GovAndyBeshear's words to the pastor of Maryville Baptist Church just moments ago as the church service here begins. @WDRBNews #Covid_19 #coronavirus #CoronavirusPandemic pic.twitter.com/l8tQnE54Dr

— Chad K. Mills (@ChadKMills) April 5, 2020
Roberts doesn't agree with the governor's assessment and the governor's plea to close the church, especially on the week of Easter.
"I might not ought to say it this way — whatever you put on the air is what I'm saying, all right — but our stupid governor says you can't get together with your family for Easter," Roberts said. "What are they going to do stand at my front door and see how many people goes in?"
Roberts actually doesn't know what'll happen next nor how the government will enforce the 'cease and desist' notice he received Tuesday.
Here is the order from the Kentucky Cabinet for Health and Family Services.
"Only thing I can tell you is I have two national constitutional attorneys," he said.
"If one of your members does come down with COVID-19, will you take responsibility for that?" WDRB News asked him.
"I can't take responsibility for Walmart, Lowe's, the liquor stores," the pastor responded, in part. "I mean, I'm not trying to get anybody sick, but I wouldn't think that they got it here."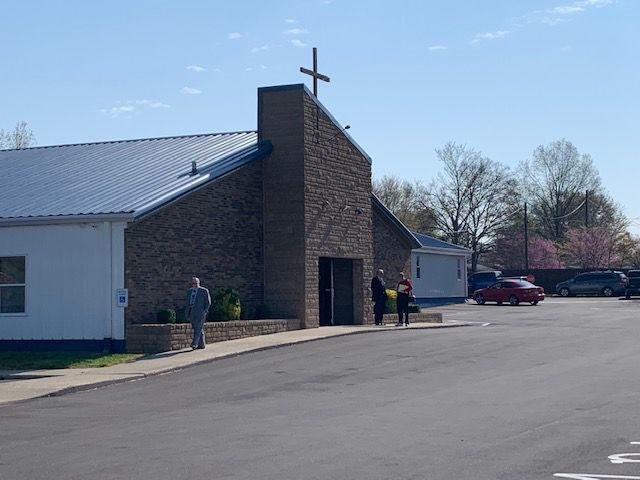 Beshear said at least three church gatherings have already spread the virus and killed multiple people in Kentucky alone.
Maryville Baptist Church is not alone in its decision to stay open. At least two other area churches are pushing ahead with in-person gatherings on Easter.
The Rev. Wilbur Browning, the senior pastor of Centennial Olivet Baptist Church in the California neighborhood is doing so but says his church will be thoroughly cleaned, and some worshippers will be asked to stay home for their safety.
"We our exercising our right as people of faith to worship," he said. "And according to the First Amendment, last time I read it, the governor can't intervene to tell us how to worship our God."
At the Fern Creek Baptist Church, the Rev. Linda Barnes Popham is also considering an in-person Easter service.
"I have a great respect for governmental authority; however my highest authority is Jesus Christ," she wrote in a statement to WDRB News. "A decision will be sent out to our church family on Friday or Saturday concerning the details of Sunday. We continue to pray earnestly over the scriptures referring to government as decisions are made. My main focus is to point people to Jesus and for people to come to know Him as Lord and Savior."
On March 15, the Centers for Disease Control and Prevention recommended that no gatherings with 50 people or more take place for the next eight weeks in an effort to slow the spread of COVID-19.
Copyright 2020 WDRB Media. All Rights Reserved.