LOUISVILLE, Ky. (WDRB) -- I predicted it would happen. Eric Crawford knew it was going to happen. Heck, you probably knew it was going to happen.
It was the one prediction we could all agree on: a Dog Day afternoon picking college football games against the spread.
Somebody would deliver a perfect 7-for-7 week.
But it wasn't me. It wasn't Eric. We were both fortunate to finish 3-4 last week.
Guess who continued to lap — and embarrass — both of us?
Yep, Ruby, my nearly 3-year-old Labrador retriever who picks games when I let quarters slide off her nose. Heads for the home team. Tails for the visitors.
Ruby had it going last week, nailing Indiana over Northwestern, Georgia over Florida, Virginia over North Carolina and you know the rest of the list.
She crushed Week 10, and she's winning the season. Eric told me that I need to book her out for birthday parties, horse-racing handicapping seminars and other requests. Anybody know an agent?
For now, Ruby will stick to showing Eric and me how to do it, starting with the seven games for this weekend.
1. Louisville at Miami (-6 1/2), Saturday, 3:30 p.m., ESPN2, Hard Rock Stadium, Miami.
Winners of three of their last four, the Cardinals have delivered one of the best running games in the Atlantic Coast Conference, but Miami has the second-best run defense in the league … U of L coach Scott Satterfield said the off week enabled quarterbacks Micale Cunningham and Evan Conley as well as halfback Hassan Hall to heal … like U of L, Miami needs one win to become bowl eligible … although the Hurricanes have won back-to-back road games, they lost ACC home games to Virginia Tech and Georgia Tech … Cards are 5-3 against the spread while the Hurricanes are 5-4.
Eric: Miami 28, Louisville 21.
Rick: Louisville 21, Miami 17
Ruby: Miami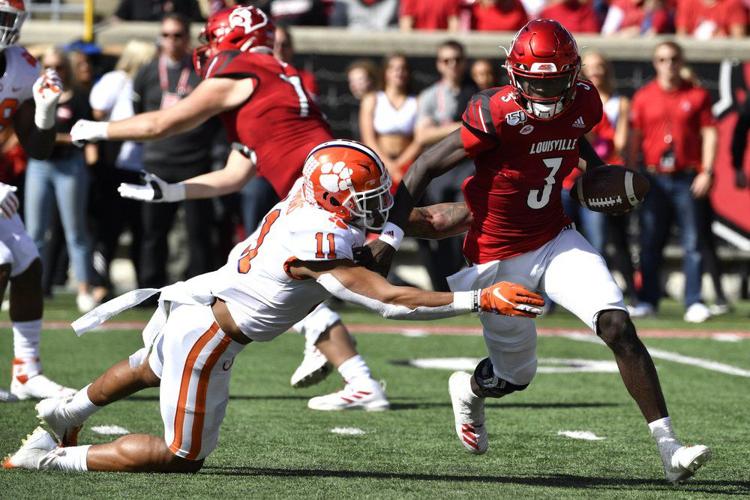 2. Tennessee at Kentucky (+1), Saturday, 7:30 p.m., SEC Network, Kroger Field, Lexington.
Which Tennessee team will show up? The one that buried itself by starting the season by losing home games to Georgia State and BYU or the one that has lost to only Alabama in its last four games … the Vols defeated Mississippi State and South Carolina, teams that beat Kentucky … Tennessee limited South Carolina and UAB to less than 80 yards rushing … the Vols have covered in four straight games to improve to 5-4, while the Wildcats are 5-2-1.
Eric: Tennessee 17, Kentucky 14
Rick: Tennessee 27, Kentucky 21
Ruby: Kentucky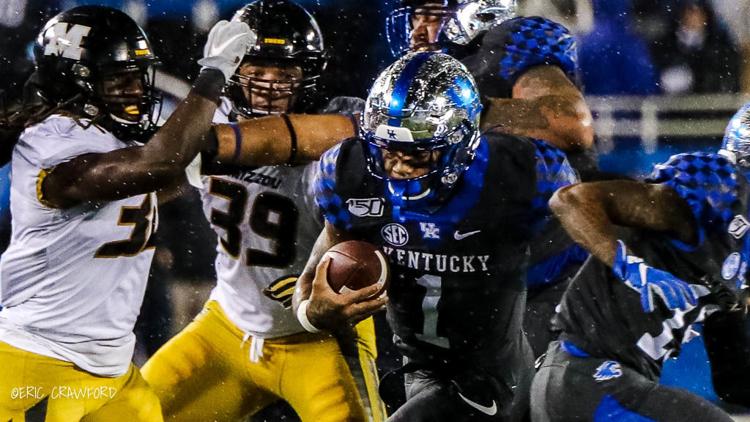 3. WKU at Arkansas (-1 1/2) Saturday, noon, SEC Network, Razorback Stadium, Fayetteville.
This might be a Must Win for Arkansas coach Chad Morris, who moved onto the hottest seat of any Power Five conference coach after Florida State fired Willie Taggart on Sunday … Morris is 0-14 in SEC games with the Razorbacks … Arkansas has been outscored by 112 points in its last three games and has not won since defeating Colorado State on Sept. 14 … WKU failed to cover last weekend for the first time in six games ... The Toppers are 6-3 against the number. Arkansas is a dismal 2-6-1.
Eric: Arkansas 14, WKU 10
Rick: Arkansas  24, WKU 21.
Ruby: Arkansas
4. Purdue at Northwestern (-2), Saturday, noon, Big Ten Network, Ryan Stadium, Evanston.
The Boilermakers (3-6) kept their bowl chances alive by ending a two-game losing streak when they rallied to defeat Nebraska … Northwestern has lost six straight and has not scored a touchdown since Oct. 5 … after losing starter Elijah Sindelar in September, Purdue coach Jeff Brohm lost back-up Jack Plummer to a broken ankle last week, forcing the Boilermakers to turn to former walk-on Aidan O'Connell, who will return home to suburban Chicago … Northwestern has major quarterback issues, too ... The Wildcats rank last in the Big Ten in passing offense with only two touchdown passes and 11 interceptions this season … Purdue has covered in five of nine games, while Northwestern has failed to cover for three straight games and is 2-6.
Eric: Northwestern 28, Purdue 27
Rick: Purdue 20, Northwestern 14
Ruby: Northwestern
5. Wake Forest at Virginia Tech (+2 1/2), Saturday, 3:30 p.m. ACC Network, Lane Stadium, Blacksburg.
Most of the ACC is in love with Wake Forest, but it's difficult to consider the Demon Deacons a legitimate Top-25 team considering their 62-59 loss to Louisville … the Hokies are another difficult team to judge. After a 2-2 start that included an embarrassing 45-10 home loss to Duke, they have won three of their last four, and the loss was by a point at Notre Dame last weekend … Tech will celebrate the career of retiring defensive coordinator Bud Foster … Wake is 4-3-1 against the spread. Tech is 3-5.
Eric: Wake Forest 24, Virginia Tech 17
Rick: Virginia Tech 31, Wake Forest 28
Ruby: Wake Forest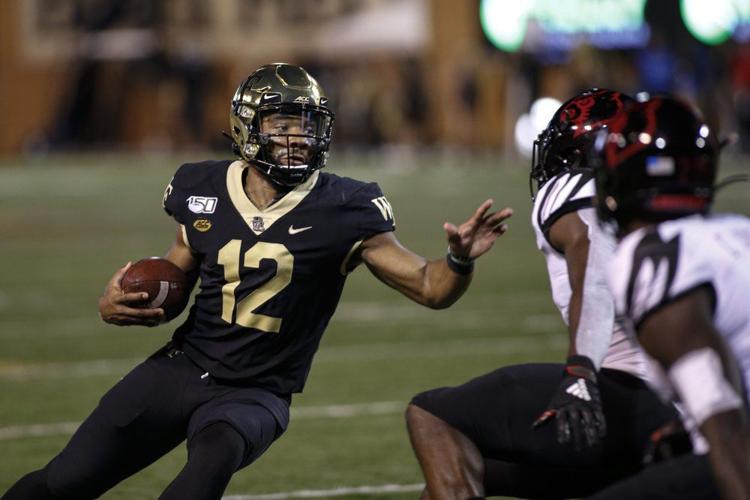 6. Penn State at Minnesota (+6 1/2), Saturday, noon, ABC, TCF Bank Stadium, Minneapolis.
Although the Gophers are one of seven unbeaten teams, their user friendly schedule left them ranked 17th in the initial college football playoff poll released Tuesday night … Minnesota's best win is likely against Illinois, while No. 4 Penn State has quality victories over Iowa and Michigan State … Minnesota has outscored its Big Ten opponents, 206-72. The Gophers have also won their last 10 games over two seasons … Penn State ranks second in scoring defense nationally, allowing 9.6 points per game … Michigan is the only team to score more than 13 points against the Nittany Lions … Penn State is 4-3-1 against the spread, while the Gophers have covered in five straight games to go 5-2-1.
Eric: Penn State 35, Minnesota 21
Rick: Penn State 28, Minnesota 20
Ruby: Penn State
7. LSU at Alabama (-6 1/2), Saturday, 3:30 p.m., CBS (WLKY), Bryant-Denny Stadium, Tuscaloosa.
Nick Saban has won eight straight game against LSU, his former school, including a one-sided 29-0 performance in Baton Rouge last season … including his time at Ole Miss, LSU coach Ed Orgeron is 0-6 against the Crimson Tide … Alabama has won 31 straight and 48 of 49 in at Bryant-Denny Stadium, losing only to Johnny Manziel and Texas A&M in 2012 … this will be the 38th time ESPN's College GameDay has visited Tuscaloosa, which is 12 more appearances than the show has made at Ohio State … LSU leads the SEC in total offense, passing offense and redzone offense, converting on 43 of 44 opportunities … The Tigers are 5-2-1 against the number while Bama is 4-4.
Eric: Alabama 35, LSU 28.
Rick: Alabama 42, LSU 35
Ruby: LSU
Last week:
Eric: 3-4
Rick:  3  4
Ruby:   7-0
Season totals:
Eric: 34-34-2, .500
Rick: 30-38-2, .443
Ruby: 31-23-2, .571
Copyright 2019 WDRB Media. All Rights Reserved.