LOUISVILLE, Ky. (WDRB) -- Three weeks into this Against the Spread that Eric Crawford and I are waging against college football, and it is already time for an experiment.
Can a dog do a better job of picking games than Eric Crawford and I can do (especially me)?
Is flipping a coin as effective as checking past results, blogs and analytics site?
Let's find out, especially after I have missed four more games than I called correctly over the first two weeks of the season.
Eric and I will continue picking games by looking at the numbers. Ruby, my Labrador retriever, will pick games via coin flip.
This should be fun. Or humbling.
1. Western Kentucky vs. Louisville (-10), 4 p.m., Nissan Stadium, Nashville
After failing to cover the spread in 11 of 12 games last season, the Cardinals are 2-for-2 in that category this season after a dominant performance against Eastern Kentucky … Scott Satterfield's Cardinals rank 11th nationally in rushing offense, averaging 285.5 yards per game while WKU ranks 25th in rushing defense allowing only 85.5 yards per game … WKU is 1-1 against the spread … U of L has beaten WKU 20 times in 32 games, including the last 10 meetings.
Eric: Louisville 35, Western Kentucky 21.
Rick: Louisville 28, Western Kentucky 17.
Ruby coin flip: WKU covers.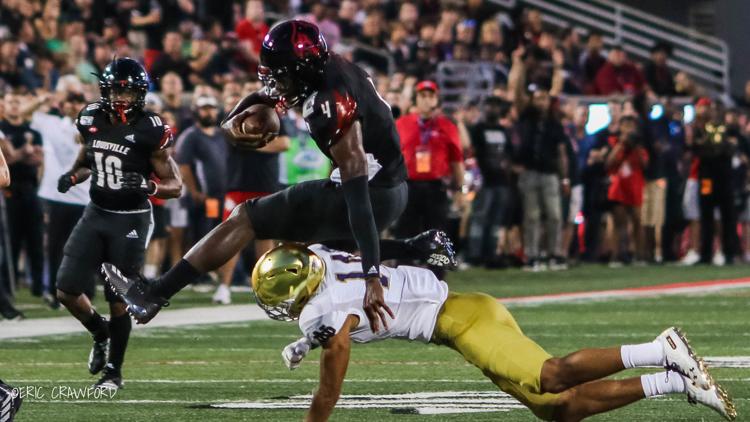 2. Florida at Kentucky (+8), 7 p.m. Kroger Field, Lexington
Kentucky moved to 2-0 against the spread this season with its 38-17 victory against Eastern Michigan last Saturday … UK ended a 31-game losing streak against the Gators with a 27-16 victory in Gainesville last season, but the Wildcats were also in prime position to beat Florida in 2017, 2015 and 2014, losing those three games by a combined 12 points … Florida has averaged 283 yards passing this season while the Wildcats rank 96th nationally in passing defense, allowing 251.5 yards per game … Florida quarterback Feleipe Franks has completed nearly 78% of his passing attempts with four touchdowns and two interceptions.
Eric: Florida 28, Kentucky 21.
Rick: Florida 27, Kentucky 21
Ruby coin flip: Florida covers.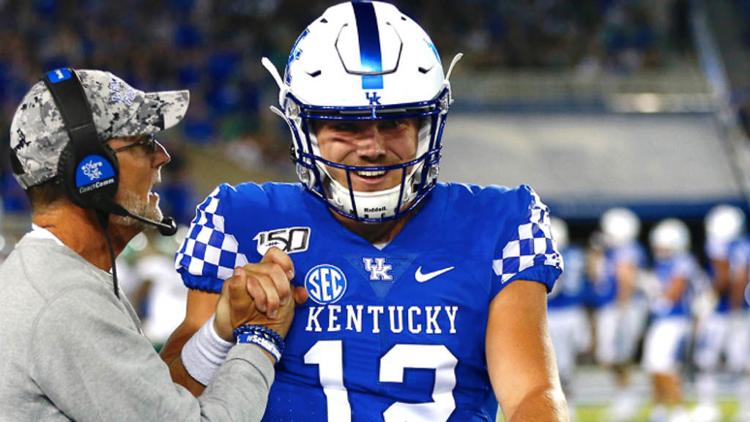 3. Ohio State at Indiana (+18), noon, Memorial Stadium, Bloomington
IU quarterback Michael Penix Jr. suffered an unspecified injury against Eastern Illinois and will be a game-time decision … if Penix does not play, Peyton Ramsey, last season's starter, will get the call … the Hoosiers have lost 23 consecutive games against the Buckeyes. They have also lost 23 straight against Michigan. With Kentucky's win against Florida last season, those two streaks are the longest active streaks by an FBS program … IU coach Tom Allen is the sixth consecutive Hoosier coach winless against the Buckeyes. Bill Mallory was the last IU coach to defeat OSU or Michigan … The Hoosiers are 1-1 against the spread this season. So is Ohio State, which covered in a 42-0 win over Cincinnati last weekend but failed to cover in the opener against Florida Atlantic … Ohio State ranks 18th nationally in rushing offense, averaging 253.5 per game.
Eric: Ohio State 42, Indiana 21.
Rick: Ohio State 42, Indiana 20.
Ruby coin flip: Indiana covers.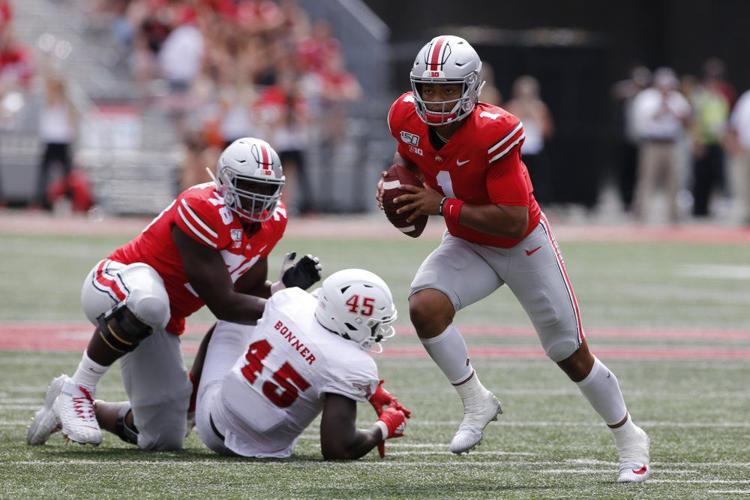 4. TCU at Purdue (+2 1/2), 7:30 p.m. Ross-Ade Stadium, West Lafayette, Indiana
The Boilermakers quieted the grumblers last Saturday with an impressive, 42-24, home victory over Vanderbilt, which covered the spread … the Boilermakers will be scrambling on defense to replace linebacker Markus Bailey, who is lost for the season with an injury … Purdue quarterback Elijah Sindelar leads the nation in passing yards per game at 466 but has thrown three interceptions with nine touchdowns … Trinity High School grad and New Albany native Rondale Moore leads the nation in receiving yards per game at 172. There are 23 FBS programs that have not averaged 172 yards passing per game … TCU was idle last week after defeating Arkansas-Pine Bluff, 39-7.
Eric: TCU 35, Purdue 31.
Rick: TCU 31, Purdue 24.
Ruby coin flip: TCU covers.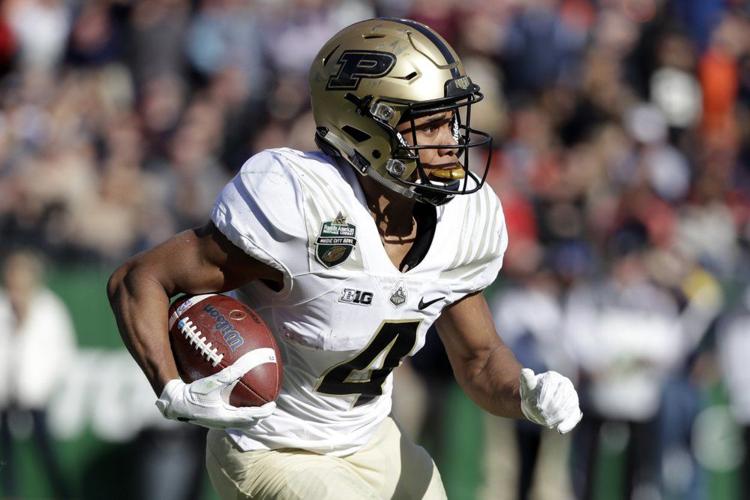 5. Florida State at Virginia (-7 1/2), 7:30 p.m., Scott Stadium, Charlottesville, Virginia
There were moments last Saturday night when it was absolutely possible to argue that Willie Taggart would not be coaching FSU this weekend. After coming from ahead to lose their home opener to Boise State, the Seminoles tried to do it again, allowing 31 points in the third and fourth quarters before beating Louisiana-Monroe in overtime, 45-44 … FSU is 0-2 against the spread while Virginia covered while defeating Pittsburgh and William & Mary … the Cavaliers lead the ACC in scoring and rank second in total defense.
Eric: Virginia 31, Florida State 21.
Rick: Virginia 34, Florida State 24.
Ruby coin flip: Virginia covers.
6. Alabama at South Carolina (+25 1/2), 3:30 p.m., Williams-Brice Stadium, Columbia, South Carolina
The Crimson Tide have outclassed their first two opponents (Duke and New Mexico State) by 91 points while South Carolina rallied from their embarrassing stumble against North Carolina in the season opener to hammer Charleston Southern, 72-10 … the Gamecocks lost quarterback Jake Bentley to a season-ending injury and will start freshman Ryan Hilinski, who completed 24 of 30 passes for 282 yards last week … the Gamecocks played a remarkably clean game against Charleston Southern and were not whistled for a single penalty.
Eric: Alabama 45, South Carolina 17.
Rick: Alabama 38, South Carolina 14.
Ruby coin flip: South Carolina covers.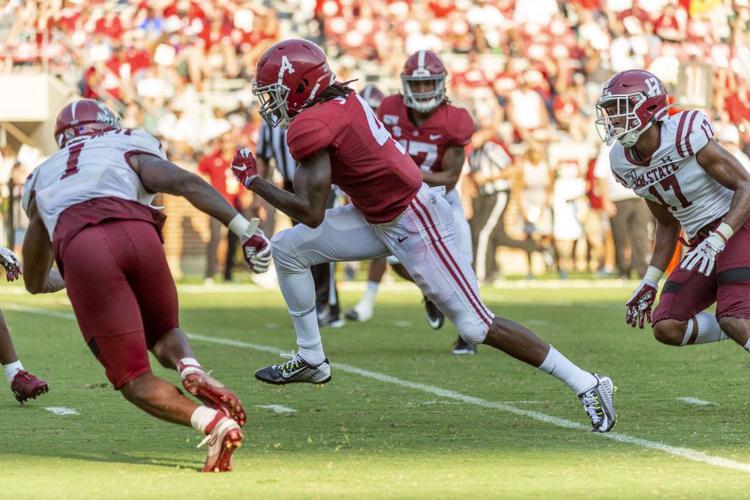 7. Clemson at Syracuse (+27 1/2), 7:30 p.m. Carrier Dome, Syracuse, New York
The Tigers were less than 10 seconds from covering for the second straight week until Texas A&M scored with six seconds to play … despite a pair of solid victories, Clemson has allowed a surprising amount of yardage (291.5 per game) and rank only 36th nationally in total defense … Syracuse was picked to finish second in the ACC Atlantic Division but the Orange were overwhelmed at Maryland last week, allowing 42 points in the first half and 650 total yards in a 63-20 defeat that knocked Dino Babers' team out of the AP Top 25.
Eric: Clemson 45, Syracuse 14.
Rick: Clemson 38, Syracuse 14.
Ruby coin flip: Clemson covers.
Last Week:
Eric: 3-4.
Rick: 2-5.
Season Record
Eric: 7-7, .500.
Rick: 5-9, .357.
Copyright 2019 WDRB Media. All Rights Reserved.