LOUISVILLE, KY. (WDRB) — For nearly two decades, I have used statistics, history and logic to push Howard Schnellenberger's considerable worthiness for the College Football Hall of Fame.
Eugene Dunn, a Schnellenberger fan who lives in Long Island, New York, has taken a more vocal, direct, high-octane approach.
"They should have carried him off the field with rose petals on his last day and brought (him) right to the door of the Hall of Fame," Dunn said.
Well, now that you mentioned it. 
Dunn, 57, transitioned from a sales career to become a professional Hall of Fame advocate — a guy goes to bat for athletes who should be Hall of Famers.
His website — HallOfFameAdvocates.com — tells part of the story. And, the No. 1 story Dunn remains determined to tell involves Schnellenberger.
Nick Saban of Alabama got on board by writing a letter advocating for Schnellenberger. So did Bill Belichick of the Patriots. Joe Willie Namath, a player Schnellenberger coached at Alabama, volunteered to help quarterback the cause.
Dunn even uncovered testimonials from Bear Bryant and Don Shula, Hall of Famers for whom Schnellenberger worked at Alabama and the Miami Dolphins.
"This man did one of the greatest coaching jobs ever (at Miami)," Dunn said.
Dunn has been a Schnellenberger fan since the early 1980s. He was a student at Florida Atlantic University in Boca Raton, Florida, when Schnellenberger made his remarkable five-season run at Miami from 1979-83. That run ended with an upset victory over invincible Nebraska in the Orange Bowl for the national title.
In 2015, after Dunn finally met Schnellenberger, the next day at breakfast, he discovered the coach was not in the Hall of Fame.
His reaction?
"Get out of here," Dunn said.
No. It's true. I've written at least four columns about the injustice over the past two decades. Nothing has changed, because Schnellenberger failed to attain the hall's minimum winning percentage of .600.
As I wrote last week, it's been a challenging seven months for Schnellenberger, his wife, Beverlee, and their two sons. He suffered a serious head injury after falling at home last July — and then was reinjured in another fall at the rehab facility.
Although Beverlee said that her husband is improving, he remains at the rehab facility.
"If something happens to (Schnellenberger) before he gets in the Hall of Fame, it's not going to be on my hands," Dunn said. "It's going to be on theirs."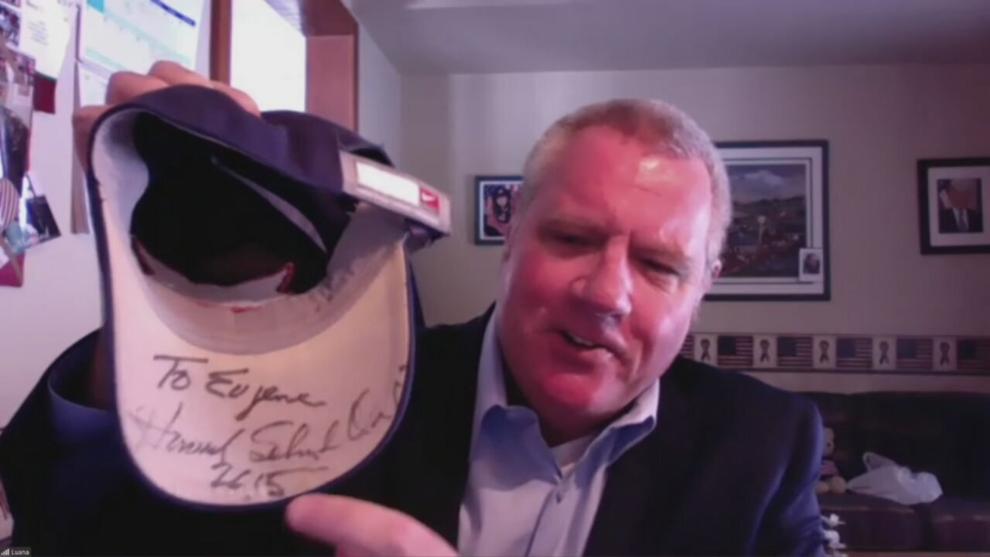 Schnellenberger's credentials are hardly debatable.
The 1983 national title he won at Miami, where he started the drive to make the Hurricanes a national program.
His amazing work that brought Louisville into the mainstream after the program was nearly been taken down to Division I-AA.
Making something from absolutely nothing at Florida Atlantic.
People in this area know the Schnellenberger story better than any football fans in America. You watched most of it unfold.
I say it every year. And every year Schnellenberger's candidacy gets swatted down by the rigid (and arbitrary) requirement by the National Football Foundation that Hall of Fame coaches must have a career winning percentage of at least .600.
Schnellenberger, 86, retired with career numbers of 158-151-3, a career winning percentage of .511.
He's roughly 30 victories short for that requirement.
The National Football Foundation will not budge. I requested a statement Wednesday. Here was the reply:
"Howard Schnellenberger was a very good coach at the college level. Regarding his College Football Hall of Fame eligibility, the rules for election to the College Football Hall of Fame have been in place since it was first established by the NFF in the 1950s. For coaches it is 10 years as a head coach, 100 games coached and a 60 percent winning percentage. Over the decades, some exceptions were made. However, in 2010, under the leadership of the NFF Honors Court and the NFF Board of Directors, a decision was made to strictly enforce the criteria going forward with no exceptions."
What should make Schnellenberger the exception is that he accepted three daunting jobs and succeeded against the odds at all three.
Ridiculous to exclude Schnellenberger? Purdue coach Jeff Brohm, one of his former players and assistant coaches, thinks so.
"Coach Schnellenberger should definitely be in the College Football Hall of Fame," Brohm said. "No singular statistic like winning percentage could ever come close to measuring the impact of his accomplishments or his impact on the game.
"There were many times he could have taken an easier path to just rack up wins at more traditional schools but he chose the road less traveled ... it's a long overdue slam dunk!"
Miami was awful pre-Schnellenberger. He set the Hurricanes on the path to five national titles. He did the heavy lifting for Jimmy Johnson, Dennis Erickson and others who followed him in Coral Gables, Florida. 
I've argued that if Schnellenberger stayed in Miami, he'd have four or five rings. Dunn put that number closer to 10.
In 1985, Schnellenberger started Louisville on its path from a program that lost to Murray State to one that beat Alabama in the Fiesta Bowl — and eventually grew from an undersized independent to a member of the Atlantic Coast Conference that has produced a Heisman Trophy winner.
In 1998, the program moved into the stadium that looked similar to the drawing Schnellenberger kept in his office at the Kentucky Fairgrounds before he spent one awful year at Oklahoma.
Florida Atlantic did not own a football when Schnellenberger arrived in 1998. Schnellenberger built a stadium, a program and a team that won a Sun Belt Conference title. Lane Kiffin and Willie Taggart are two coaches who have benefitted from Schnellenberger's labors in Boca Raton.
Name another coach who gave three fan bases something like that to talk about. Can't do it.
"I would argue that he's one of the greatest coaches in the history of the sport," Dunn said, "and that's no exaggeration." 
It's also no exaggeration that Dunn and others will advocate for Howard Schnellenberger until this ridiculous wrong is righted.
Related Stories: 
Copyright 2021 WDRB Media. All rights reserved.