LOUISVILLE, Ky. (WDRB) -- From the moment he made radar guns tilt at the University of Louisville, Zack Burdi flashed the blazing stuff that would eventually make Major League hitters squirm.
Eventually arrived this month. Monday night at Guaranteed Rate Field, hitters squirmed.
One squirmer was Miguel Cabrera, a two-time Most Valuable Player and certain Hall of Famer.
After striking out the first two Detroit Tigers, Burdi buried Cabrera with two quick strikes. He was this close to striking out the side for the first time in his 10-day major league career with the Chicago White Sox. Cabrera survived — on a shaky ground ball to the mound.
"If he can harness (his pitches) consistently, it's absolutely closer stuff," White Sox analyst Steve Stone said on the NBC Sports telecast.
Between innings, Cabrera was spotted explaining the nastiness of Burdi's pitches to teammate Cameron Maybin.
"I don't really pay attention to who gets in the box," Burdi said. "I've got to focus on my end of things.
"It's cool to look back at the end of the game and see that I was able to face Miggy and have some success against him. Just really cool. That's a guy that I grew up watching and has been a face of baseball for many, many years."
Did Burdi get in the head of the Tigers' $31 million star? You decide.
On Tuesday, after he rifled another 0-2 Burdi pitch for a single to left field, Cabrera appeared to curse at the U of L closer as he ran to first base.
"What Miguel said was, 'Take that you nice young pitcher," Stone said. "Something along those lines."
Four years after the White Sox drafted Burdi with the 26th pick in the first round out of Dan McDonnell's formidable U of L program, Burdi has more than Cabrera talking. They're talking about how in less than two weeks, Burdi has convinced White Sox manager Rick Renteria to trust him in higher stress situations.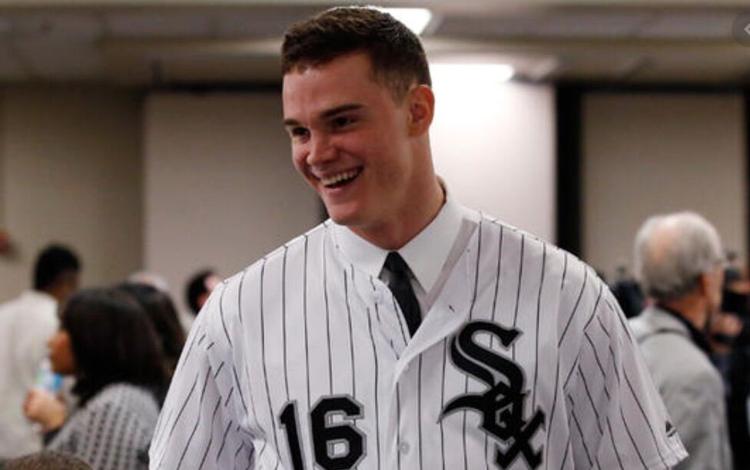 Start with the 99 mph fastball that runs on a hitters' hands. Add the tight slider with a fierce late break. Don't forget the 91 mph changeup that dives into the dirt.
"This stuff that he's throwing, you can take for outs 25, 26 and 27 pretty much anywhere in the Major Leagues," Stone said.
They're talking about how since Burdi arrived in the big leagues Aug. 8, he has delivered five solid performances, striking out six in five innings, allowing two runs, walking one and getting touched for a home run by Paul Goldschmidt.
They're talking about how Burdi's velocity might be down a notch from the 99-101 mph fastballs Burdi routinely threw for the Cards, but he is throwing all three of his pitches (fastball, slider, changeup) with the efficiency to frustrate professional hitters.
For Burdi, getting to Chicago has not been the red carpet walk many first-round draft picks make.
"The journey has been awesome," Burdi said. "I wouldn't change it ... over the last couple of years with the injuries and the lack of success, first-round pedigree or whatever you want to call it, kind of lost its weight.
"I had to earn myself that position back. That's something I'm really proud of ... it's been a rollercoaster. It takes time. And it stinks when it's not on your time."
The White Sox were eager to fast-track Burdi, promoting him from Winston-Salem to Birmingham to Charlotte in his first three months as a pro.
He started 2017 in Class AAA Charlotte. He pitched in Louisville against the Bats. Slugger Field was energized by dozens of Burdi family members, who drove from Chicago, as well as friends he made at U of L.
Something wasn't right. Burdi's right elbow throbbed. It was his final appearance of the 2017 season. He needed Tommy John surgery, the same fix his older brother Nick, also a former Cardinal, required with the Minnesota Twins.
Burdi barely pitched in 2018, appearing in rookie and fall league games in Arizona. In 2019, the White Sox invited him to big league camp, but Burdi regressed to Class AA. His season ended after 20 games when Burdi injured his knee during fielding practice last June.
Another operation.
"Coming back from one (injury) is difficult," Stone said. "Coming back from two shows a lot of perseverance."
The White Sox have been looking for more velocity in their bullpen, but Burdi did not appear on track to make the team in spring training before the novel coronavirus shut down baseball in mid-March.
When the team reassembled in Chicago for baseball's July restart, Burdi was assigned to the taxi-squad training camp in Schaumburg, Illinois. Several younger prospects moved ahead of Burdi.
They're not ahead of him any more. In the five games since his promotion, Burdi has been the guy the White Sox were convinced they drafted.
"To go through quarantine and not really know where you stand with the team, to make my debut is super special," Burdi said. "To do it at a time like now is crazy. But it still means the world to me."
Game one was against the Cleveland Indians on Aug. 8. Burdi pitched the sixth inning. Before he struck out two, Burdi paused on the mound and looked across the empty ball park. His parents and family members watched on TV from Michigan.
"Just taking in the scenery," Burdi said. "Just being at this park when I was younger, growing up as a Sox fan, it was a special moment for both me and my family."
Burdi grew up in Chicago's western suburbs, about 25 miles from where he now works. He was a White Sox fan. He has never visited Wrigley Field.
That will change Friday. The White Sox and Cubs begin a three-game series.
"That's going to be cool," Burdi said. "Very, very cool. I've never been to Wrigley for any game. Ever.
"I'm actually excited just to see the park itself ... every year that I thought I would make it up, I always looked at the Cubs' games. Because that's the games I want to be there for."
This year and likely for years to come, Zack Burdi will be there.
Copyright 2020 WDRB Media. All Rights Reserved.