LOUISVILLE, Ky. (WDRB) -- The Kentucky Derby horses are off for at least the next 11 days, but college basketball does not believe in Pause Mode.
Translation: This is a perfect time for Dr. Bo College Basketball Notebook.
On Tuesday, I joined two other journalists on a 40-minute Zoom interview with new Indiana men's basketball coach Mike Woodson. I'll have a longer piece on what we discussed Wednesday.
Here is one revealing nugget from our conversation to tip off a string of notebook items.
*How Mike Woodson Convinced Trayce Jackson-Davis to Stay at IU
After his first series of meetings with the IU basketball players, Woodson was dejected. Down. Frustrated.
He concluded his final group meeting in the IU locker room by asking for a show of hands of the players who intended to stay with the Hoosiers.
"Everybody committed except the five best players," Woodson said. "I walked away from that meeting really dejected. I mean, I was down.
"I was like, 'Wow, how can this be? You guys are not even giving me a chance.'
"So I had to do some damage control. I had to start setting up meetings with the parents and the players and I had to tell them what was on my heart and how I felt about the individual player as a player and how I thought that player could help us from a team standpoint.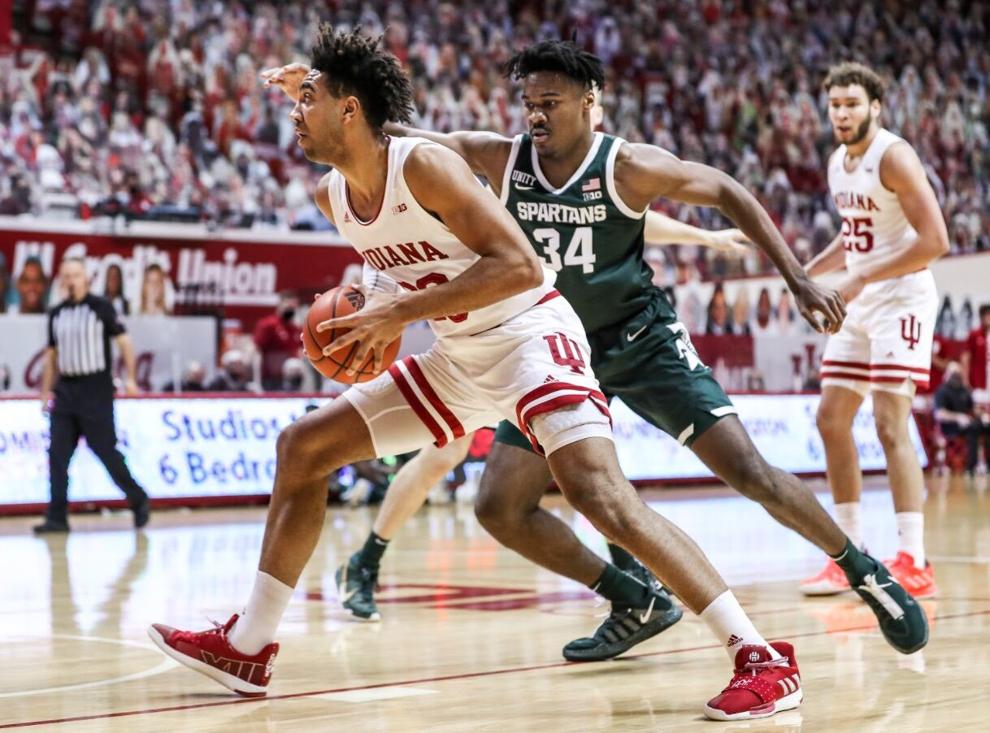 "I started at the top with Jackson-Davis."
In college basketball, they call this recruiting. Woodson put his trademark on his pitch. He put together a long collection of video clips of things Jackson-Davis did not do well, like use his right hand or make jump shots. He summoned Jackson-Davis and his stepfather, Ray Jackson, to his office at Cook Hall.
"It wasn't a knock against the young man, but I showed film of what he couldn't do," Woodson said. "We sat there for about an hour, and it finally registered. I was just waiting and waiting and waiting.
"He finally said, 'Damn, coach, we've been sitting here watching tape and you haven't put anything on there that I've done well.'
"I said, 'Bingo.'
"He figured it out because I'm not concerned with what you do well. I'm concerned about what you can't do and how you can get better to help us win basketball games and better yourself for your future ...
"... It wasn't a knock against the young man. I honestly thought I could help him make the next move to the big leagues."
Jackson-Davis will return for his junior season, part of a 13-player roster that Woodson strengthened by keeping most of the IU players while adding grad transfers Xavier Johnson (Pittsburgh) and Miller Kopp (Northwestern), plus top-50 high school recruit Tamar Bates.
"(Jackson-Davis) walked out of that meeting and he came back and said, 'Coach, I'm on board," Woodson said.
"That's all I needed to hear. I gave him the biggest hug. I said, 'Hey, man, let's do this together. Now we've got to go after the rest of the guys back.'"
*Luke Murray Back in Super Star Mode
Former Louisville assistant coach Luke Murray did not stay unemployed long. Murray will return to his roots and work at the University of Connecticut where he was once a student for a semester. The Connecticut Post had the story.
Murray has a long relationship with UConn coach Danny Hurley. He worked for him one season at Wagner and three more at Rhode Island, leaving in 2015 to join Chris Mack at Xavier.
Murray had three seasons with Mack at Xavier and three more at Louisville before his contract was not renewed, expiring on April 30. Murray and former U of L assistant Dino Gaudio are no longer listed on the Cards' website, which still shows an opening for one more assistant.
*The Pursuit of Kentucky De-Commit Nolan Hickman
If you questioned the ability of point guard Nolan Hickman to play at Kentucky after his de-commitment from the program last week, don't.
According to the website BustingBrackets.com, more five-star programs are pursuing Hickman. The site listed Arizona, Duke, Kansas, Gonzaga, Oregon and Washington as the six programs most likely to chase Hickman.
Listed at 6 feet 2 inches tall and 185 pounds, Hickman is ranked No. 29 in the class of 2021 by 247Sports. He played for Wasatch Academy in Mt. Pleasant, Utah.
The strong chatter that John Calipari will add two, not one, Illinois assistant coaches to his staff is bound to create additional speculation.
If, as expected, Calipari hires Orlando Antigua and Ronald Coleman from Illinois to replace Joel Justus (Arizona State) and Tony Barbee (Central Michigan), I wonder if Illinois point guard Andre Curbelo will also be in play for a move to Lexington.
The Illini will take a major tumble from the top of the Big Ten after losing Ayo Dosunmu, Kofi Cockburn, Adam Miller and others. Antigua was the guy who convinced Curbelo to commit after his strong prep career at Long Island (N.Y.) Lutheran
Although Curbelo came off the bench all season, he was terrific, averaging better than nine points and four assists. He's more distributor than scorer. But make a note that at 6 feet, Curbelo averaged four rebounds per game.
*Tony Barbee's New Deal
Ken Pomeroy ranked the Mid-American Conference the 12th-strongest league in college basketball last season, one of the most demanding one-bid leagues in the country.
As expected, the pay is better than most one-bid leagues. According to this story from the Detroit News, former UK assistant Tony Barbee will make at least $420,000 as the head coach at Central Michigan.
The bigger obstacle for Barbee will be his assistant coaching pool money. His memorandum of understanding with the school says he'll have only $275,00, plus $30,000 in signing bonuses for his staff.
What about the buyout?
It's $1 million for the first two years — if Barbee decides to leave or if the school dismisses him. The number drops to $500,000 after year three, $400,000 after year four and $300,000 after year 5five.
Barbee has legitimate work to do. CMU has made the NCAA Tournament once since 1987. The Chippewas went 21-34 the last two seasons under Keno Davis.
Copyright 2021 WDRB Media. All Rights Reserved.