LOUISVILLE, Ky. (WDRB) -- Kentucky has the second-best record in the Southeastern Conference East Division, trailing only Georgia, the best team in the country.
Louisville is tied for fourth in the Atlantic Division of the Atlantic Coast Conference, a league that does not have any teams ranked among the top 15 in the nation.
Kentucky is ranked No. 25 in the latest USA Today coaches' poll, and the Wildcats were ranked as high as No. 11 just six weeks ago.
Louisville is unranked and not receiving votes in either poll.
But when the good folks in Las Vegas posted the opening point spread for the Kentucky-Louisville game, they made the Cardinals the favorite by two points.
Surely, the wise guys would bet that number down.
Nope.
The Cardinals improved to a 2.5-point favorite by Sunday night. On Tuesday afternoon, the number climbed again — to Louisville by three.
So, yes, Louisville (6-5) is likely to remain the favorite against Kentucky (8-3) when the rivals meet Saturday at 7:30 p.m. at Cardinal Stadium.
I am not a gambler. I cannot remember the last time that I wagered on a college football game. It's been at least a decade since I participated in an office pool when you pick every bowl game and rank your selections by the certainty of your convictions.
I went to my guy in Las Vegas, Brian Edwards, a senior handicapper for VegasInsider.com as well as the director of brianedwardssports.com. I asked him if he was surprised the Cardinals, not the Wildcats, will be favored in this Governor's Cup, considering the overall seasons both teams have delivered as well as Kentucky's back-to-back victories by 32 and 46 points in the rivalry.
Edwards wrote back that he, too, was surprised. And that he disagreed with the number.
"I'm on Kentucky (8-3 straight up, 7-4 against the spread) at +2.5 points this week," Edwards wrote.
"(UK quarterback) Will Levis has been up and down all year, but he's in good form these last three games with a 9/3 touchdown/interception ratio.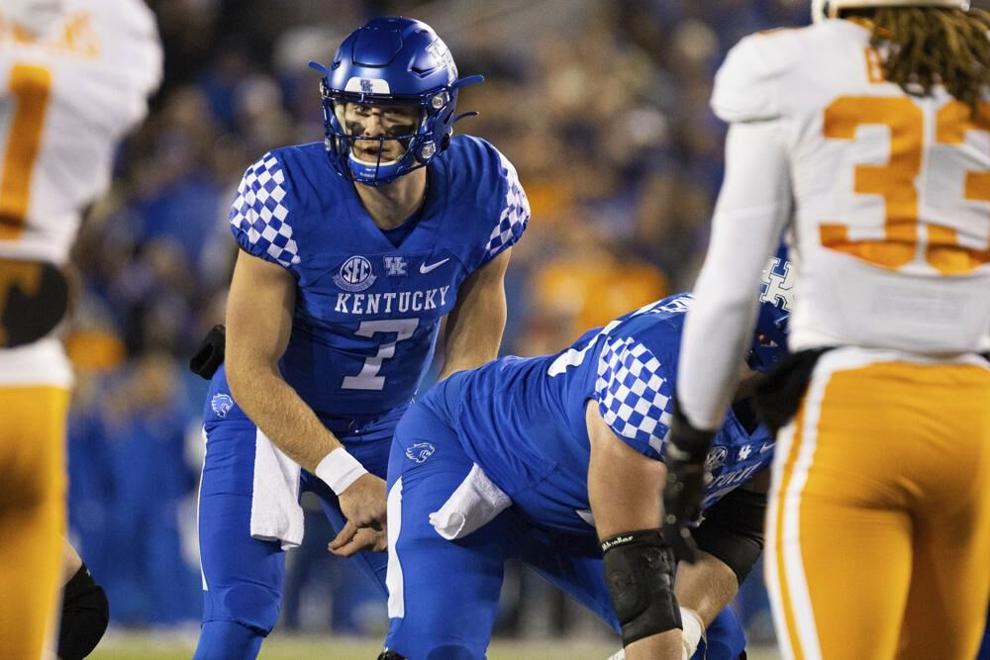 "Louisville (6-5 SU, 6-5 ATS) is ranked #101 out of 130 FBS teams in pass defense, and now it has to deal with (UK receivers) Wan'Dale Robinson and Josh Ali, who have combined for 122 receptions, 1,620 receiving yards and 10 TDs.
"(UK halfback) Chris Rodriguez should have a big game. UK has beaten U of L by scores of 56-10 and 45-13 in the last two meetings. The wrong team is favored in this game. 'Cats win outright."
I agree. My pick is Kentucky 38, Louisville 35.
I asked Edwards to explain why the spread has tilted toward Scott Satterfield's team. Perhaps because Kentucky's record has been inflated by a bogus non-conference schedule?
"Homefield advantage and (U of L quarterback Malik) Cunningham's big numbers last two weeks (9/0 TD-INT ratio).
"But U of L is not playing the Duke or Syracuse's defenses this Saturday."
Homefield advantage is typically valued at two to three points. Jeff Sagarin's power formula was a signature component of the old Bowl Championship Series rankings.
Sagarin values homefield at 1.88 points this week. According to his formula, Louisville should be favored by 1.57 points.
Here are several other point-spread tidbits I have collected for the Governor's Cup:
Since the series began in 1994 with Kentucky and Bill Curry defeating Louisville and Howard Schnellenberger, 20-14, in Lexington, Louisville has defeated Kentucky in 15 of 26 games.
The Cardinals have been favored 16 times, the Wildcats 10.
The favorite has won the game 17 times straight up, including seven of the last eight times the teams have played.
But the favorite has only covered the point spread a dozen times. The underdog and the points have been the winning bet 13 times. In 2013, Louisville was favored by 14, and the Cards won, 27-13, for a push.
If the spread returns to 2.5 points or less, it will be the second-smallest spread in Governor's Cup history. The only smaller spread was in 1996.
The Wildcats were favored by a point. They lost by 24 points to a Louisville team coached by Ron Cooper and quarterbacked by Jason Payne (with Chris Redman a freshman reserve).
This year Louisville is favored by three — even if some of the wise guys don't understand the number.
Copyright 2021 WDRB Media. All Rights Reserved.