LOUISVILLE, Ky. (WDRB) -- There isn't a more qualified source to discuss Rondale Moore's potential to succeed in the NFL than Mark Clayton.
Like Moore, Clayton had all the moves as a college player. Could catch. Could run. Could get open. Could find the end zone. Could make dazzling plays.
Here is one thing Clayton could not do: stretch the measuring tape longer than 5 feet 9 inches when he played at the University of Louisville from 1979-1982.
That is the same size Moore was listed at Purdue, the program where he excelled for three seasons after Moore won state titles at New Albany (basketball) and Trinity (football) high schools.
Moore decided to bypass his senior season for the NFL. He'll be drafted next week. Although nobody questions his quickness, speed, hands or ability to make tacklers miss, Moore heard the same chirping that surrounded Clayton in 1983.
He's too small.
Listening to Clayton interview Moore on Thursday afternoon on Jerry Eaves' "Eaves Sports Radio," program on 1080 AM in Louisville, one thing was certain:
Clayton believes NFL teams are foolish if they doubt Moore the way they doubted him.
Clayton was an eighth-round pick, the 223rd overall selection in 1983 who played 11 pro seasons while catching 582 balls for 84 touchdowns. Clayton helped Miami quarterback Dan Marino get to the Pro Football Hall of Fame.
Clayton is convinced NFL teams should ignore the measuring tape because Moore will also make a quarterback look spectacular.
"Go look in the dictionary and see if they spell man b-i-g," said Clayton, who lives in Houston.
"I was 5-9, 170 pounds soaking wet with rocks in my feet. Everybody wanted to talk about my size.
"You can play big ... I don't think bigger receivers can do anything a smaller receiver can't do. You might be able to do more. Might be able to fit into a tighter space."
Does Moore agree? Of course his does. So do Big Ten opponents who tried to silence Moore during his three seasons performing for Jeff Brohm at Purdue.
The only thing that stopped Moore in college was an assortment of injuries that forced him to miss 11 games over his final two seasons.
Moore's best season was 2018, when he led the Big Ten with 114 receptions for 1,258 yards and 12 touchdowns as a freshman. He caught 29 balls for four scores as a sophomore and 35 in three games without a touchdown last season. Today, Moore is healthy. He dazzled NFL scouts by running the 40-yard dash in 4.29 seconds and flashing a vertical jump of 42.5 inches.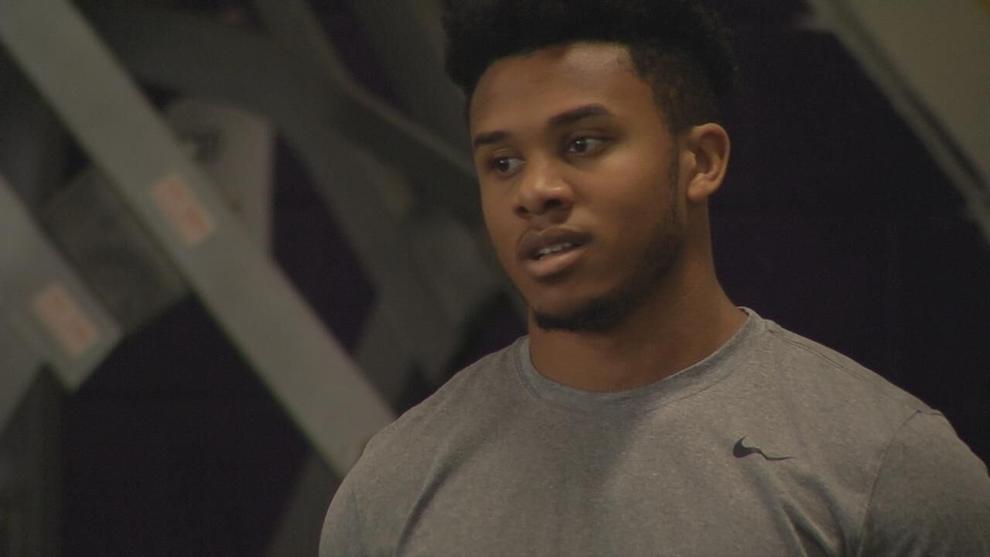 That explains why at least one mock draft lists Moore as the No. 6 overall receiver and perhaps a late first-round pick. Other mock drafts cannot look past the measuring tape and rank Moore no better than the No. 10 wideout, a second- or third-round selection
In fact, Pro Football Focus reported that Moore actually measured 5 feet 7 inches tall and 180 pounds, not the 5'9" and 180 shown on the Purdue roster. Still, Pro Football Focus ranked Moore the No. 33 overall prospect and the seventh-best receiver.
"I think it comes down to craft," Moore said. "I think if you create the separation needed, you'll be fine. We are talking about pros throwing you the ball."
Clayton argued that the factors that will determine Moore's success as a professional will be mental more than physical.
The NFL is a job. Everybody is talented. Receivers who do the extra work studying their moves as well as opposing defenses elevate their chances of success.
Extra preparation has always been part of Moore's game plan. One reason he transferred from New Albany to Trinity after his sophomore year of high school was to force himself to play against better competition. He credited the Trinity coaching staff with teaching him how to read defenses and prepare.
Moore said he had three reasons for picking Purdue over Texas (where he initially committed) over the local schools. The first was his relationship with the coaching staff. The second was the support he would receive from the academic counselors so he could earn a degree in three years. The third was how he would be utilized.
"Purdue checked off more of those boxes than anywhere," Moore said.
Next week, he will be off to the NFL. Clayton is convinced Moore will be terrific.
"He's already well in advance of where I was," Clayton said. "I have no doubt he can get it done."
Copyright 2021 WDRB Media. All Rights Reserved.