LOUISVILLE, Ky. (WDRB) -- The daggers flew Thursday night on Twitter.
Another coach was fed reminders he needed to get better at his job. Substitutions. Schemes. The works.
Archie Miller? Yes. Twitter scorched him.
But those were not the mentions that I followed.
Celtics' fans pitched high and tight to Brad Stevens on Thursday night as the Celtics lost to Brooklyn, 121-109.
They didn't like his offense. They didn't like the minutes he gave Jeff Teague and Grant Williams. They don't like the Celtics being one game over .500 and miles and miles away from winning their 18th NBA title.
So considering all indications are that Indiana is limited in what it can do to fix its coaching issue because of Miller's $10.3 million buyout, the Hoosiers next move is obvious:
Wait until Stevens' eighth season in Boston ends, well short of Red Auerbach or Bill Fitch's territory. That would likely be early June.
Plenty of time to get definite word from Stevens if he has any urge to return to the college game in the state where he learned to love basketball. Eight seasons in any coaching gig is an eternity. Living in the shadow of banners increases the drama.
If Stevens is interested, there's no question Indiana could raise the money to make its move then. If Stevens is not interested, you run Miller back for another NCAA Tournament-or-else season.
The buyout disappears as an issue by April 2022. A new IU president will be in charge. The word will be out that Indiana is looking for a coach that its frustrated fan base can fall in love with.
It's not perfect. But none of the options that IU Athletic Director Scott Dolson faces are.
OK, I'll confess. You can't write a column about the future of the Indiana University men's basketball without writing about Stevens. It's in the column-writing bylaws — Rules 1B and 1S.
I looked it up. Just like people have looked up the details about the $10.3 million buyout Indiana will owe Miller over three seasons if the IU administration decides to make a coaching change.
A million theories have been floated about how Indiana became utterly lost in the college basketball wilderness. Stevens is mentioned in most of them. He took Butler to two Final Fours in six seasons from a Horizon League address in Indianapolis. The four guys who followed Bob Knight over two decades in Bloomington have stumbled into one Final Four from the lofty Big Ten.
That's all Tom Crean heard about at Assembly Hall until Stevens left for the Celtics in 2013.
Why can't your guys defend like Brad's? Why can't you find more undervalued recruits like Gordon Hayward and Ronald Nored? Why can't you win in March the way Brad wins in March?
The unusual success Stevens delivered at Butler combined with the towering legacy Knight delivered at Indiana (on, not off, the court) created a toxic environment that resulted in Indiana fans booing the Hoosiers and Miller after their ugly opening-round loss to Rutgers in the Big Ten Tournament on Thursday night.
There is anger because Indiana cannot shoot. Not 3-pointers. No free throws. Not this year. Not any year since Miller has been in town. Night after night, the Hoosiers flounder through five-, six-, seven-minute stretches without scoring.
There is anger, because Indiana breaks down on defense. The first-half flurry of four consecutive 3-point shots as well as the back-to-back corner 3s Rutgers stuck on Indiana in the second half looked like the 17 3-pointers Indiana State put on Miller's first IU team in his opening game.
But mostly, there is anger and apathy because Indiana basketball hasn't been what Indiana basketball used to be for (you fill in the blank).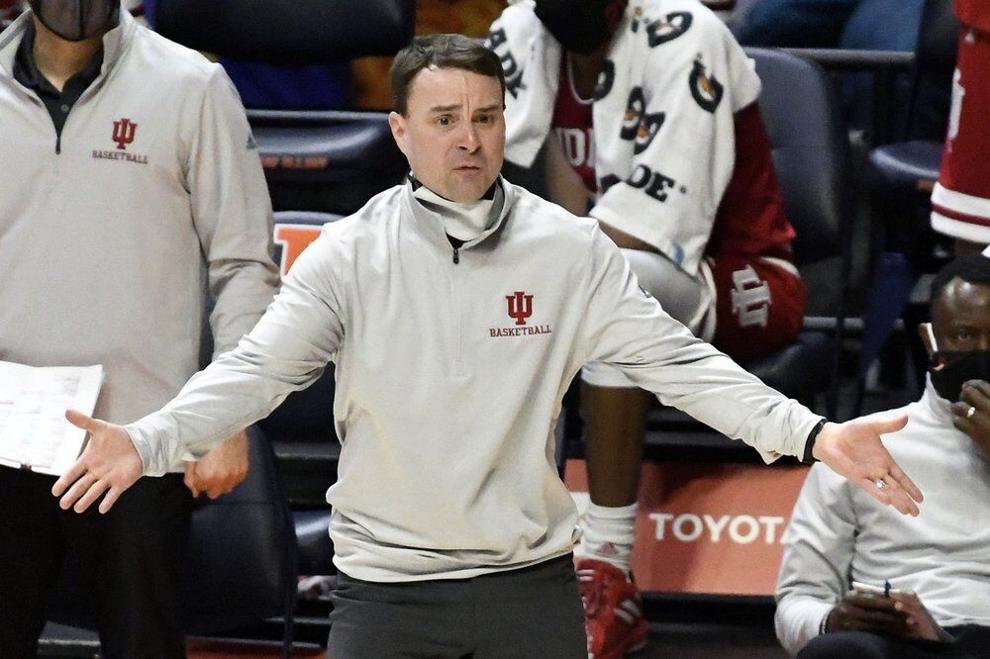 Since the two seasons Victor Oladipo and Cody Zeller were there?
Since the one season D.J. White teamed with Eric Gordon?
Since the Dane Fife, Jared Jeffries, Tom Coverdale, A.J. Moye team stormed to the 2002 Final Four?
Since Knight's last really formidable teams in the early 1990s?
Miller has not made a dent in changing that.
He looked like a solid hire when Fred Glass fetched him from Dayton. The majority of the national reviews were favorable. IU fans were aligned in their readiness to move past the inconsistencies of the Crean Era.
You could say the same thing about the time that Stevens left Butler for Boston. Stevens has not struggled the way Miller has struggled at Indiana.
But in Boston, they measure success by trips to the NBA Finals — and that hasn't happened.
There have been countless times people have suggested Stevens is the guy who can fix what is wrong in Bloomington. Considering the current state of the Hoosiers and Celtics, Indiana needs to find out if this time is different.
Copyright 2021 WDRB Media. All Rights Reserved.