LOUISVILLE, Ky. (WDRB) -- Las Vegas has spoken on the University of Louisville's season-opening football against Ole Miss on Sept. 6 in Atlanta:
Rebels by 7 1/2.
Ole Miss lost its best linebacker to Kentucky last week and one of its best pass rushers to Indiana after the 2020 season. But the Rebels have an edge at one critical spot:
Quarterback.
Matt Corral, the Ole Miss veteran, was named the best quarterback in the Southeastern Conference by two preseason magazines.
Malik Cunningham, the U of L veteran, averaged more than one interception per game last season. On Monday, he said there was not a drill that he could practice to eliminate his turnover issues, especially throwing interceptions on mid-range passes in the middle of the field.
So he has invested more time in the film room, practiced his footwork and tried to improve his throwing mechanics.
"You've just got to be smart with the football," Cunningham said. "That's what I am working on."
This will be Cunningham's fourth season in the program. This season, head coach Scott Satterfield — not departed offensive coordinator Dwayne Ledford — will call plays.
A year ago, I believed that Cunningham was consistently underrated. As a sophomore, Cunningham set the school for passing efficiency.
Other than Trevor Lawrence of Clemson and Sam Howell of North Carolina, Cunningham had credentials to compete with any quarterback in the ACC. In 2019, his touchdown to interception ratio was 22-5 as he completed nearly 63% of his throws.
The 2020 season was a struggle. Cunningham threw a dozen interceptions and lost three fumbles in 11 games. His three picks against Pittsburgh and Virginia Tech were more than the Cardinals could overcome as they games that were easily winnable.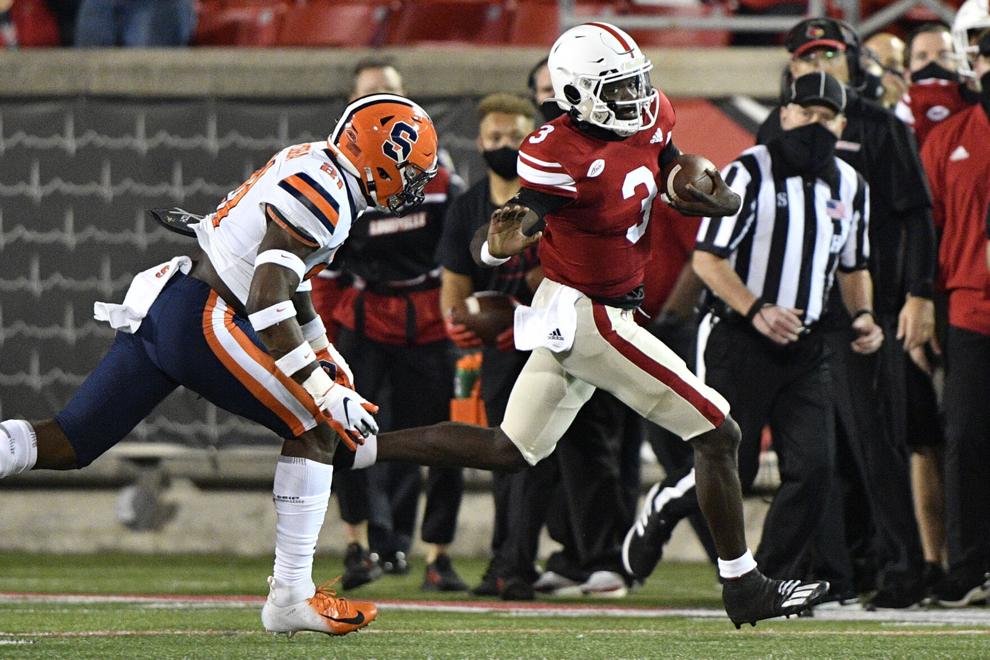 Maybe Cunningham deserves a 2020 throw-out because of the non-standard season created by the novel coronavirus.
The starts and stops in training. The smaller crowds. Teammates opting out or being required to sit out because of COVID-19. The unusual protection that was required for travel. Cunningham said offseason drills this spring have created a sense of normalcy.
"Like night and day," he said. "So much of a difference."
Looking at Cunningham's profile page on ProFootballFocus, a subscription site with stats and analytics, several items flashed about Cunningham's issues with interceptions. Half of his 12 picks were on throws that traveled between 10 and 19 yards, while three others were on passes of less than 10 yards. The deep ball was not a problem.
Cunningham also had issues throwing the ball in the middle of the field. PFFocus analyzed that half of his 12 picks came between the hash marks. Overall, Cunningham graded as the No. 71 (of 213) quarterbacks at the FBS level, with the fine print showing he was ranked that high because of his ability to run.
PFFocus ranked Cunningham the ninth-best running quarterback nationally but the No. 113 passer. Among ACC quarterbacks, Cunningham ranked second in rushing yards (609) and third in yards per carry (4.65).
For a program with two quarterbacks (Teddy Bridgewater and Lamar Jackson) in the NFL, Louisville has labored with an unsettled quarterback room under Satterfield.
Chubba Purdy, ranked as a four-star prospect from suburban Phoenix, flipped his oral recruiting commitment to Florida State in December 2019. Slowed by injuries, Purdy remains projected as no better than the No. 3 quarterback for the Seminoles this season.
Tee Webb arrived as a freshman last season. He never got on the field and departed for Southern Miss. Luke McCaffrey transferred here from Nebraska and didn't stay long enough to throw another interception. On Monday, McCaffrey announced he landed at Rice.
The Cardinals have three scholarship quarterbacks: Cunningham, redshirt sophomore Evan Conley and freshman T. L. Lewis of Brunswick, Georgia — as well as a trio of walk-ons.
There's work to do at quarterback for the Cards, and Cunningham is the guy who must do it.
Louisville doesn't need Cunningham to be Lamar Jackson or Bridgewater. The Cards simply need him to be the Cunningham of 2019.
Copyright 2021 WDRB Media. All Rights Reserved.