LOUISVILLE, Ky. (WDRB) -- After 15 months of planning and administration, Louisville's National Women's Soccer Association franchise took its first steps on the pitch this week at the new Champions Park training grounds along River Road.
Racing Louisville FC began its team meetings and initial workouts under coach Christy Holly, hoping to take advantage of the rare opportunity to build a team – and team culture – from the ground up.
"It's been a long time since August," Holly said. "There's been a lot of paper pushed around in that timeframe, a lot of planning, a lot of establishing processes, recruitment of staff, recruitment of players. I think it's so energizing to be on the field with a tremendous group of players with so much talent."
Most of the team's roster is in camp, along with some non-roster invitees, around 30 players in all. Some key players will report later, including top draft pick Emily Fox, who was called up by the U.S. Women's National Team for the SheBelieves Cup, to be played Feb. 18-24 in Orlando. Yuki Nagasato, a World Cup-winning forward from Japan, will join training in a week or so. Defender Kaleigh Riehl is finishing a stint with Paris FC, a member of France's top division.
The building, as it has been since the franchise was announced in late 2019, will be gradual. While early workouts have been spirited and intense, Holly said he'll focus on the basics of conditioning and drills and letting players get to know each other on the field and off.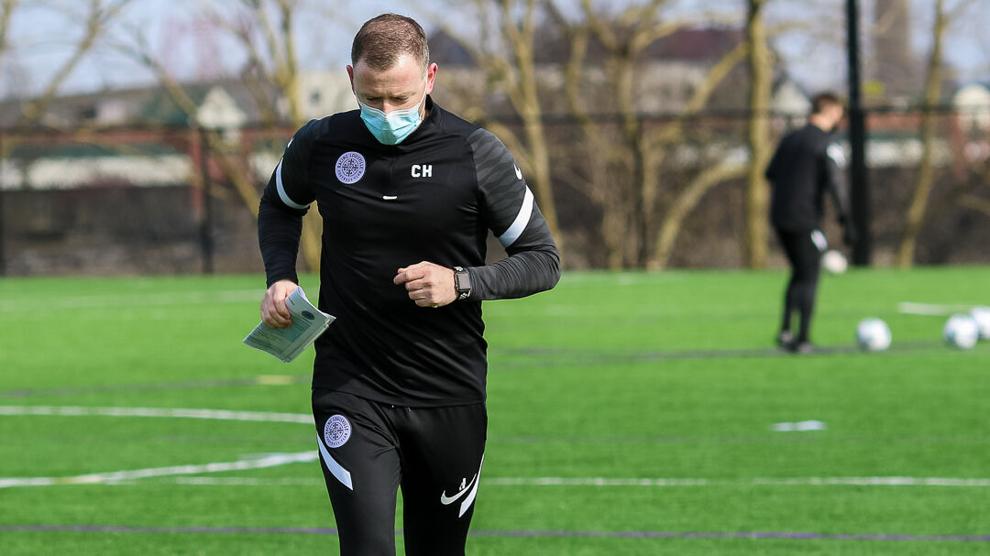 "Truthfully, we haven't started ramping up preseason just yet," he said. "We are going to layer them up so that by four weeks' time, we can get after them hard and let their bodies get ready for that. Ultimately, the focus within that is embedding that style of play that we wish, helping them get more aligned with the culture, and build up that chemistry."
One player who has already seen the process up close is goalkeeper Michelle Betos, who has played at various stops in the NWSL and internationally in her 10-year professional career. She was among the founding members of the then-Seattle Reign FC roster and experienced the launch of that franchise in 2013. The league has come a long way since then, and she said she's been impressed by what she has seen in Louisville so far.
She remembers that back then, she was playing in Japan but also on Craigslist looking to find an apartment in Seattle. That wasn't an issue this time around. League guidelines are in place and the process more professional.
The facilities are still under construction, but the new turf fields at Champions Park are in use. The indoor facility will devote fully half of its space to the NWSL club. While club leaders acknowledge that establishing a new franchise in the world's most competitive women's league will be difficult, their efforts in treating players well can make a difference.
"It's been amazing, walking into the stadium, into our training facility. It's really a dream come true," she said. "I'm really excited for the season to start and the other teams and TV to see what we're working with here, because I've been a lot of places in this league, and this is the most special one for sure."
Like most of the players, Betos had little notion of what she would encounter in Louisville. It's probably fair to say that what she has experienced exceeded her expectations.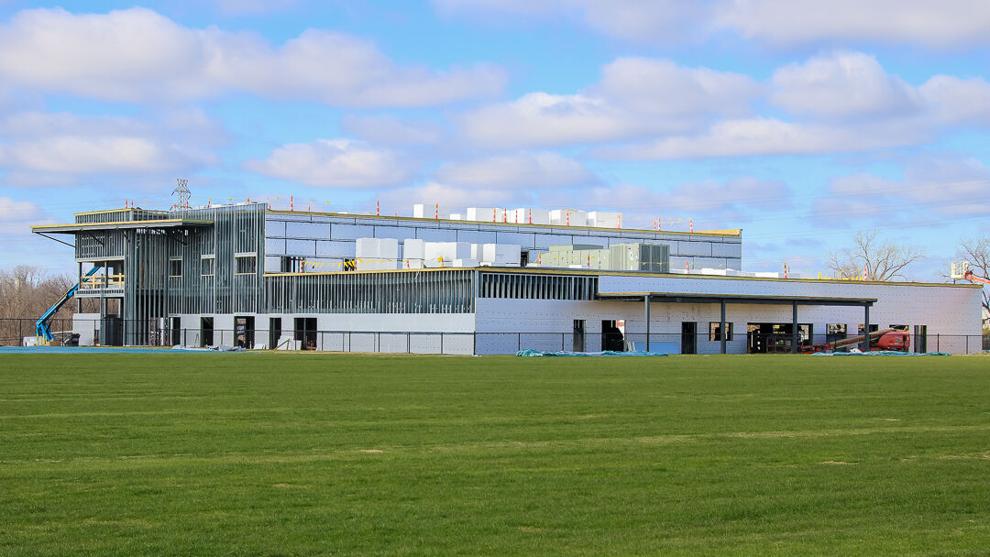 "The facilities are incredible," she said. "The stadium is beautiful. The training facility is beautiful. There are more fields than anywhere possible, definitely more than anywhere else I've been. It's really something special. And we're seeing it built more and more every day, so I'm really excited to see that come to fruition. Louisville is such a cool city. I had no impressions. Playing professional soccer, I could kind of be anywhere. But coming here, I was really, really surprised. Our apartments are beautiful. We're right by the river. There's such a good food scene, coffee shops, everything soccer girls love. It feels great being here, and I could see it being home."
On the field, there's not much yet to say. So much depends on chemistry and on players learning each other. As an expansion franchise, Louisville will have an interesting mix of veterans who have seen it all and young players who are getting one of their first chances to make major contributions at the professional level.
All of that newness, though, does add to the excitement level. Lauren Milliet, who Racing drafted from the North Carolina Courage, fits the mold of the kind of player Holly targeted: young and hungry with solid credentials. She was the 14th overall pick in the 2019 NWSL draft but played sparingly in midfield in her first season in North Carolina before seeing increasing time in 2020.
"I think it's a really unique opportunity, obviously," she said. "There haven't been too many expansion teams. And the environment is so new, so you really get to create your own environment, and I think that's so cool and really important. Leaving North Carolina was bittersweet for me. I honestly loved the team and had great development there, but I think I'm ready to step into a new chapter. This is like a really cool turning point for me, and I'm really excited to get on the pitch."
Racing will see its first game action in the NWSL Challenge Cup beginning April 9. The league's regular season is expected to begin in mid-May.
"This is the toughest league in the world," Betos said. "I've played overseas, and I've played other places, and I think that it takes maximum effort, maximum commitment every single game, every single weekend, and in all your preparation. From day one, culture has been what we've spoken about. I've actually never been part of a professional team — or any team — that has stressed and revolved around culture like this group has. And that makes me feel really good. In this kind of league where the games are so close, anyone can win any given day. It's going to be the little inches that you can gain off field and on are going to make the difference. And our commitment to culture here and making that part of our roots from day one is going to set us apart. As an expansion team, I don't think the bets are going to be on us, but I think we're going to surprise some people. That's going to come from our work on the field, but I also think it's going to be from everything we're investing off the field too."
RACING LOUISVILLE FC, preseason roster
(NRI: non-roster invitee. CDP: 2020 NWSL College Draft pick. NYR: Not yet reported to camp)
Goalkeepers (4): Brooke Ballinger (NRI), Michelle Betos, Katie Lund, Shelby Money (NRI)
Defenders (8): Julia Ashley, Molly Dwyer (NRI), Emily Fox (CDP), Brooke Hendrix, Nealy Martin (NRI), Addisyn Merrick, Kaleigh Riehl (NYR), Erin Simon
Midfielders (8): Chinyelu Asher (NRI), Grace Bahr (NRI), Lauren Milliet, Noelle Higginson (NRI), Alex Kimball (NRI), Freja Olofsson (NYR), Taylor Otto (CDP), Savanah Uveges (NRI)
Forwards (10): Jorian Baucom (NRI), Vanessa Kara (NRI), Emina Ekic (CDP), Alex Genas (NRI), Anika Kallash (NRI), Cece Kizer, Cheyna Matthews (NYR), Katie McClure, Savannah McCaskill, Yuki Nagasato
Racing Louisville FC also holds the NWSL playing rights to forwards Caitlin Foord, Tobin Heath and Christen Press, as well as midfielder Alanna Kennedy, who were selected in the 2020 NWSL Expansion Draft. Each is under contract with a club in England's FA Women's Super League.
Copyright 2021 WDRB Media. All Rights Reserved.