CHARLOTTE, N.C. (WDRB) – Reporters came up to Jordan Nwora in small groups at ACC media day on Tuesday, and all had a similar question: How is the junior from the University of Louisville handling the notoriety of being, potentially, the preseason player of the year in the premier conference in college basketball?
Nwora was the fourth highest rated of five signees in the Cardinals' 2017 recruiting class (Brian Bowen was the highest). He was disappointed in his freshman season, a makeshift campaign for everyone after Rick Pitino was fired and David Padgett took over. Had it not been for the arrival of Chris Mack, Nwora said, he'd be playing somewhere else right now.
Instead, Nwora blossomed last season into the ACC's Most Improved Player award winner, and tested the NBA draft waters before a torn calf muscle just before the league's Scouting Combine slowed his roll to the league.
So he's back, and by virtue of that, and of last season's improvement, he finds himself celebrated as a top player in the ACC, with all of the magazine cover fanfare that entails.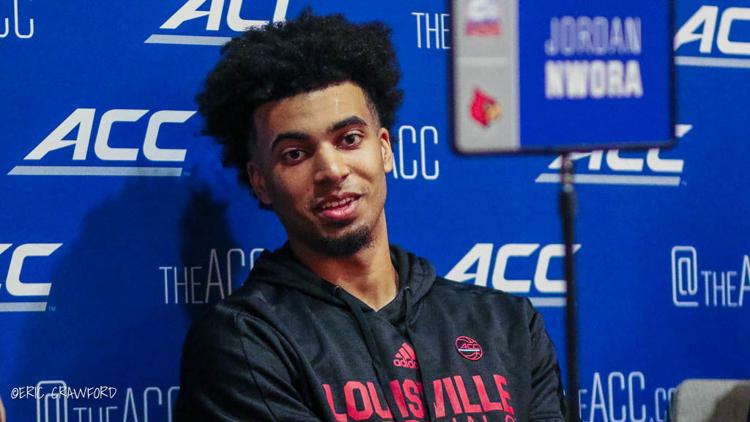 "All the praise is nice, but I haven't really done anything yet," Nwora said Tuesday. "It's nice that people think a lot of me, and I have put in a lot of work. But I still have a lot to do, a lot to prove. Hopefully, I can make it real by the end of the season. . . . I try not to pay attention to it. I'm the type of person who is just going to work. Coming out of high school, nobody expected me to be where I was then. And it's that way now. I don't think anyone expected me to be where I am now, and nobody expects me to be a top player nationally. So I just work."
You can't help but think, if you listen to Nwora, that a large part of him still wonders what might've happened had he not sustained that injury before the combine. Asked about his decision to return to Louisville for a junior season, Nwora acknowledged, "getting injured played a big part of how things have gone." At the same time, Nwora said that while he feels he would've gotten to the league had he been injury free, he's not sure how much he would've played.
Whenever a player returns to school after testing the NBA Draft waters, Mack knows, there's a fine line to walk. You don't want a player who is only about himself, nor do you want a player who is under-motivated because he's disappointed he didn't get to make the jump.
In Nwora, Mack feels he has neither. But just in case, Mack is on Nwora perhaps harder than any player on the team. And he told him up front, that's how it would be.
"I think that Jordan is a very intelligent kid," Mack said. "I think he made a decision based on facts from the NBA when he came back. I think he made it for his own personal development. And so I want him to know as his coach, and we've had many conversations, that I am going to be very, very hard on him, to grow in the areas that I think he needs to grow in. He's placed his trust in me to become a better player, and that doesn't just mean a guy who scores more points or becomes a better shooter. My charge for Jordan is to become a player who can impact a game in all different areas. And I think he's up to that challenge."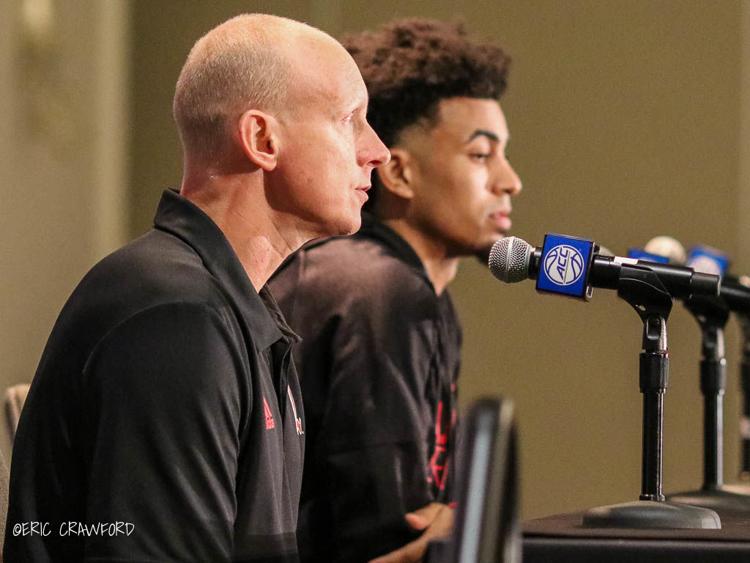 Nwora said his priority since returning to Louisville has been putting in the work to become a more well-rounded player. Part of that was getting international experience by playing for his father on the Nigerian National Team in the FIBA World Cup qualifiers over the summer. He broke a national record with 36 points in one game, though an injury slowed him after that.
"It was a good experience, playing a physical brand of basketball, and experience with the FIBA three-point distance," he said. "Playing for my dad was great. I felt like I came back a better player."
What being a better player will look like for Nwora this season isn't necessarily a statistical concept, Mack said. Defenses will be more tuned to stop him. He should have more teammates capable of sharing the scoring load.
"Fans point to the statistical jump (he made last season), and he's certainly not going to make that kind of a jump again," Mack said. "But as a player, being a better decision maker has been a big emphasis for him. Being more diligent and solid in that, 44 assists, 80 turnovers a year ago. Become a better defender. Becoming more vocal and a better leader. Impacting the game isn't just scoring and rebounding, and I think he's been mindful of that during practice."
Asked what he's hoping for from an individual standpoint this season, Nwora said: "I think I'm going to be more mature, more well-rounded, take care of the ball a lot better. That's what I'm hoping to be. . . . I'm not going out to prove anything or show anything. I just want to be a guy who works hard and plays hard, and not worry about any of the other stuff."
As for the team, Nwora said both an ACC championship and a national championship are on the roster's radar.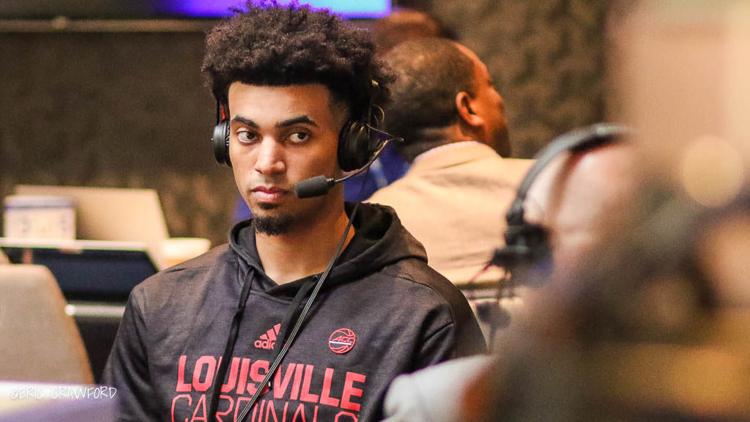 "I think 100 percent that we can compete for a national championship," he said. "The key for us is going to be playing hard and having a lot of heart. We've got good players. A good mix of newcomers and guys coming back. But we have to play hard, every minute. If we do that, good things will happen."
For now, those good things will have to happen in Louisville. Nwora's NBA dream hasn't changed. But he clearly has a great deal of respect and trust in Mack. And he's come to like the city of Louisville. He says it reminds him of his hometown of Buffalo.
"Have you ever been to Buffalo?" he asked a reporter, before expounding on his comparison. "I see Louisville as similar in pace and everything, the size, the people. I didn't want to be in a major city. I used to spend the summers in New York City, and after doing that I became a fan of not-so-big cities. . . . Louisville reflects who I am – not too fast."
But rising rapidly.
Copyright 2019 WDRB Media. All Rights Reserved.