LOUISVILLE, Ky. (WDRB) – It's been a while since the city of Louisville had seen anything like the past couple of days surrounding the National Women's Soccer League draft, and Racing Louisville FC's maneuverings in those 48 hours.
With minor league sports, the makeup of a team is dependent on the major league team's needs and transactions. There aren't a ton of surprises.
The NWSL is the major league of women's soccer, and with an expansion draft, followed by the league's draft, it meant not only some unexpected farewells for the home team (particularly to Savannah McCaskill, dealt to Los Angeles in the run-up to the draft), but some highly anticipated arrivals.
In two days, Racing Louisville added a high-profile and accomplished forward in Jess McDonald (via a trade with the North Carolina Courage) and the NCAA Division I national player of the year Jaelin Howell from Florida State.
The wheeling and dealing made for a busy few days for Racing Louisville executive VP of development James O'Connor, but the results of all the shuffling create exciting possibilities.
"It shows you the ambitions we have for next year," O'Connor said. ". . . The biggest thing with this particular draft is (new head coach) Kim (Björkegren) has been clear on what type of player he wants. There's been great discussion with him, and then when you look at the last hours, it's been an absolute whirlwind. To get a player like Jess McDonald and then Jaelin Howell, combined with all the other picks and last year's draft, we're really excited going into the preseason."
Howell, selected by Louisville with the No. 2 overall pick it received when it traded rights to Christen Press to Angel City FC, is a major addition in the midfield, an up-and-coming star who figures to play prominently in U.S. Women's National Team future plans (like Racing defender Emily Fox), while McDonald already has had a successful USWNT career and joins a talented corps of strikers.
The 22-year-old Howell had been a player in the mix to be the top overall pick, so when expansion club San Diego took Stanford defender Naomi Girma at No. 1, the draft room in Louisville was ecstatic.
"We're obviously delighted to get Jaelin. I think she was someone we wanted from the onset," O'Connor said. "I think when you look at her range of passing, I think you look at her ability to control the game. I think she's a player that now Kim sees really fitting into the system. So, I think for us it was it was paramount to try to get her. She's got a number of really good attributes that I think fit what he's trying to do. So, for us it's fantastic."
Howell led Florida State to a pair of NCAA titles in four seasons and was the captain on the Seminoles' 2021 championship team. She has a good chance to win national player of the year honors again after this past season.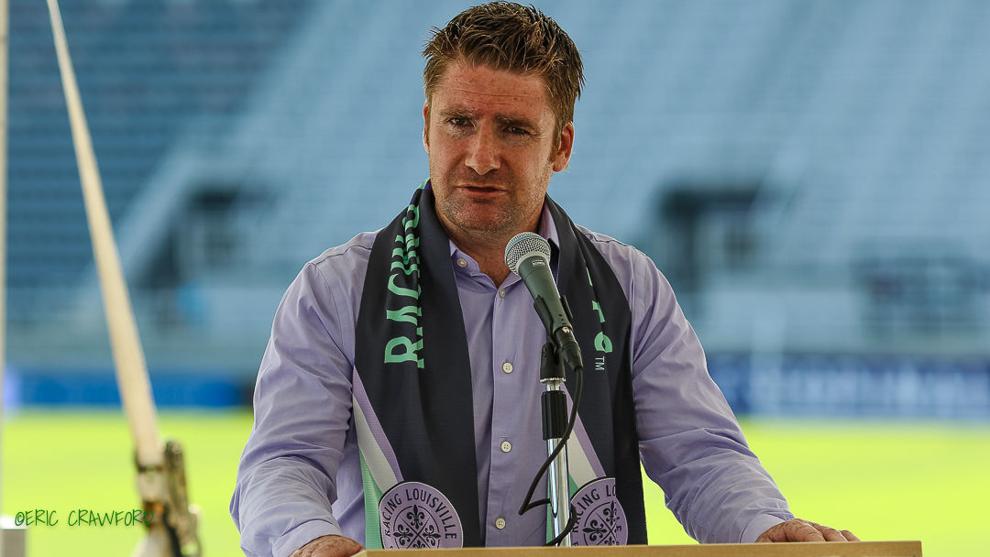 "I'm psyched," Howell said. "I'm super excited to get started with Louisville. Obviously I had a great program with Florida State and Mark Krikorian as a coach. I'm just trying to take everything I learned from the game from my past games and bring it to Louisville. I'm excited to get started. I think Louisville has a good team already and I'm just trying to bring what I know to do best...Whatever they need me to do, I'm 100% in and I'm excited to get started."
Louisville also had the No. 4 overall pick, and with that it took USC midfielder Savannah DeMelo. She was an all-PAC 12 player in her first two collegiate seasons, then was out for an entire year after an Achilles' injury. To get an idea of the impact she made, in the D.E.S. Hall in Artesia, Calif., a small Portuguese community near her hometown of Bellflower, Calif., USC's Annenberg Media university newspaper reported that there are large portraits of two soccer players – one is Cristiano Ronaldo, the other is DeMelo.
"I tore my Achilles back in April 2019 and, honestly, when it happened, a lot of people told me It's a really hard injury to come back from," DeMelo said. "I knew that this was what I wanted to do and that getting to the next level, the pro level, was the level I wanted to get to. It's all about the work I do off the field. I did all my recovery right, got my fitness back. It obviously took some time to get back to the player I used to be, but I'm really happy with where I'm at. I'm just super excited to get to do that next journey with Louisville."
O'Connor said the strength she brings to the team is, "flexibility in the midfield. I think you look at her, she can carry the ball, she can play eight, she can play ten, she's got good movement, good course control, can slip. So I think there's a number of factors there that I think he's really pleased with."
Racing rounded out its selections by taking Oklahoma State defender Charmé Morgan (second round, No. 16 overall); Wisconsin goalkeeper Jordyn Bloomer (second round, No. 26 overall); Wake Forest forward Jenna Menta (third round, No. 30 overall); and Georgetown defender Sydney Cummings (fourth round, No. 42 overall).
Racing Louisville will also bring in three players drafted previously, but who decided to return to school. Kirsten Davis (Texas Tech), midfielder Parker Goins (Arkansas) and defender Emily Smith (California) are expected in preseason camp.
For O'Connor's full comments on Louisville's draft choices, see the video below.
The NWSL also on Saturday announced some key dates for next season:
Feb. 1: Players report for preseason camps.
March 19: Challenge Cup kicks off NWSL season
May 7: Challenge Cup final
The season will feature all 12 teams playing the rest of the league home and away, for the first balanced schedule in league history. All teams will play 14 games home and away, with games in the FIFA windows minimized.
Six teams will qualify for the playoffs. The full schedule will be released at a later date.
Copyright 2021 WDRB Media. All Rights Reserved.