LOUISVILLE, Ky. (WDRB) – For the past four seasons, at least, University of Louisville women's basketball coach Jeff Walz has known where his leadership was coming from.
It was Myisha Hines-Allen's program from her sophomore year on, and last season seniors Asia Durr, Arica Carter and Sam Fuehring set the program's tone everywhere they went, from the practice court to classroom to team bus to the court itself.
The Cardinals' loss to Connecticut in the Elite Eight earlier this month marked the end of an era for the program, in some ways. With all four of those players now gone to the WNBA, it signals a transition in leadership – one that will need to take place quickly.
"What I challenged our returners with is that we graduated three players that I never had to worry, any day, when they came to practice what I was going to get," Walz said. "The effort. I didn't know if Asia'd had a bad day. I didn't know if AC had had a bad day. Sam always went hard. So that's my challenge to the rest of them: Are we going to be able to do that, or is a bad day off the court going to carry into practice? That's what we can't have if we want to be special. We'll do a lot of team-building and leadership things during the non-conference and during our summer months, because we've got to find out who are going to be those people who are going to step up. Because for the past several years we've had that, and now we don't have a definite."
The coaching staff certainly has candidates in mind.
Dana Evans may well be the team's leading scorer in the coming season. She was the ACC's sixth player of the year but easily could have started and carried a larger scoring role than she did – though she already averaged 10.4 points per game as a sophomore, third-best on the team.
Walz thinks Jazmine Jones will need to contribute leadership and more consistency as a senior. Her game still is improving at both ends. And Kylee Shook and Bionca Dunham also should be poised to step forward in their senior seasons – though both will be dealing with minor knee procedures in the offseason.
"We're going to have to, you know, throw a little bit more responsibility on a few players," Walz said. "Jazmine Jones for one. Dana Evans, I think. Kylee (Shook) in her own way can lead. Then it will be interesting to see how our transfers and our own freshmen do. Because I have no problems with – there's nothing wrong with an underclassman leading."
In terms of newcomers, Yacine Diop, a transfer from Pittsburgh, is a seasoned player who should provide leadership for the Cardinals. A pair of Georgia Tech transfers, Elizabeth Balogun and Elizabeth Dixon, could change the landscape if they become immediately eligible. He said the school has yet to begin that process for the sophomores, who left a Georgia Tech program that lost its coach over allegations of player abuse.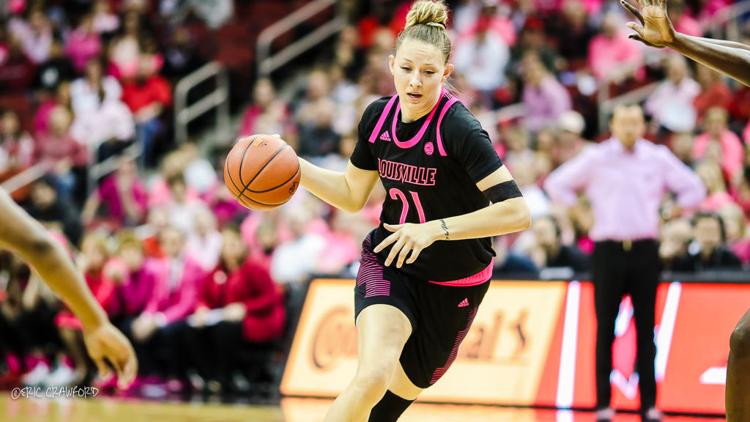 "We're really excited about the challenge coming," Walz said. "We'll find out in a few months if the two transfers from Georgia Tech, Elizabeth and Liz, will be able to play or not. But no matter what, I really like our returning group and our incoming freshmen. So it's going to be a team that I think is going to take a little bit of time to gel, but once we get a good feel for each other, I think we have a chance to be special."
In spite of all the new faces, Walz said he doesn't expect the team's style on the court to look much different.
"We won't change much," he said. "We're still going to play the same way that we have played. We're going to try to get up and down the floor. We're going to try to score points. I've said it all along – I think fans would much rather come to watch a 100-80 game than 55-44. We're going to try to continue to score points. The personality of the team, I think, will take shape this summer, when we have (most) of the players here. Our transfers will be here, our freshmen will be here. You're looking at five of the six new players will be on campus. So once everybody kind of gets a feel for each other, we'll see. But I think they really enjoyed the official visits. With the transfers I was not only impressed with the kind of players they are but the kind of people they are. We're looking for program kids, who can come in and not only help us win but are going to help us win in the community, because that's why, I truly believe, our attendance continues to go up instead of going down."
And though the leadership core of the 2018 Final Four run is gone, there are still some links to that achievement, who return with an expectation of going back.
Copyright 2019 WDRB Media. All Rights Reserved.