ALBANY, N.Y. (WDRB) – There's been a bit of discussion lately involving terms like "profitability" and "value" of women's basketball in Louisville, and it hasn't felt complete, at least to me, because the only talk is of revenue and surplus and deficit.
That kind of bottom-line examination, is of course, important. It always is.
But we also live in an age when the bottom line isn't the only determinant of value. We have start-ups in Silicon Valley that have never turned a profit valued in the hundreds of millions. Twitter, for all its years of existence, didn't turn a profit until the last quarter of last year. But clearly it had a high value, beyond that bottom line.
Plenty goes into determining value. Not everything that returns value has a corresponding line item on a budget. Conversely, the Louisville men's basketball program has been listed as the most profitable in college basketball for years, but how much did the program cost the university through scandal from 2014 through 2017? How much did that turmoil hurt U of L's bottom line, from marketing to lost enrollment?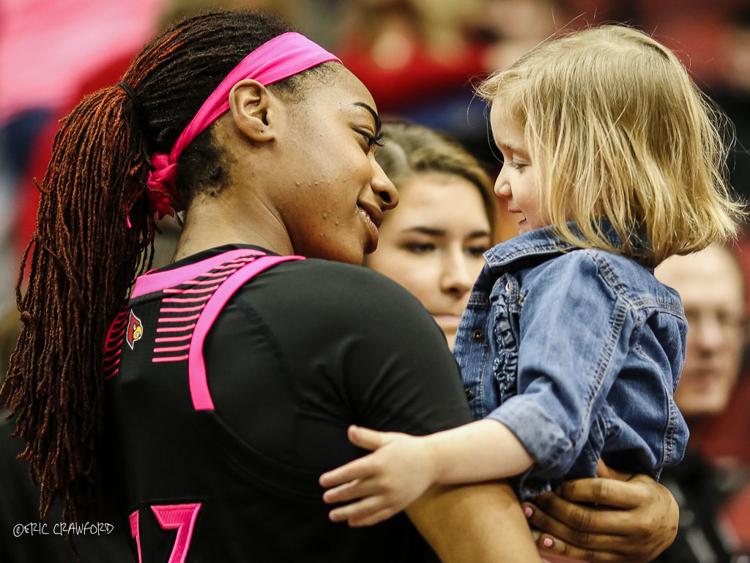 The story of Louisville women's basketball is the story of a program that gave the university a positive narrative when just about every other high-profile narrative regarding women and the school was negative. A national writer for Sports Illustrated, in 2015, published a piece headlined, "Louisville created and continues to nurture a dangerous culture for women."
The primary rebuttal for that came from female athletes at the university. And the growth of women's basketball at the school made as strong a case as any.
Louisville women's basketball will carry the banner for the school into the NCAA Sweet 16 Friday night on ESPN. It won't be a huge banner because even the NCAA treats its women's tournament as a second-class citizen. It allowed the women's tournament to be played against the men's. That's not a fair fight. If you're trying to help the sport to grow, that would appear in a handbook of "how not to do it."
Still, Louisville's women have been all over ESPN this season. Their top player, Asia Durr, is a finalist for the Wooden Award and the Naismith Trophy and is, at the moment, the highest-profile athlete at the school.
Jeff Walz has taken the Louisville women to the NCAA Sweet 16 nine times in his 11 seasons and to the Final Four three times.
In an age of "messaging," when entities are valued not only for what they are worth but for what they stand for and how they conduct themselves, Louisville women's basketball has been a beacon at the university.
It has achieved excellence on the court. It has achieved success in the classroom. It has made its mark on the culture of the university.
Not too many years ago, wherever the team went, it attracted large crowds of Native Americans to cheer on Shoni and Jude Schimmel, women who played for the Cardinals after growing up on a reservation. They became heroes to an entire community. HBO's Real Sports featured them in a segment in 2014. Shoni Schimmel later participated in a panel discussion on the 40th anniversary of Title IX at The White House. Jude Schimmel moderated a discussion between President Obama and tribal youth during the White House Tribal Nations Conference.
The "message" of Louisville women's basketball has been excellence on the court, responsibility off the court, and providing an example of women's leadership and achievement in the community.
It's far from the only example of that at the university, but because of the high-profile of sports, it is one of the most visible examples.
What is the value of that? It's difficult to measure. There's no line item for a team that heads to the stands every home game to sign autographs and meet fans and sign autographs and pose for photos.
But they must be doing something right. They averaged nearly 10,000 fans per home game during the regular season. Their attendance increased during a time in which attendance for everything is declining.
It's not enough, in 2019, to have the right product. You also have to have the right message. Some of us, and I include myself in that number, aren't quite sure how to feel about that. But regardless of how you feel, there is great value in the message that Louisville women's basketball – and many of the women's programs you'll see in the NCAA Sweet 16 and beyond – broadcasts on behalf of the university it represents: That women's enterprises are valued, are a priority, and are supported by the community and university. U of L wouldn't be on this stage otherwise.
Former athletic director Tom Jurich established that culture. Current athletic director Vince Tyra was a fan in the stands and a financial supporter of women's sports at the university before he picked up that same baton as athletic director.
"I think the women who play here represent the university in the best possible way," Walz said. "I think people in the community appreciate that. I'm proud of them."
Profitable? No. They don't return a profit. Maybe someday they will. But let's not confuse profit with value. In some vitally important ways, the Louisville women's basketball program – along with other women's sports at the university – returned values in ways the institution has needed it most, at a time when it needed them most.
Copyright 2019 WDRB Media. All Rights Reserved.