LOUISVILLE, Ky. (WDRB) -- All we knew was that the kid from Neptune, New Jersey, had a million-dollar smile and was money in the locker room. It didn't hurt that he was a star on the basketball court, too, and a fan favorite.
What we didn't know, what very few people knew, was the darkness that a player everyone in Louisville knew as Taquan Dean had buried beneath all that light. We didn't know him. He didn't want us to know him.
Now, after 18 years, nine countries, and 17 years of professional basketball, that man comes back to Louisville with a new name and a new outlook. Taqwa Pinero wants you to know him, and his story. And he wants athletes at the University of Louisville to know that they do not need to suffer in silence.
Since hanging it up in basketball, Pinero has made it a mission to use his life and basketball experiences to help others. A talk he gave to an AAU team in New Jersey sharing his story and message went viral, and he realized the kind of impact that he, and his message, can have.
On Friday, he sat down with WDRB News in the basketball practice facility at U of L, a bit wowed by his surroundings.
"With my backstory, Louisville was the only place that I felt like home," Pinero said. "And to give back. I never wanted to come back and take. I always wanted to come back and give. And I'm at the point in my life where I can do. that."
When Pinero was 6 years old, he watched his mother take her own life. With his father in jail, he and his sister moved in with grandparents. But cancer took his grandmother the next year, and cirrhosis of the liver claimed his grandfather a year after that. He and his sister moved in with an uncle, but he died of a blood clot within a year. The aunt took the kids in, but Pinero's sister ran away, and he wouldn't see his sister for a decade, wouldn't find out that his sister had been raped by a boyfriend until years later.
Other friends were caught up in the societal snares, poverty, drugs, prison.
Pinero persevered. He learned that his basketball talent could translate to opportunity. He learned that people gravitated toward his smile, his confidence, his self-assured success.
Wearing that mask, he pursued basketball with passion, and fit into the system of legendary coach Rick Pitino's "poor, hungry and driven" PhD system like a glove.
Pinero was always a go-to-guy after games at Louisville, win or lose. He had perspective. He was articulate and thoughtful. He signed with Louisville without ever even visiting campus. He knew Pitino was at Louisville. He knew Muhammad Ali was from Louisville. And he knew New Jersey guys like Milt Wagner, Billy Thompson and Nate Johnson had found success at Louisville.
Still, he wore a mask. Nobody knew these things that had shaped him, this life from which basketball had helped him escape. And that's a heavy weight for a young person to carry. He carried it all the way to college basketball's biggest stage, the 2005 Final Four.
"I was very good at showing the world that I was OK," he said. "I could mask it. That comes from repetition. Because I've always been in fear of feeling that pain again. When you deal with death at a young age, it kind of takes something away from you where you can't trust at all. And if I let someone in and become vulnerable, and they can leave at any time or they can die, I just separated myself from that. I just showed people one side of myself but didn't show the other."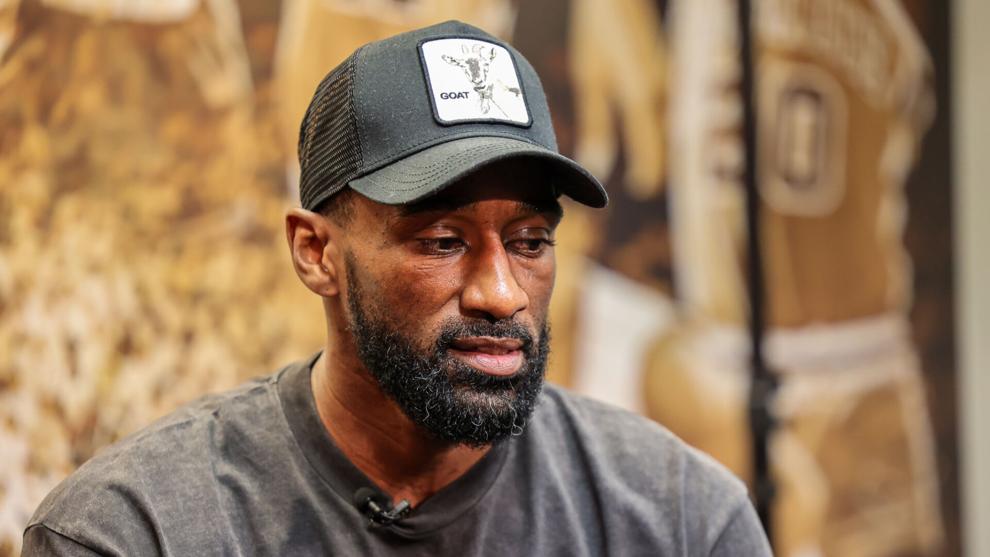 "As a sports figure, you're taught to show strength at all times," Pinero went on. "When you show weaknesses, you know it could hurt you to get a scholarship, it could hurt you for a contract if you show any kind of being human, you know. And I bottled that in for 15 years of my career. It took everything out of me. The success you saw on the court, my personal life was, you know, a shambles because I couldn't speak, I couldn't talk to anybody. And it finally came out where things started to shift in the world. And since COVID, you know, people started to really open up to mental health."
How did he make it through those college years?
"I'm going to say it was Rick Pitino, to be honest with you," Pinero said. "... He taught me that structure of hard work and what it would take to get to the next level, whether that was in life or basketball. There's one saying that he always said to me that I didn't understand when I was was here. He said if you tell a lie becomes part of your future, you tell the truth it becomes part of your past. I didn't know I didn't know what it meant until I got a lot older. And that is, just in life, if you cheat yourself in life is going to catch up with you in the future. If you're always honest and true to yourself, great things are going to happen to you."
Pinero came back to Louisville after his Final Four season when he probably should've gone pro. He spent the entire season injured, played in fact with a sports hernia that had to have been excruciating. Again, he put on the mask and didn't reveal his true pain level.
"I had nowhere to go back to," Pinero said. "No one understood that. I played with a torn abdominal wall. And that was because there was nowhere to go back to. I was literally fighting for my life. Like I said, this was the only place that I felt like it was home. So, I gave everything I had in me to the university, and they gave it back tenfold. I don't regret any, any injury, any time I spent in the gym here. Because, look what you see on this campus. I feel like I sacrificed a lot. And I'm happy to see where this university is."
Pinero had enough success to play nearly two decades of professional basketball, and looks as if he could still step onto the court. But these days he's hoping to make another kind of difference. In 2016, he learned that the man he believed for his whole life had been his father was, in fact, not his father. Pinero had been financially supporting the man since his release from prison, living with him in Europe. Now, he knows his blood father, the father of his sister.
It was in 2016 that Pinero changed his name. His surname he changed because he found his father. His given name he changed because of his conversion to Islam. "Taqwa" means "piety" in Arabic.
Pinero has come back to Louisville to share his story, and to listen to student athletes and other young people. The kids today are no different, he said, but the challenges and pressures they face are.
"Prime example, Ja Morant," Pinero said. "You look at the guns, you look at his activity on social media, there's something under the hood there. Instead of criticizing him and, and you know, jumping down his throat, let's get to know what's going on. I mean, you can look, and is not the best thing but there's something clearly going on with him personally, that he's not able to open up about. And now is the prime time to show kids that. Especially with social media, we didn't have it when I was playing. And the money that has been thrown around, and nobody's teaching these kids financial literacy, how to deal with the pressures of social media and getting this money at a young age. ... A large percentage of us come from a background of no financial education, and a lot of trauma, a lot of struggle. A majority of us is basically out to save our family's lives. And that's a lot of pressure. People that that that don't understand that pressure wouldn't know what it is to work all week and then to be criticized from a game. You put all these hours in, you play a game, and the game is about seconds and inches, and one second lost and one inch, you know, you're on Twitter or your Instagram and they're killing you. And that, you know, is never talked about. We bottle that up. But it's hurtful. So I think that guys like myself and guys who've been through it should come back and be able to give some knowledge and give some a place of safety and be able to communicate and speak about their fears."
Pinero watched last season as first-year coach Kenny Payne would come in after losses and speak less in basketball terms than in human terms, talking about healing, and overcoming, and making peace with the past. Some didn't care for it. Pinero knew exactly what he was saying. He first encountered Payne in pickup games on campus in Crawford Gym when Payne was back at school finishing his degree.
"Last year I spoke to Kenny a lot," Pinero said. "Kenny was very focused on mental health. And I know he got bashed a lot. But I understood what he was doing. He was taking off the mask of the university, of his team. I really believe that this year he's understanding his direction and what he's going to do."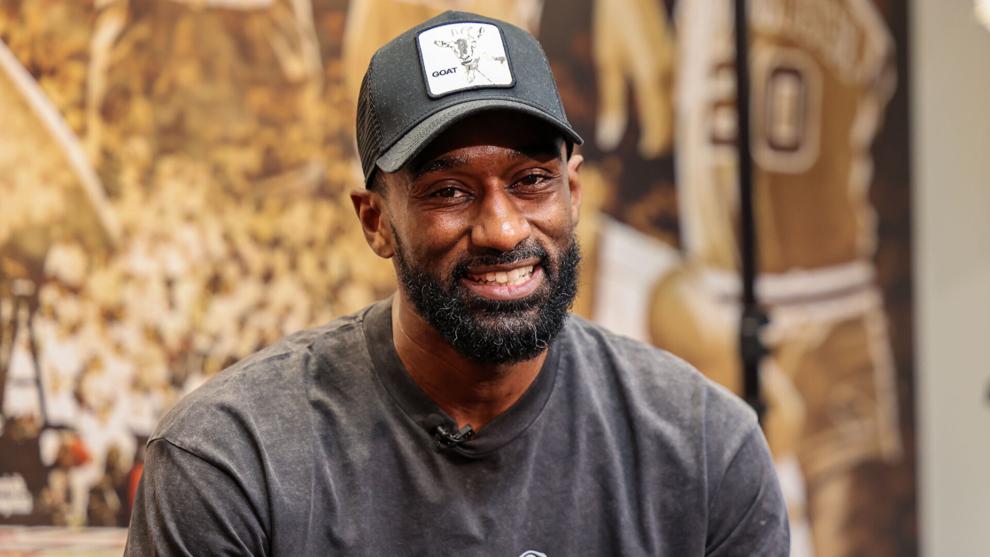 Pinero is hoping one day to base his efforts in Louisville. He connected with Josh Heird in a simple way. He's written to many athletic directors about a jersey from his senior year that was lost. He never heard back, but he'd hoped to have it replaced one day. He reached out to Heird, and had a jersey in his hand just days later.
"That showed me what kind of man he was, that his word was good, "Pinero said.
Pinero and Heird will have more conversations in the coming days. Pinero, in the meantime, is in town with his team of financial and mental health advisors, hoping to help any way he can. Whether he helps the university in an official capacity or carries on his present efforts, Pinero says he hopes to work his way back here eventually.
"Louisville is always going to be my home," he said. "I feel like this is where I'll plant my flag someday."
Copyright 2023 WDRB Media. All Rights Reserved.