LOUISVILLE, Ky. (WDRB) – Looking through old clippings is a dangerous thing. But as I looked through my own experience covering football games between Louisville and Florida State, I couldn't help but realize that each of those games marked a milestone for the Louisville program, good or bad.
You can chart the growth, and regression, of the program over the past two decades by dropping in to remember its encounters with the Seminoles.
So come back with me, if you would, all the way back to the year 2000. Let me set the scene for you.
The newspaper was still in black and white. I was the U of L beat writer for The Courier-Journal, and  went down to Tallahassee to cover the game with one of our columnists, Rick Bozich. Our second columnist, Pat Forde, was in Sydney, Australia, covering the Olympics. Rusty Hampton was in Gainesville covering UK-Florida, Michael Grant was in Bloomington to write about Indiana beating Cincinnati and C.L. Brown staffed EKU's win over Tennessee Tech. Dave Koerner was up in Indianapolis to cover the F1 US Grand Prix. Bob White covered Trinity-St. X soccer. 
It was, you will gather, a different time. Bobby Bowden was celebrating his 25th year at Florida State and the night before the game, had Sister Sledge and Three Dog Night play at the celebration.
For Louisville football, it was a different time, too.
2000: FLORIDA STATE 31, LOUISVILLE 0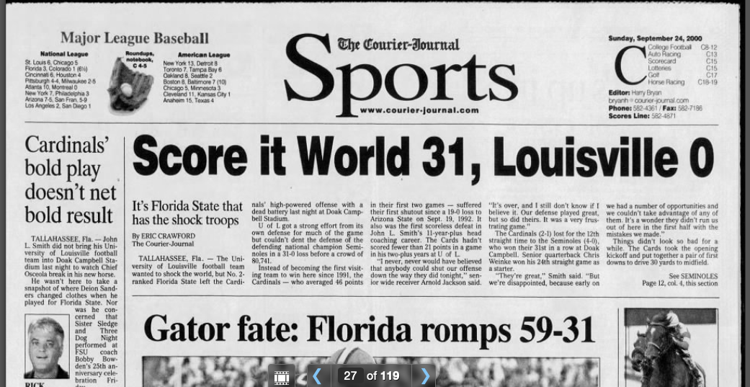 The Cardinals talked a big game heading to Tallahassee, and had averaged 46 points through their first two games of the season. But they could establish nothing against the defending national champion Seminoles.
"I never, never would have believed that anybody could shut our offense down the way they did tonight," wideout Arnold Jackson said after the game. "It's over, and I still don't know if I believe it."
This was Louisville football, climbing out of the hole left at the end of the Ron Cooper era. It was making progress, but still had a long way to go.
And it still didn't look anywhere close to threatening a program like Florida State – though it was closer, perhaps, than most thought.
2002: LOUISVILLE 26, FLORIDA STATE 20 (OT)
It had been a much-anticipated season for Louisville, but reality had been disappointing. There was a season-opening loss to Kentucky. Two weeks later the Cardinals lost at Colorado State. Louisville was 2-2 with Florida State coming for a Thursday night national TV game, but Tropical Storm Isidore was preparing to rain on the parade.
Everyone now remembers the celebration. The rain was incidental. After the teams slipped and slid to a 20-20 tie, Anthony Floyd intercepted Chris Rix's first pass in the overtime. And Henry Miller burst through the middle of the line for the game winning score on Louisville's first play.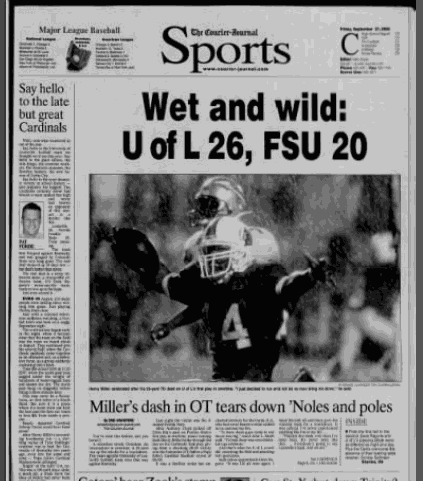 The win didn't mean as much as perhaps it would have, had the Cardinals taken care of their earlier business. But it was the first win over a Top 5 team in program history.
"Everybody's going to say Louisville is back," quarterback Dave Ragone said.  "And we are."
In this game, the program showed it could jump up and beat one of the big boys. Then-athletic director Tom Jurich ordered new goal posts before the game, thinking he would have need of them. He did. The old ones were torn down, and still reside around town in various basements and man caves. Some are in the stadium parking lots every Saturday, adorning tailgate parties.
The game still stands as one of the most important wins in program history, and was a sign of success to come.
2014: FLORIDA STATE 42, LOUISVILLE 31
A great deal changed in the dozen years between the last meeting with Florida State and this one. Bozich and I, for starters, were now doing TV. And for Louisville football, the years had been even more eventful.
The Cardinals had been to two BCS Bowls and won them. They'd beaten Florida and Miami and West Virginia. They'd gone from C-USA to the Big East to the ACC. They'd lost coach Bobby Petrino, then hired him back again. They'd survived Steve Kragthorpe, and hired Charlie Strong, who then was lured away by Texas, of all places, after turning down Tennessee.
The hype, at least locally, was considerable for this Louisville-Florida State contest. The Seminoles ranked No. 2 in the country and brought a 23-game winning streak to town for another Thursday night showdown. Louisville was 4-2 in the first season of coach Bobby Petrino's second stint, having lost at Virginia by two and at Clemson by six after pounding Miami 31-14 to open the season.
This was, in retrospect, a pretty darn good Louisville team. It would go on to win at Notre Dame, and finish the season 9-4.
In this game, it sprinted to a 21-0 lead on FSU. But Heisman winner Jameis Winston got things going, and FSU coach Jimbo Fisher showed that he knew a thing or two about calling plays, too, as the Seminoles breezed by the Cardinals in the second half to win their 24thstraight.
Louisville wasn't ready to compete with FSU, which was the class of the Atlantic Division, at that point. But it looked to be on its way.
2016: LOUISVILLE 63, FLORIDA STATE 20
This is what it looks like when you reach the big time. For every crappy thing Petrino ever did in Louisville, we must remember this. This was an apex moment for the program, as least as far as regular seasons go. This is what it feels like to be in the eye of college football's considerable storm.
ESPN's College Game Day was on campus. The Cardinals were ranked No. 10 in the nation. A week prior, Louisville QB Lamar Jackson had leaped into the leading Heisman spot by hurdling a Syracuse defender to score.
Florida State was down, yes, though the Seminoles were ranked No. 2 in the nation, but they would struggle the rest of the season after what happened in that noon game before an ABC television audience and 55,632 fans.
Lamar Jackson ran for 146 yards and four touchdowns. He threw for 216 and another. He left the game after three quarters, like he would against some no-name opponent. But this wasn't a no-name opponent. It was Florida State. And Louisville was dominant. Jaire Alexander had a 69-yard punt return TD and 130 yards in returns for the game.
It was the most points ever scored against a Florida State football team. "They took a step today," ESPN analyst Kirk Herbstreit said. Sports Illustrated put Lamar Jackson on the cover with the headline, "What just happened?"
When the dust settled, Louisville was ranked No. 3 in the country headed into a game at No. 5 Clemson two weeks later, with College Game Day once again on hand. Even after losing that game, U of L still found itself at No. 3 and in the hunt for a playoff spot heading to Houston, where a three-game losing streak began.
This was the game, and the moment, when Louisville football got a taste of what it's like to be in the "in" crowd of college football. And it was pretty intoxicating.
I've covered a lot of sports in this city and state. National championships in basketball. BCS bowls. Kentucky Derby. I've never seen anything like the storm that a top-3 college football team created.
2018: FLORIDA STATE 28, LOUISVILLE 24
This was when the wheels fell off. This was the beginning of the end, for Bobby Petrino, and for Louisville's hopes at hanging onto the relevance it achieved with Lamar Jackson at quarterback.
The Cardinals were 2-2, with a loss to No. 1 Alabama in the opener and a loss at Virginia. But there was still hope. FSU had struggled. And Louisville was coming home.
It was a chance to get on track, and Louisville did. It built a 14-0 halftime lead. Against an FSU offense that had struggled all season, Louisville looked to be in good shape. But Louisville's defensive problems began to surface.
Still, the Cards led 24-21 with just under two minutes to play, and had the ball in field goal range on first down. Run the ball, make FSU drain its timeouts, and at worst settle for a field goal with just over a minute to play. Easy scenario.
That's not the one Petrino picked. He called a pass play, that wound up being open, but quarterback Jawon Pass threw to the wrong guy, the pass was picked off, and FSU would score a touchdown a minute later that proved the be the game-winner.
After the game, Petrino told the media, "Obviously, I guess I should have ran the ball."
In the locker room, however, according to multiple sources, that conclusion wasn't so obvious. Petrino laid the blame on his players. If he was in danger of losing his players before the game, he finished the job afterward. Louisville wouldn't win again.
This was the game when it became apparent, the program's day in the sun was over, and Petrino would feel the heat.
2019: LOUISVILLE At FLORIDA STATE
So what happens when Louisville visits Tallahassee Saturday? For coach Scott Satterfield and his team, for better or worse, there's a good chance that the outcome may have more meaning than the final score.
Copyright 2019 WDRB Media. All Rights Reserved.