LOUISVILLE, Ky. (WDRB) – Four years ago, I wrote a column for this website with the headline, "Is the Kentucky Derby Racist?"
My conclusion, basically, was this: "Yeah, it has been, but . . ."
Today, I'm going to try again.
"Yeah, but …" is a common white response when confronted with racism. And, as responses go, it sounds better than a straight refusal to acknowledge the problem. But, in the end, it isn't worth much more. And in some ways, it may do more damage. It's an acknowledgement, plus a rationalization, or justification, or minimalization. It's lip service, is what it is. We have to do better. I have to do better.
So today, I want to answer this question without the "but." The "but" perpetuates the problem. The "but" misses moments where real progress could be made. The "but" allows people to dress up the status quo as some new initiative and continue down the same sorry road -- and in some cases a worse road than existed before.
Some readers, I already know, will want to tune this out. They'll tell me to stick to sports. And, over the next couple of days, I'll write plenty about the horses. Frankly, it's easier. You don't have to look in the mirror when you write about horses. You don't get challenged. But right now, there are more important things afoot, and our lens on events should widen considerably.
THE DISCUSSION
Most journalists these days will never cover horse racing, though many will cover their given topic as if it were a horse race. It's the first sport I really covered to any great degree as a full-time journalist, and I quickly came to the belief (and appreciation) that if you can cover horse racing, you can cover anything. You can cover elections, winners and losers. You can cover the courts. You can cover matters of high finance. You can cover politics (the occasional encounter with horse manure comes in handy).
It's real life. I have, on the same day, within a few yards, come into contact with royalty worth more than the city of Chicago, and immigrant barn workers who occasionally sleep in the barns where they work.
This sport and this race, for better or worse, are a microcosms of a great deal of life in this country. Just look at the history.
The first Kentucky Derby was won by Aristides in 1875. His jockey was a Black man, 19-year-old Oliver Lewis. His trainer was a Black man, Ansel Williamson, born a slave in Virginia. There were 15 horses in the race, and 14 were ridden by Black jockeys.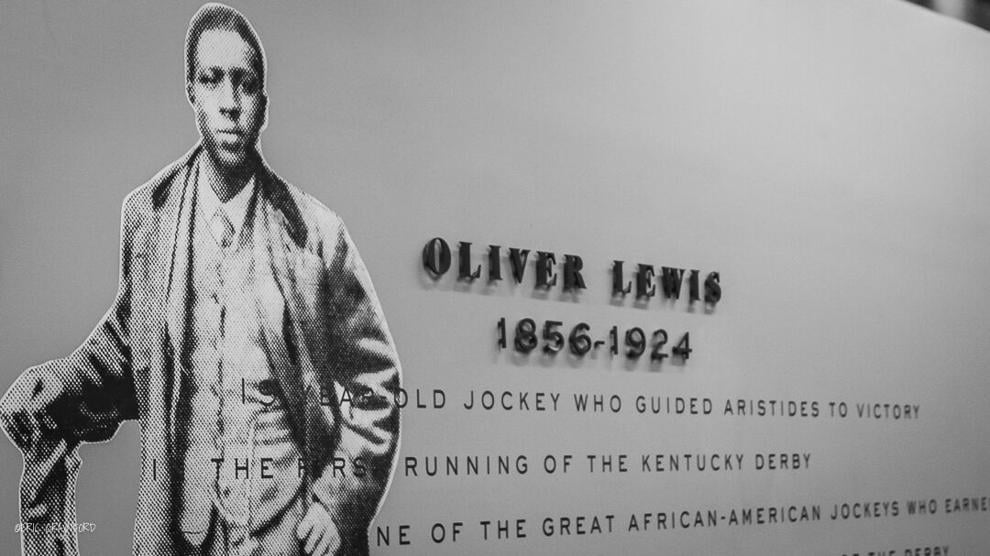 Williamson was the first great thoroughbred trainer in the Derby era. He finally went into the racing's hall of fame in 1998, but he wasn't the only top Black trainer or jockey. Of the first 16 runnings of the Kentucky Derby, 8 were won by Black jockeys, as were 15 of the first 28. Of the first 17 Derby winners, 6 were trained by Black men.
The most famous of all of them was Isaac Burns Murphy, who was the first jockey to win the Derby in consecutive years, and the first to win it three times. He was recognized as the top jockey in America, and became wealthy, purchasing a large home in Lexington. He was the first celebrity Black athlete, and one of his biographers, Joe Drape of The New York Times, called him the first millionaire Black athlete. He might have been the first millionaire athlete, period. His 1896 funeral in Lexington was covered by The Times, which wrote the following:
"The largest funeral ever seen here over a colored person was held on Sunday when Isaac Murphy, the famous jockey, was buried. The services took place at his late home on East Third Street. The body was escorted from the house to the cemetery by Bethany Commandery, Knights of Templars and the colored lodges of Masons. The funeral procession was one of the longest ever seen in Lexington. A number of prominent turfmen from all over the country were present, and floral tributes were sent from nearly everywhere; it requiring a large wagon to haul the flowers that the dead jockey's admirers had sent to decorate his grave. The remains were buried in the colored cemetery on Seventh Street."
That cemetery is home to a number of successful Black jockeys, some in unmarked graves. In fact, the markings on Murphy's grave disappeared over the years, prompting a search of records for his remains, which since have been moved to the Kentucky Horse Park.
There were more great Black jockeys and trainers, and you can read about them. But like the markings on Murphy's grave, their accomplishments were allowed to fade over the years, as racing became a more lucrative business, and more money was at stake.
The late Arthur Ashe, writing in his A Hard Road to Glory: A History of the African-American Athlete, described their success this way: "Black domination of horse racing then was analogous to the domination of the National Basketball Association today."
Willie Simms won the Derby in 1896 and 1898, and won all three Triple Crown races nearly two decades before the Triple Crown was even named. Jimmy Winkfield won back-to-back Derbies in 1901 and '02. 
So what happened? White owners, trainers and jockeys resented the success of Black men. It wasn't just in horse racing. Jim Crow laws in this era began to roll back advances Black Americans had made. On the tracks, white riders let it be known that they would not allow Blacks to win. They would conspire to box in horses ridden by Blacks, and used physical intimidation to keep them from being hired. Ashe described what happened in horse racing.
"The Jockey Club was formed in the early 1890s to regulate and license all jockeys," Ashe wrote. "Then one by one the blacks were denied their license renewals. By 1911, they had all but disappeared."
The Jockey Club today has 128 members. None are Black.
Winkfield and other successful black jockeys, effectively barred from American races, went to Europe. He had an outstanding riding career in Russia, Poland, Germany and France.
This sport -- and the Kentucky Derby in particular -- is about as textbook an example as you can find of a thriving group of Black professionals being driven out of a lucrative enterprise by petty racism that became systemic. It offers a clear view of the historic effects of that banishment, and demonstrates how those effects are still being felt -- acutely -- a century later.
Ashe called it the "saddest case" of discrimination in American sport.
THE SPORT TODAY
But those offenses, people will argue, were a long time ago. We no longer have Jim Crow laws. We've made much progress.
Think about this.
In 1921, Henry King rode Planet to a 10th-place Derby finish. He would be the last Black jockey to participate in the race in the 1900s. Not until Marlon St. Julien rode in 2000 would another Black rider appear in the race.
This isn't yesterday. This is today. An entire race of people was wiped from involvement in the upper levels of the industry -- and they have not returned. For a long time, the memory of those who did succeed in the Derby was forgotten. White-washed.
There have only been two Black trainers in the race since the end of World War II, and none in the past three decades.
The active attempts to keep Blacks out of the sport ended long ago, but it doesn't take active attempts. Once eradicated, it's extremely difficult to get back in. Financial and cultural obstacles remain. And passive attempts, once the eradication has happened, are just as effective as active ones. Even active attempts to bring minorities back into the game have proved difficult.
The Derby, meanwhile, built stature behind, among other things, a wave of ante-bellum marketing in the first half of the 1900s. The romance of the old south. The clubhouse built onto the Twin Spires grandstand in 1903 featured columns, a balcony and a wide veranda reminiscent of a plantation.
Matt Winn, the well-known president of Churchill Downs, established the track as the most famous address in racing and the Kentucky Derby as the most famous race. He also cultivated an antebellum image, complete with being attended by Black valets both in Louisville and while traveling. They were paid, but in his autobiography he referred to them as "a long line of colored boys."
Many modern commentators consider Kentucky's state song itself, My Old Kentucky Home, to be racist, though its history is complicated. The great abolitionist Frederick Douglass himself credited My Old Kentucky Home with helping to generate sympathy for the plight of slaves among northern whites. As a result, the song could be seen as playing a role that its lyrics today might well obscure. Or, perhaps that original purpose might be so tangled in antebellum marketing that modern critics are, indeed, correct.
Regardless, there is enough in the history of the Kentucky Derby to lead to questions for us in the present.
The general Derby Day configurations of persons paints the picture. The richest of the rich in the Mansion, and on Millionaire's Row. Further down and through the grandstand sit other affluent peoples and those in the upper-middle class financially. The infield with the teeming masses of middle- and lower-class financial status. Back in the barns, minority, white and immigrant workers toil to keep the place going.
The neighborhood around the track is poor, and reports of violence are not uncommon.
STEPS FORWARD
So what do we do? The Kentucky Derby as an event or entity is not going to disappear. It has its past. How does that get dealt with? And what of its present and future?
Maybe not running the race, as a nod to all that, wouldn't have been the worst gesture in this year unlike any other. But it's likely too late for that.
Churchill has endeavored to open up regarding the history of Black trainers and jockeys. Its museum features an important exhibit on them. In the Aristides Lounge, where the Derby post-position draw is held every year, a large photo of Lewis watches over the proceedings.
Churchill has made strides in recent years with various social initiatives -- healthcare and education programs for backside workers, and more. And president Kevin Flanery has expressed a willingness to have more conversations and do more listening.
"We've said in the past, we want that dialogue, a good dialogue about equality for everyone, justice for everyone; that's an important thing," Flanery said a while back.
I want to be careful about proposing answers. I have thoughts. Maybe mine are not the best. We are all of us dealing with problems we did not create. But I do know there's a problem. I know it in a way I should have four years ago, but failed to completely acknowledge. This is one of a number of institutions we have in this nation which are built on racist pasts, yet will and need to continue today with new sensibilities.
I also know that people like me must be part of the solution. Maybe you're like me. Maybe you once looked at this and said, "Yes, there was horrible discrimination long ago but it isn't like that today." Look around. Look at Blacks in horse racing, where you can find them. The effects of decisions 120 years ago still work to exclude Blacks from this industry that they once found great success in.
The sooner many of us not only acknowledge these injustices but recognize the current effects they have, the sooner we step toward a lasting solution.
But it's going to take all of us. And many are going to have to crawl out of entrenched positions and walk forward for anything meaningful to happen.
On Saturday, Necker Island will run in the Kentucky Derby. His owners, Greg Harbut and Ray Daniels, are Black, the first Black owners in the race in 13 years. Harbut, is the grandson of Tom Harbut, who bred and owned a horse in the 1962 Kentucky Derby, but wasn't allowed to sit in the segregated grandstand for the race. His great grandfather, Will Harbut, was the groom for the legendary Man o' War.
"This is part of my family's legacy, and it is a chance to remind people on a big stage -- the biggest stage -- that horse racing history here begins with African-Americans," Harbut told The Times.
The job now, for the entire industry, and for all of us who care about this race and its future, is to see that it moves forward with them, as well.
POSTSCRIPT: Shortly after his column was posted, Churchill Downs issued a sweeping message to the community, acknowledging, "We are not doing enough, quickly enough. That is true in our country, in our city and in our sport. We know there are some who disagree with our decision to run the Kentucky Derby this year. We respect that point of view but made our decision in the belief that traditions can remind us of what binds us together as Americans, even as we seek to acknowledge and repair the terrible pain that rends us apart."
Churchill committed to, "engaging in the hard conversations in our city, our sport and within our own organization. We are committed to taking real, concrete action to address institutional roadblocks to progress and playing our part in advancing the changes America so desperately needs."
It's an encouraging first step. Read Churchill's entire statement here.
Copyright 2020 WDRB Media. All Rights Reserved.