LOUISVILLE, Ky. (WDRB) -- The Indiana football team started last season ranked No. 17 in the Associated Press and USA Today coaches' polls.
The Hoosiers stumbled terribly against Iowa in Week 1 and never sniffed the Top 25 the rest of the season. The good times lasted less than 2 1/2 minutes, which was all Iowa needed to jump on Tom Allen's team, 14-0. Indiana failed to score a touchdown. It was the story of the 2021 season.
The Hoosiers finished with eight consecutive defeats. Their 2-10 record featured five losses to top-20 teams, including a pair to teams that made the college football playoff (Cincinnati and Michigan).
With a 26-32 record, Allen returns for his sixth season as the IU head coach. Nearly everything around him has been rebooted. New offensive coordinator. New defensive coordinator. New running backs. New receivers. New defensive line. New linebackers.
And, probably, new quarterback.
Allen has famously locked down nearly every minute of IU scrimmages since last spring to hide any looks at Walt Bell's offense. He has also declined to name which quarterback will start at 8 p.m. Friday for the Hoosiers in their season opener against Illinois (1-0) at Memorial Stadium in Bloomington.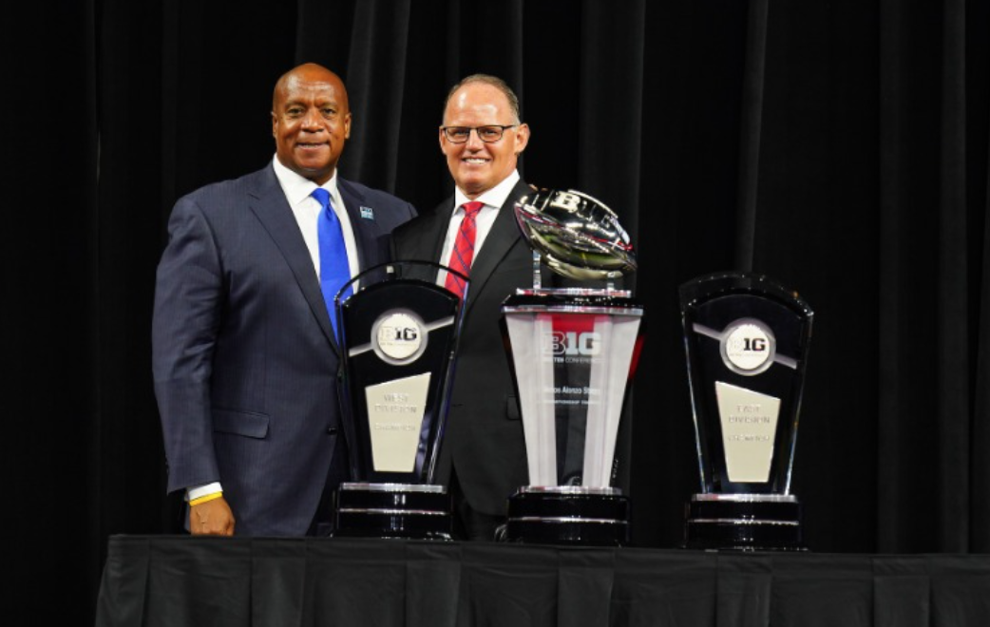 Put me down for Connor Bazelak, the transfer from Missouri. Bazelak has 23 career touchdown passes. The other four quarterbacks on IU's roster have combined for five in their careers.
The Question: Will the Hoosiers be the Indiana of 2019 and 2020 or the team that went winless in the Big Ten last season?
IU's impotence last season was stunning. The Hoosiers were out-gained by nearly 100 yards per game and outscored by an average of 16 points. They managed only four touchdown passes in nine Big Ten games and rushed for less than 85 yards in five league games.
No wonder the world has forgotten that IU finished 6-2 in 2020, defeating Wisconsin, Michigan and Penn State, and went 8-5 in 2019, with victories over Nebraska, Northwestern and Purdue.
The Answer: The Hoosiers cannot be as inept as they were last season. Bell arrives to run the offense. He failed as a head coach at Massachusetts, but that is one of the worst jobs in America. Bell built his resume as an offensive coordinator at Maryland and Florida State. IU is supposed to play faster and throw more short passes.
After forcing 20 turnovers in nine games in 2020, IU forced only nine in a dozen games last season. Allen will return to his roots by helping new coordinator Chad Wilt (a recruit from Minnesota) coach more aggressiveness into the defense.
Indiana hit the transfer portal hard, especially players departing the Southeastern Conference and North Carolina. These are the guys who should be instant contributors:
Bazelak (Missouri) — QB
Shaun Shivers (Auburn) — RB
Josh Henderson (UNC) — RB
Emory Simmons (UNC) — WR
Andison Coby (Tennessee) — WR
JT Tevis (Cal) — DT
Myles Jackson (UCLA) — DE
Bradley Jennings (Miami) — LB
Jarod Casey (Kentucky) — LB
The Dependables: Receiver D.J. Matthews showed the ability to deliver major yards after the catch before a knee injury stopped him. Offensive tackle Luke Haggard earned high grades at ProFootballFocus. Linebacker Cam Jones is a team leader who organized a players' group to change the vibe around the program on the Sunday after the 2021 season ended. And cornerbacks Tiawan Mullen and Jaylin Williams, if healthy, are the best DB tandem the Hoosiers have had in years.
The Rising Star: At 6 feet, 6 inches tall and 252 pounds, A.J. Barner is a full-sized tight end with the speed and athleticism to get open. Bell has been comfortable using his tight ends as weapons at past stops and Barner seems primed to deliver a big season — if IU has a quarterback who is protected and can deliver accurate throws. Big IF.
The Tidbits: Shivers is a former four-star recruit who left Auburn for IU because his playing time was limited on The Plains. Only 5-feet-7-inches tall, Shivers averaged 5.2 yards per carry while scoring eight touchdowns over four seasons with the Tigers. Bazelak was voted SEC offensive freshman of the year in 2020 while leading Missouri to wins over LSU, Kentucky, South Carolina, Vanderbilt and Arkansas. Allen signed the fifth-highest ranked recruiting class in the Big Ten and No. 30 in the nation last December. Look for defensive end Dasan McCullough, receiver Omar Cooper and defensive lineman Nick James to contribute early.
The Schedule: It's impossible to overstate how important the season opener is for the Hoosiers. Although Illinois thumped Wyoming, 38-6, in its first game Saturday, the Illini are only in their second season with coach Bret Bielama and they are not expected to be one of the top teams in the Big Ten West.
Following that, IU has home games with Idaho (coached by Paul Petrino) and Western Kentucky before they play their first road game at Cincinnati on Sept. 24. After visiting Nebraska, IU closes its season with seven consecutive games against programs that went to bowl games last seasons. Ohio State, Michigan and Michigan State are ranked in the top 15.
The Predictions: The consensus pick from the WDRB sports staff for the Hoosiers is improvement but another losing season, this time 5-7.
Eric Crawford: 5-7

Maybe the transfer portal gods will smile on the Hoosiers this season, but it's going to take that with the schedule they have. Even five wins may be a bit optimistic.

John Lewis: 6-6

The Hoosiers have one of the toughest schedules in the country while trying to figure out the quarterback and running back situations. New defensive coordinator Chad Wilt has the task of turning around a unit that was last in the league in scoring defense. A lot of questions to be answered, but six wins is doable.

Griffin Gonzalez: 6-6

Indiana will win week one, because Illinois will have little-to-no idea what to prepare for, and Illinois is not a defense that can usually win on the strength of its defense alone. The Hoosiers should cruise to victories at home against Idaho and Western Kentucky before visiting a new-look Cincinnati team. I see the Cincinnati game as a possible surprise win, but, for now, it is a loss. I have Indiana winning in Nebraska (leading to the demise of Scott Frost) before falling to Michigan. This brings us to the double-header of Maryland and Rutgers, and I am predicting they win one and drop the other which makes them just one game away from bowl eligibility, which they will reach in a win against the Boilermakers to end the year. 

Tom Lane: 5-7

The Hoosiers show some improvement from last year but still have some major question marks.

Rick Bozich: 4-8

Call me Captain Doomsday, but the Hoosiers weren't simply 2-10 last season. They were beaten by three touchdowns or more in five of their last six games. They were closer to 1-11 than they were to 5-7. There's little evidence the offensive line has made the necessary steps to improve the running game, which averaged 3.2 yards per attempt last season. The receivers are new but primarily unproven. The quarterback can't be as bad as it was last year, but it's not Nate Sudfeld or Michael Penix Jr. in full health. The defense should be better, especially with the change in coordinators. Charlton Warren was a dud. But Micah McFadden will be difficult to replace at linebacker, and IU rarely has the larger, faster, nastier defensive linemen required to hold up against top Big Ten programs. Four wins is not good. But it is double the total from last season, right?
Copyright 2022 WDRB Media. All Rights Reserved.