The commonwealth of Kentucky has become the epicenter of the phenomenon known as "The Great Resignation," a tidal wave of employees walking away from their jobs in the wake of the coronavirus pandemic. According to the most recent figures released by the U.S. Bureau of Labor Statistics, 84,000 Kentuckians left their jobs in August; 26,000 more than the month before! The "quit rate" of 4.5 percent was the highest in the nation—contributing to an open jobs rate of 8.2 percent, the second largest in the U.S. behind only Alaska.
That's the problem, and Mark Mann and the staff at Campbellsville University Louisville are working on the solution.
"We can be nimble, we can turn on a dime, and we can help solve some of these issues that we're seeing in the workforce in the state through education," says Mann, Assistant Vice President and Director of Campbellsville's Louisville Education Center. "It doesn't have to be a traditional four-year bachelor's degree. It can be a trade. It can be something very, very quick. We have an allied health program a student can complete in nine months. And through Kentucky higher education scholarships, they can do it for almost free, if not completely free."
Campbellsville University's Louisville branch has long been a destination for adult learners, those who perhaps walked away from college after high school or never attended in the first place. It's a more approachable college setting, far from the amphitheater-style lecture halls and massive class sizes of larger universities, breaking down the barriers that can prevent students from interacting with faculty and staff. And now, with 167,000 open jobs awaiting throughout Kentucky, it can be a springboard to opportunity like never before.
A Relevant and Practical Education
"At Campbellsville University Louisville, we incorporate real-world activities that give students the chance to actually make mistakes and then improve their performance," says Mann. "And in the process, if a fire is lighted in their soul to pursue that next step, to go after that more expansive degree in something like education, social work, or business administration, then great. But it starts at the practical skills level. Workforce development begins with education and training. You cannot develop the 21st-century workforce without the skills."
The Louisville Education Center prides itself on offering a varied swath of curricula ranging from certificates to masters and Ph.D. programs. Certificate programs include allied health, medical billing and coding, cosmetology, medical assistant, and pharmacy technician. Degrees are available in fields including business administration, computer science, psychology, criminal justice, education, social work, family ministry, and sports management. Postgraduate degree options include business administration, theology, education, and family therapy.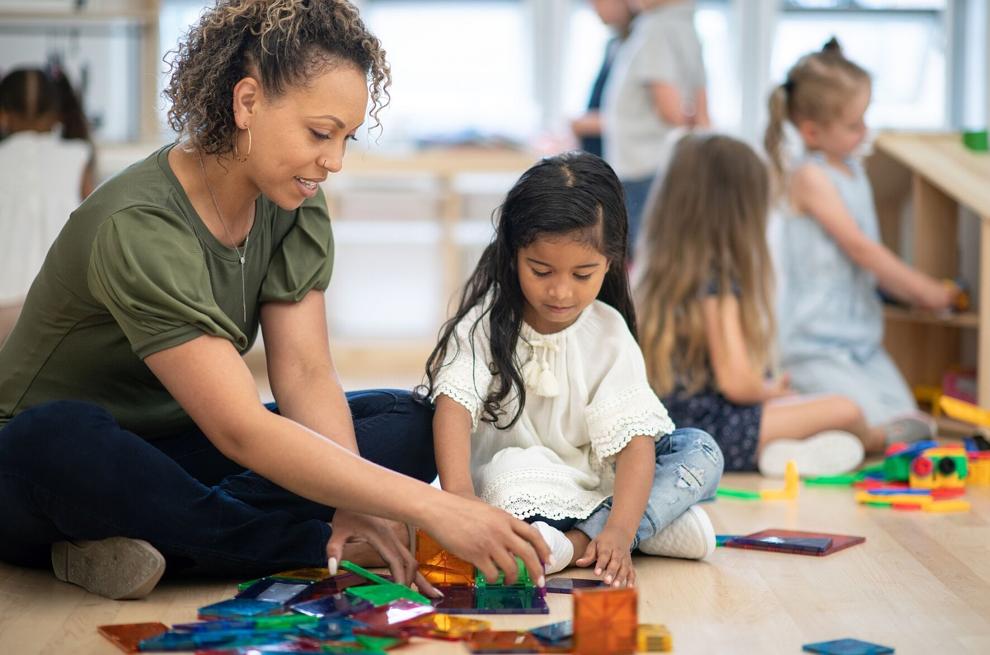 Campbellsville University Louisville doesn't just open the door to those career opportunities, it ensures that graduates have staying power in the workforce. Particularly for returning learners preparing for their next career move, the education has a practical application—think less theory and more about what the student needs to know to perform the task they've chosen. It's centered on the future employee, and what's best for getting that person into the job market. The curriculum is constantly updated, changing with the times to ensure it's always relevant.
"We'll be bringing in healthcare professionals from across Kentucky in December to review all of our programs in allied health and to provide feedback on what needs to change or improve to meet the current needs of the industry, as we're slowly coming out of this huge pandemic," Mann says. "That's critical, and it's another example of how Campbellsville University right here in Louisville is keeping its finger on the pulse of trends to close some of the skills gaps that we see."
Preparing Students for the Next Step
On an individual level, the process begins at a student's first meeting with an enrollment advisor. Here, a path is laid out that connects each student to a practical career field. "They're going to feel like our enrollment advisors are the nosiest people in the world," Mann says, "because they drill down and ask all kinds of questions about what the potential students want so they can pin-point what they actually need." A student might have one career goal in mind, but a skill set that is better suited for another. An assessment tool helps bridge the two, identifying career options that best set the student up for success.
There's a pragmatism to the entire process at Campbellsville University Louisville, given that so many students are there to finish what they started earlier in life, or better their lives by taking the next step in their careers. The results are always top of mind. That approach has never been more important, given how Kentucky desperately needs workers in all facets of the commonwealth's economy. "The top 10 jobs, in the next 10 years, aren't even created yet," Mann says. "The world moves rapidly, and change is constant." And Campbellsville University Louisville will be there, preparing students every step of the way.
Are you or a loved one interested in filling Kentucky's employment gap by taking advantage of what Campbellsville University Louisville offers? You can contact them online at https://www.cu-louisville.com/, call them at (502) 753-0264, or visit the campus at 2300 Greene Way in Louisville to see the opportunity that awaits.