LOUISVILLE, Ky. (WDRB) -- Remember that fuss about the missed pass interference call in the NFC Championship game? How about the nonstop howling about NCAA Tournament officials?
All that stuff is horsefeathers compared to what happened in the Kentucky Derby on Saturday.
The greatest two minutes in sports was decided by the most controversial 22-minute replay in sports. What was supposed to be the Bob Baffert Derby will forever be known as the DQ Derby.
Maximum Security, the Derby favorite, was taken down as the race winner because of a bumping incident.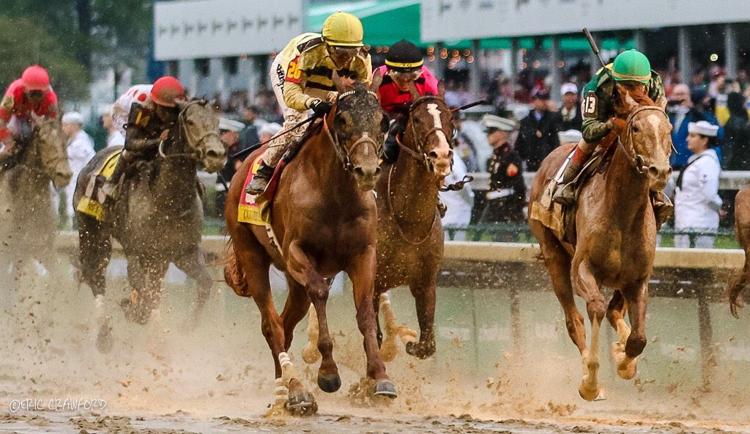 Country House, a 65-to-1 longshot, was covered in a blanket of roses and a blanket of controversy by the first disqualification of an apparent Derby winner for an on-the-track incident.
Cue the howling. Even the winning connections looked like somebody sprinkled pepper in their mint juleps.
"It was an odd way to win it," trainer Bill Mott said. "We hate to back into anything ... as far as the win goes, it's bittersweet."
And potentially up for further review. Nobody would be surprised if the Maximum Security connections asked for a hearing with the Kentucky Horse Racing Commission or in the courts.
With a winning purse of $1.86 million on the line in the $3 million race, wouldn't you consider your options?
Until further notice, Country House paid $132.40 on a $2 bet, the second-largest payout to a winner in Derby history. Code of Honor finished second, just ahead of Tacitus, also trained by Mott.
Those Bob Baffert horses, the ones who were supposed to give him his sixth Derby trophy, finished fourth (Improbable), fifth (Game Winner) and 16th (Roadster). They also finished out of the most controversial Derby finish in years.
For 22 minutes, jockey Luis Saez, trainer Jason Servis, owners Gary and Mary West and everybody who bet on the favorite thought Maximum Security won Derby 145 by nearly two lengths over Country House on a sloppy track.
The New York Times sent out a news alert. So did WDRB. A bouquet of roses was presented to the Wests, who were headed to the winner's circle.
Twitter percolated with congratulations. Pop the champagne. For the seventh straight year, the race belonged to the Derby favorite, a former $16,000 claiming horse who had rolled to four straight victories. On to the Preakness in two weeks in Baltimore with a story American can embrace.
Put the cork back in the bottle. Sweep up the confetti. But, most of all, hold all tickets.
According to Barbara Borden, the chief steward of the Kentucky Horse Racing Commission, two jockeys filed objections about Maximum Security for bearing out in the final turn with less than three-eighths of a mile to run.
One was Flavien Prat, the rider on Country House, who was already three horses wide. The other was Jon Court on Long Range Toddy, who was two wide. A look at the replay showed Court did a masterful job of keeping his horse safe but lost three or fourth lengths while doing it.
The horse closest to Maximum Security was War of Will. Although his mount's front legs came dangerously close to Maximum Security's rear legs, jockey Tyler Gaffalione did not object.
Think about that, for a second The jockey in the most peril didn't ask for a review.
Country House was only slightly affected. Prat said he was turned a bit sideways but that the other two colts were the ones that suffered.
Was this incident sufficient to change the result of the Derby?
Jerry Bailey is a Hall of Fame jockey with two Derby victories. He analyzed the race for NBC. Bailey said that Maximum Security earned his victory.
"The best horse (Maximum Security) won the race," Bailey said. In fact, Bailey said it several times.
The stewards did not agree. By a 3-0 vote, they decided to move Maximum Security to 17th, one spot behind Long Range Toddy, the second horse that he impeded.
Of course, the stewards also refused to answer any questions, appearing for less than five minutes to read a three paragraph statement, which concluded that Maximum Security interfered with War of Will, Long Range Toddy and Bodexpress.
Borden said Maximum Security "drifted out and impeded the progress (of those three horses) … therefore, we unanimously determined to disqualify Number 7."
Again, no questions. Not a good look, considering the stakes. How many jockeys did they interview? How difficult was the decision? Do they expect an appeal? There were others.
Mott agreed. It was a strangely unsatisfying way for a Hall of Fame trainer to win his first Kentucky Derby in his ninth try. But Mott argued that it was the right decision.
"He came out three paths and bothered two horses," Mott said. "My heart actually aches a little bit (for the connections to Maximum Security).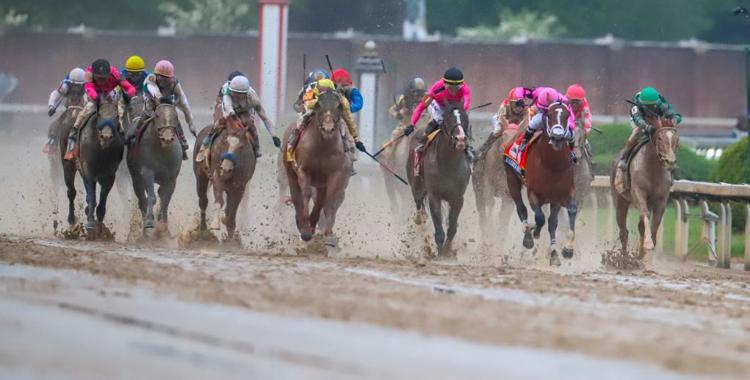 "If it was a Wednesday on the third race on the card, this horse is coming down."
For 22 minutes, Servis thought he had won the Derby. He wanted to cut off a post-race interview on television to get to the winner's circle. Instead he endured an unsatisfying walk across a muddy track in the rain to his barn.
"I don't think it changed the outcome of the race," he said. "It looked like something scared him in the infield but I haven't been able to watch it that close.
"I feel bad for the Wests (the owner). It looked like he ducked out a little bit. It's rough. It hasn't sunk in yet but it will."
Chances are the debate about Kentucky Derby 145 has just begun.
Related Stories:
Copyright 2019 WDRB Media. All Rights Reserved.