LOUISVILLE, Ky. (WDRB) — Bob Baffert was so gaga about the likelihood of his colt Medina Spirit winning Kentucky Derby 147 that he skipped the post position draw. No-showed.
Baffert's go-to quip for Derby Week was heavy on self-deprecation. He said he usually has a top-five Derby horse, but this year he was top-10 material.
"Usually when I come in here, I feel like if I don't win … I bring in these heavy-duty horses," Baffert said.
Win the Kentucky Derby?
Not this year.
Bob Baffert shocked America on Saturday at Churchill Downs. He also shocked Bob Baffert.
Confirmation came when Medina Spirit held off Mandaloun, Hot Rod Charlie and Essential Quality in a stirring, crowded stretch drive and won the Derby by a half-length.
There were 51,838 on-site witnesses, the largest crowd for a sports event in the U.S. since the novel coronavirus started emptying the calendar and facilities 14 months ago. Baffert, jockey John Velasquez and Medina Spirit gave everybody a Derby to celebrate — and one to remember.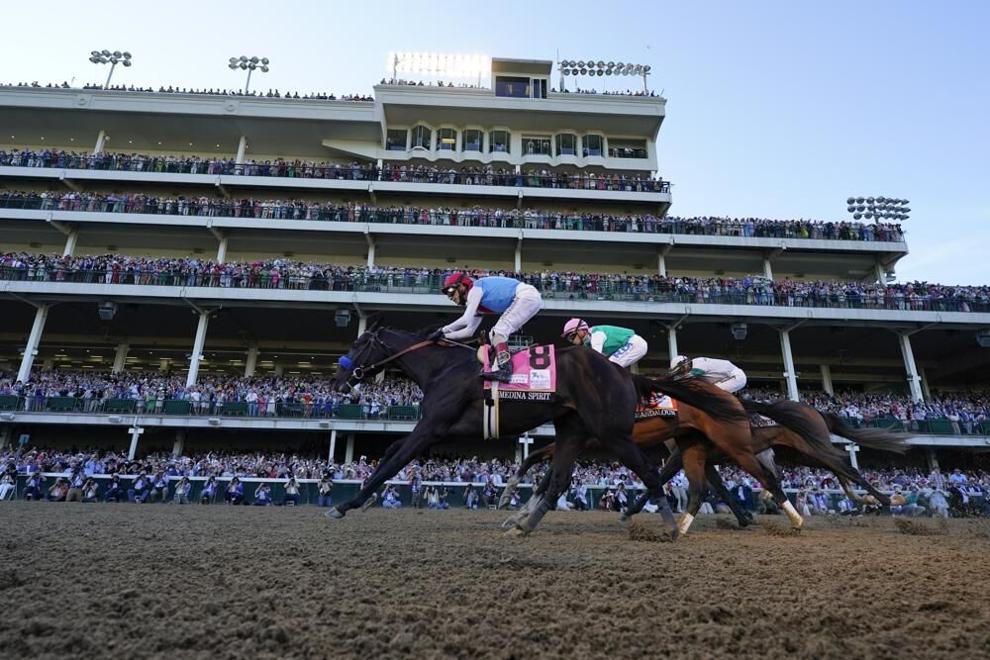 No wonder Baffert and his wife, Jill, celebrated like this was his first Derby win, not his seventh, a Derby record. Usually they act relieved. This time they reacted like they'd just won the Powerball. He cried. She cried. 
Baffert and Jill looked at the jumbo video in the Churchill paddock, where they watched the entire race. They screamed.
They heard the public address announcement that Medina Spirit was the winner. They screamed again. They locked eyes. They screamed louder.
Then they jumped into each other's arms — and screamed one more time.
Then Baffert started talking like a guy who thought his colt had a better chance of finishing 10th than first.
"I can't believe it," Baffert said as he and Jill started their brisk walk to the winner's circle.
"I can't believe it," Jill Baffert said.
Your turn, Bob.
"I can't believe it … I can't believe it … I can't believe it," Baffert said.
If Baffert said it once, he said it a dozen times. This wasn't for the national television cameras. This was pure, unbridled Derby Fever — by a 68-year-old guy who has now won 17 Triple Crown races in the last 24 years. He couldn't believe he won the Derby with his fourth-string colt who was only the sixth betting choice because Baffert was his Hall of Fame trainer.
"That horse is just such a fighter," Baffert said. "If you put him in position to run, he'll just keep running. He's tough. He never quits."
But …
"I can't believe it," Baffert said.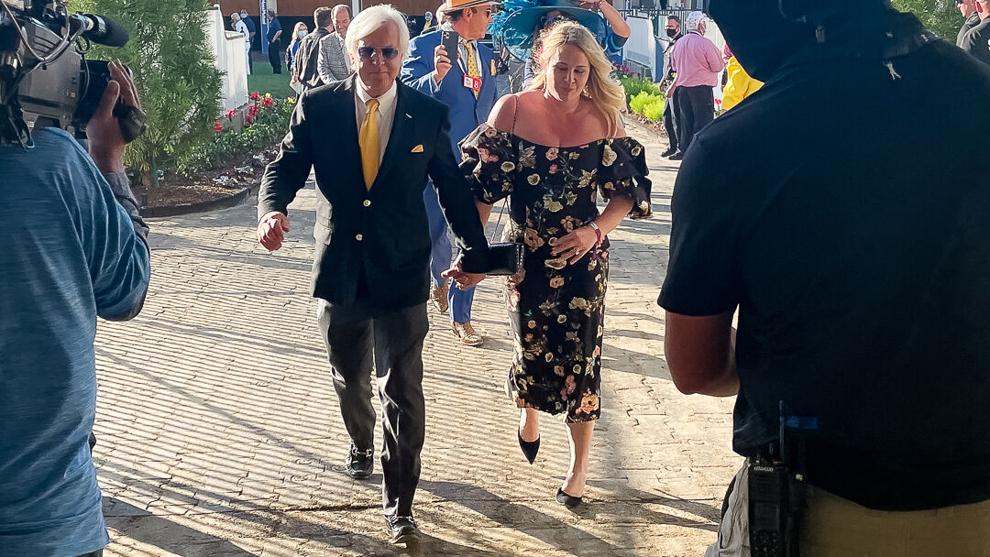 Know this: Baffert is usually ready with a quip when his horse wins a big race because Baffert wins more big races than anybody on the planet. Mr. Quick Quip had nothing better than this:
"I can't believe it," Baffert said to a half-dozen more people as he and Jill wound their way through the grandstand tunnel, across the track and into the winner's circle.
"This year I really enjoyed myself," Baffert said. "I came in here under the radar. I thought, well, maybe he'll get a piece of it or something. But Johnny, he kept telling me if he improves off his last race, he'll run well."
Understand this. Medina Spirit lost his final two Derby prep races. He finished third, beaten by eight lengths in the San Felipe Stakes on March 21. He finished second, fourth lengths back to Rock Your World, in the Santa Anita Derby.
When the racing calendar flipped to January, Baffert had eight horses that he considered Derby contenders.
Life Is Good was the star of the stable, the horse most likely to carry Baffert into the winner's circle. It wasn't outrageous to suggest Life Is Good had the same kind of talent at American Pharoah (2015) or Justify (2018), Baffert's Triple Crown winners. That's the kind of horse the world expects Baffert to bring to Louisville.
Medina Spirit? He was a $35,000 yearling purchase and a Florida bred. Nothing to see here.
The colt had one quality that Life Is Good, Concert Tour and several Baffert horses liked: He stayed healthy.
He was Baffert's only shot to join the Triple Crown winners, Silver Charm (1997), Real Quiet (1998), War Emblem (2002) and Justified (2020) as Baffert's Derby winner. Baffert and Ben Jones each had six.
Now Baffert has seven.
"This is the only Derby that I came into thinking, 'I don't know,'" Baffert said. "Everything is going to have to come together really well to get it done."
It came together from the first strides. Velasquez made certain that Medina Spirit broke alertly from the No. 8 post position. Velasquez steadied the colt and led him confidently toward the rail in the first quarter-mile.
The official Equibase race chart lists Medina Spirit as the leader at every call — quarter, half, three-quarters, mile, stretch and finish. But the lead was never more than 1 1/2 lengths. Some people believe that Mandaloun stuck a nose in front around the quarter-pole.
Not for long.
As the field separated in the stretch, it was a four-horse race — Medina Spirit, Mandaloun, Hot Rod Charlie and Essential Quality (the favorite).
Medina Spirit was tucked closest to the rail. Velasquez saw everybody trying to overtake him on the outside.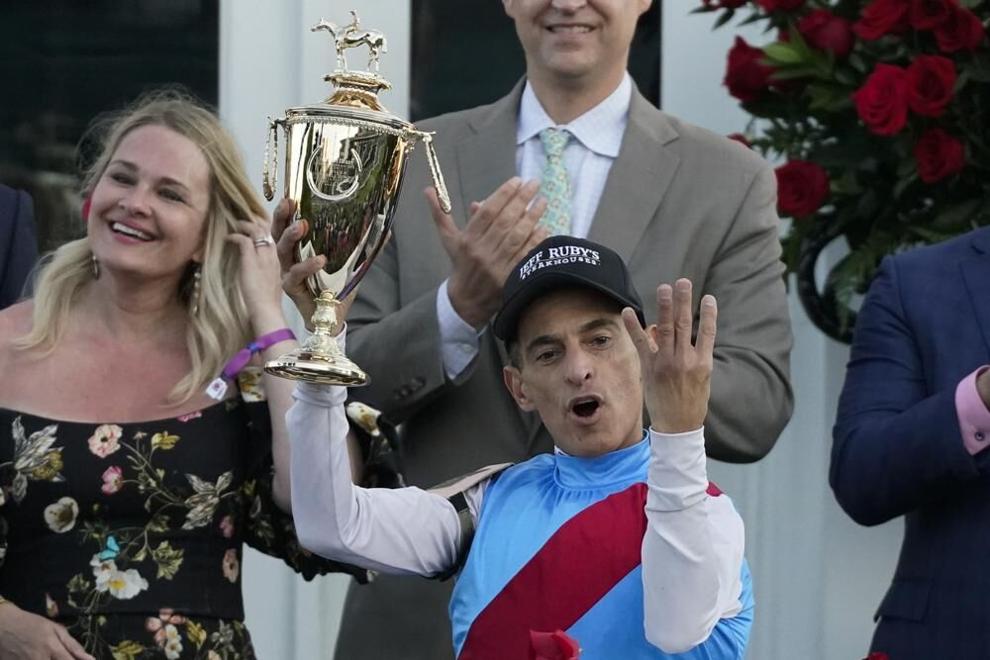 Didn't happen. Medina Spirit surged to the finish line a half-length ahead of Mandaloun. The winning time was a respectable 2:01.02 in a gate-to-wire performance. It was another half-length back to Hot Rod Charlie and a head to Essential Quality. The winner paid $26.20, $12 and $7.60, topping a $503.60 exacta and a $9,456 Superfecta. Shock the world kind of payouts.
"I can't believe it," Baffert said.
Believe it.
Related Stories: 
Copyright 2021 WDRB Media. All rights reserved.