LOUISVILLE, Ky. (WDRB) – Saturday's 147th Kentucky Derby didn't need any added history to be an important milestone. The crowd of 51,838 was the largest for a sporting event in the United States since the beginning of pandemic restrictions last March.
The crowd on a chamber of commerce Louisville afternoon reveled in the return of the city's beloved springtime spectacle. They put on a colorful show, bursting out of the starting gates of some recently lifted restrictions.
That is, until trainer Bob Baffert, jockey John Velazquez and their surprising colt Medina Spirit stormed away with a wire-to-wire upset victory at Churchill Downs, giving Baffert the record for Derby wins by a trainer, and giving Velazquez his second straight win and fourth overall.
Baffert had lost several more promising colts on the Kentucky Derby trail and seemed unenthused about Medina Spirit this week after arriving at Churchill Downs. He didn't even attend the post position draw on Tuesday.
"This year I really enjoyed myself," Baffert said. "I came in here under the radar. I thought, well, maybe he'll get a piece of it or something. But Johnny, he kept telling me if he improves off his last race, he'll run well."
His jockey, in fact, did see something that gave him hope after studying the draw.
DERBY DAY IN PHOTOS | Scenes from Kentucky Derby Day 2021 at Churchill Downs
Photos from Kentucky Derby Day 2021, from early morning at the barn to the post-race celebration.
"I liked this little horse," Velazquez said. "I know he's all heart. Strategy was very simple break out of there and try to put him in the lead. If somebody wanted to go faster than me, let him have it. I know we were quick. And the more I looked at the race, the more I studied the race, I knew he was faster than the rest of the horses. And especially the way he breaks out of the gate. And talking to Bob, listen, the whole team, what a great job to keep this horse going the way he's done. I knew he was going to be a fighter. I rode him twice before, and he fought for second for every step of the way."
Velazquez has now won the Derby in back-to-back years – the seventh jockey ever to do so – and has not trailed in the last two, aboard Authentic and now Medina Spirit. The last three colts to win the Derby wire-to-wire have been trained by Baffert.
The key, he said, was breaking clean and getting to the lead.
"Bob sent me a text a week ago that says: Come out running and let him put up there," Velazquez said. "And I had not studied the race yet. And I texted him back and I said, Do you think we can be in the lead? He said just don't take a hold of him. Then I studied the race really well. After I studied the race, Bob was 100% right. I said, you know what? We talked about it. The more I looked at it, Bob said, the horse may not break good anyway, so make sure you let him have it first. We plan all we can plan and anticipate things but the horse has to do the job as well. I'm only the pilot trying to do what we think is the best for the horse. And it worked out. We were very blessed, really."
Medina Spirit led the field through fractions of :23.09, :46.70 and 1:11.21 while under early pressure from Soup and Sandwich, with Brad Cox's Mandaloun tracking in third. Approaching the far turn, Hot Rod Charlie began an advance along the rail while favorite Essential Quality mounted a bid four wide.
As they entered the stretch, Medina Spirit was clinging to a lead over Mandaloun with Hot Rod Charlie three wide and Essential Quality four wide. Mandaloun briefly stuck his head in front at midstretch only to have Medina Spirit regain and hang on for the win, covering the 1¼ mile in 2:01.02.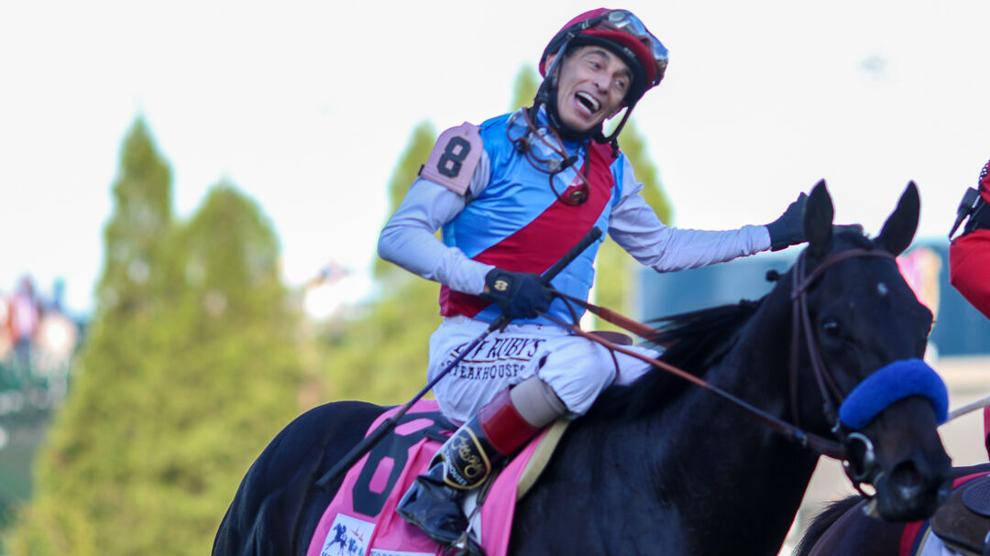 Cox, whose Mandaloun nearly made Cox the first Louisville native ever to train a Kentucky Derby winner, finished second, beaten by a half-length.
"He ran huge," Cox said. "He saved ground along the inside, battled and battled hard, thought he had a shot to win it there, We just came up a little short."
Of Essential Quality, who finished fourth, Cox said, "He didn't get the greatest trip as he was wide around both turns. That can happen when you start from the 14 hole, especially when you don't get off to a good start. He was leaning out on the far turn and Luis (Saez) said he was shying away from the other horses. We will just have to regroup. Proud of both horses. They trained well and just wish the order of finish was just a little different."
Hot Rod Charlie held on for third.
"I'm proud; very proud," his trainer, Doug O'Neill said. "He ran huge. It looked to me like he had a good trip. ... We're honored and blessed to have a horse like this. I'm so proud of him. And know for sure that he'll be back."
Medina Spirit paid $26.20 to win.
Velazquez, asked about his fourth Derby win, played down the milestone.
"I take pride at what I do," he said. "I'm very blessed with the opportunities I've been given. And it works out. I think that's the way I always looked at it. I never looked at it and think to try to break records, or try to want anything like that. It was a job. I'm very proud about my job. I like to do really well, if I get the opportunity. And it has been a blessing. So that's the way I look at it." 
Related Stories: 
Copyright 2021 WDRB Media. All Rights Reserved.